It shouldn't be difficult to prepare fs form 1048 printable working with our PDF editor. Here's how it is possible to rapidly build your file.
Step 1: The following web page includes an orange button saying "Get Form Now". Merely click it.
Step 2: So you are going to be on the form edit page. You can add, update, highlight, check, cross, include or remove fields or text.
Fill in the particular areas to fill out the file: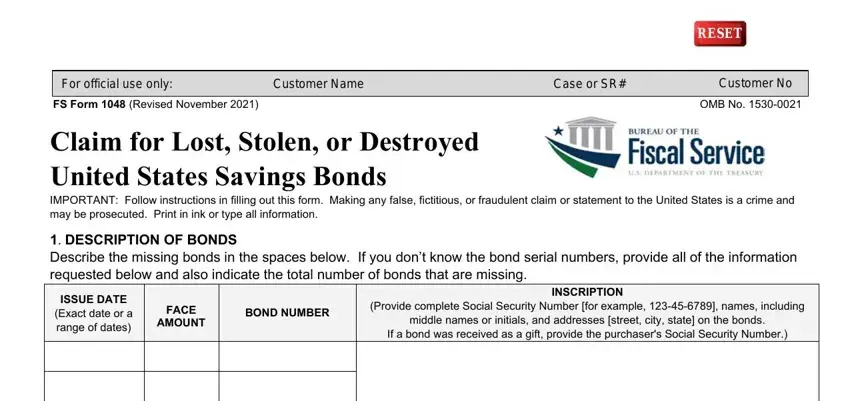 Note the demanded information in If you need more space attach, DETAILS OF THE LOSS Mark the, The bonds were, Lost Stolen Date of Theft, Was a police report filed, Yes No If Yes attach copy of the, When was the loss discovered, Who had the bonds last and why, Where were the bonds last placed, When were the bonds last seen, Were any identification documents, Yes, If Yes please list them, AUTHORITY Provide details, and Are you named on the bonds area.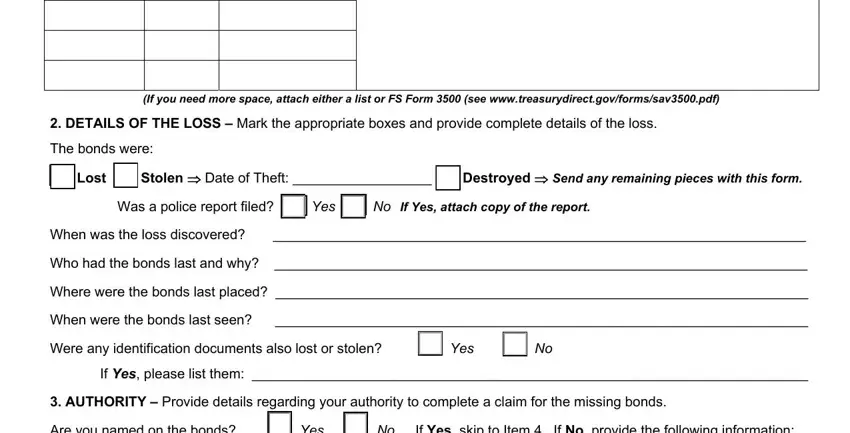 Write down the crucial details in Are you named on the bonds, Yes, No If Yes skip to Item If No, Describe your authority, Show authority ie parent guardian, Are you court appointed, Yes, No If Yes see LEGAL REPRESENTATIVE, MINORS Provide details regarding, Is there a minor named on the bonds, Yes, If No skip to Item If Yes fully, What is the minors, Name DOB, and Social Security Number part.

The What is your relationship to the, Does the minor live with you Yes, If No with whom, Name, Relationship to Minor, Address, Who provides the minors chief, Name, Relationship to Minor, Address, Are both parents able to sign the, Yes, If Yes skip to Item If No fully, Why are you unable to obtain the, and Did that parent have access to the section will be your place to insert the rights and obligations of both sides.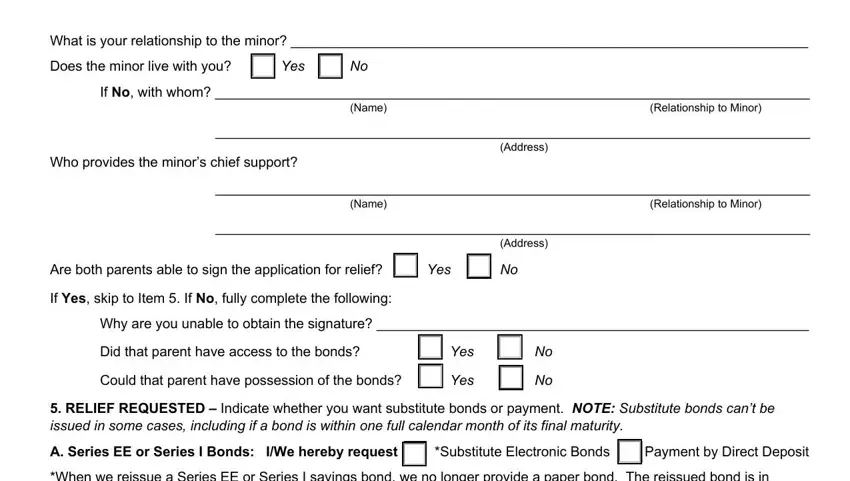 Finalize by reviewing the next sections and filling them in as required: When we reissue a Series EE or, B Series HH Bonds IWe hereby, Substitute Paper Bonds, Payment by Direct Deposit, DELIVERY INSTRUCTIONS, A For Electronic Substitute Bonds, TreasuryDirect account number, Account name, Social Security Number or Employer, NOTE You may add a secondary owner, TAX LIABILITY If the name of a, and B For Substitute Paper BondsSeries.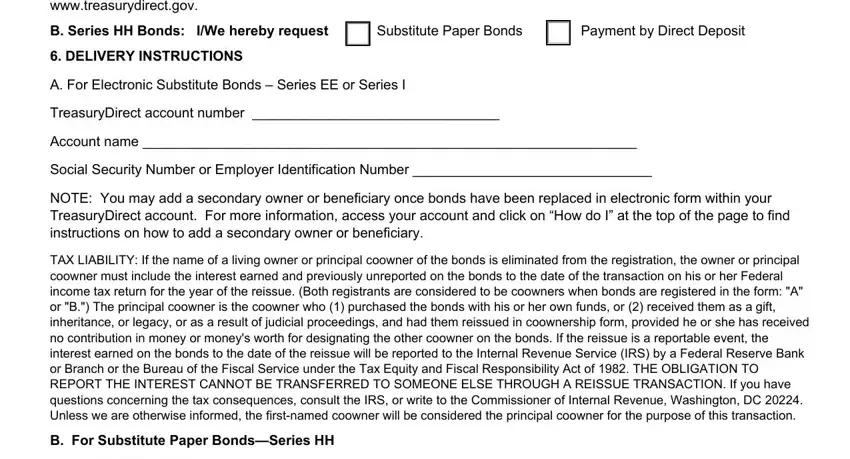 Step 3: Hit the "Done" button. Now you can transfer your PDF file to your electronic device. In addition, you may send it via electronic mail.
Step 4: Ensure you stay away from possible problems by getting minimally two copies of the form.