Only a few things are quicker than filling out forms through our PDF editor. There isn't much you need to do to update the child care incident report form document - merely adopt these measures in the next order:
Step 1: Pick the button "Get Form Here".
Step 2: Once you've entered the child care incident report form editing page you'll be able to notice all of the functions you can carry out relating to your document in the top menu.
Enter the data required by the program to prepare the form.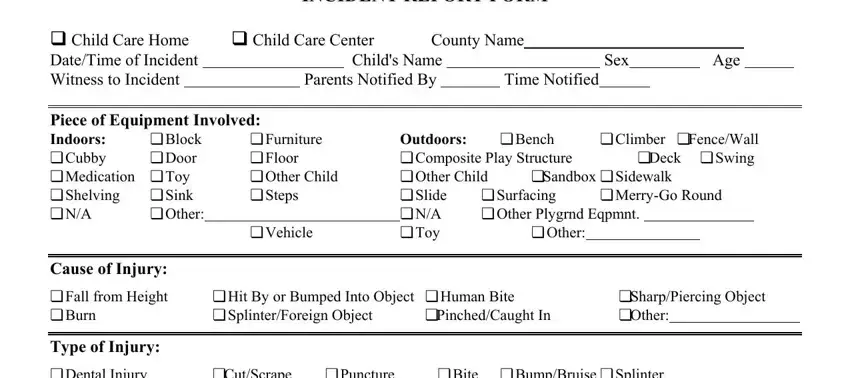 Write the data in Dental Injury Burn, CutScrape, Puncture, Bite, Crush, FractureDislocation, SprainStrain, BumpBruise Other, Splinter, Body Part Injured, Head AbdomenTrunkChest, Eye, Face, Mouth, and Neck.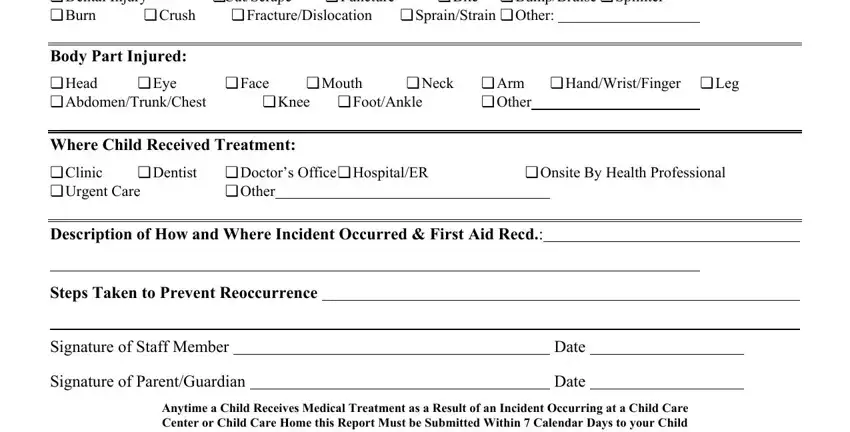 The program will require for extra info with a purpose to effortlessly fill out the field Anytime a Child Receives Medical, Original to Childs File Copy to, Date of Most Recent Playground, Child Care Consultants Name, DCD, and REVISED.

Step 3: In case you are done, choose the "Done" button to upload the PDF document.
Step 4: Have minimally a couple of copies of your file to keep clear of any kind of forthcoming troubles.