af form 335 can be filled out without any problem. Simply use FormsPal PDF editing tool to accomplish the job fast. Our editor is consistently evolving to deliver the best user experience attainable, and that's thanks to our resolve for continual enhancement and listening closely to customer opinions. With just a few simple steps, you are able to begin your PDF journey:
Step 1: Open the form inside our editor by pressing the "Get Form Button" above on this page.
Step 2: With our advanced PDF tool, you can actually accomplish more than merely fill in blank form fields. Edit away and make your forms appear perfect with custom text put in, or adjust the original input to perfection - all that comes with the capability to insert stunning graphics and sign it off.
It is actually straightforward to fill out the form using out detailed tutorial! Here's what you must do:
1. When filling out the af form 335, make certain to include all of the essential blanks within the associated section. This will help to speed up the process, allowing your information to be handled without delay and correctly.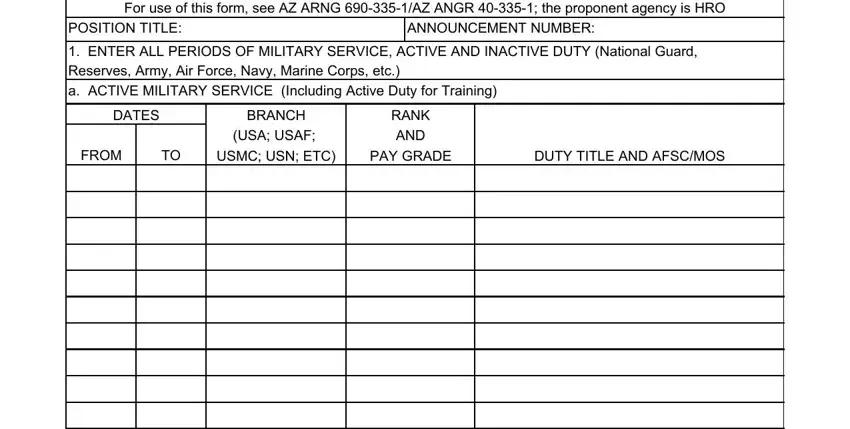 2. Just after this selection of blanks is completed, proceed to enter the suitable details in all these - FROM, USMC USN ETC, PAY GRADE, DUTY TITLE AND AFSCMOS, I AM PRESENTLY A MEMBER OF THE, YES , NO, If yes I belong to, Unit, Location, and AZNG Form R Apr Supersedes AZSP.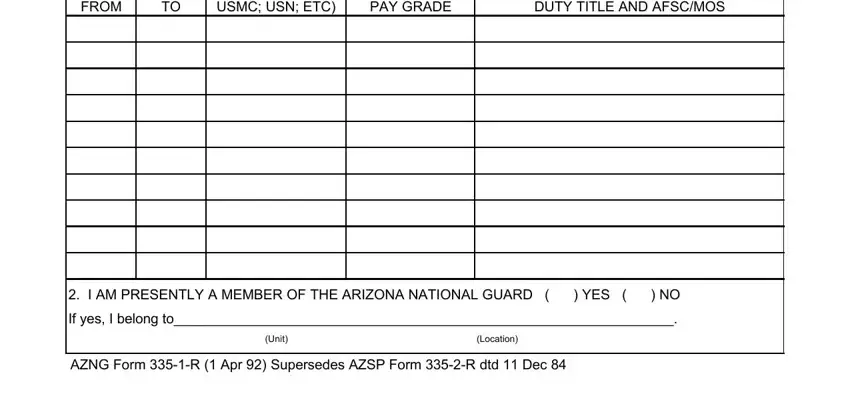 Be very careful when filling out YES and Unit, because this is the section in which a lot of people make mistakes.
3. This third step is generally hassle-free - fill in all the blanks in NAME OF SCHOOL, COURSE TITLE, FROM, b MILITARY EXTENSION COURSE, NAME OF SCHOOL, COURSE TITLE, and DATE COMPLETED to complete this segment.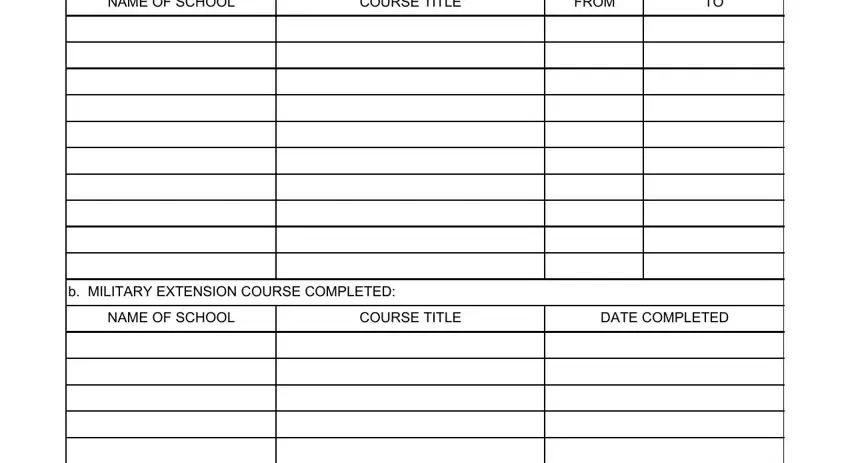 4. Filling out I HAVE HAVE NEVER BEEN DISCHARGED, DISQUALIFICATION HARDSHIP OR, ADDITIONAL INFORMATION, SIGNATURE OF APPLICANT, and DATE is key in the fourth form section - don't forget to take the time and take a close look at every single blank area!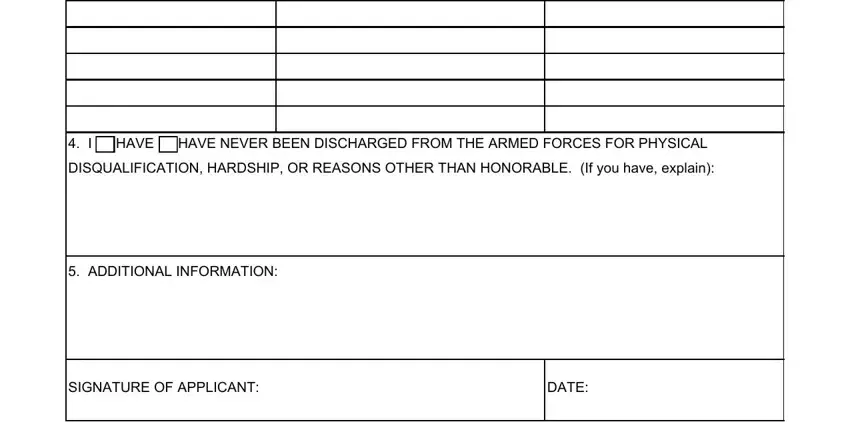 Step 3: Reread everything you've entered into the form fields and then click on the "Done" button. Try a free trial subscription at FormsPal and obtain direct access to af form 335 - with all transformations preserved and available in your personal account. Here at FormsPal.com, we do our utmost to make sure that all your information is kept secure.