Handling PDF documents online is a piece of cake with this PDF tool. You can fill out usda rd 3560 11 here and try out many other functions we provide. The editor is continually improved by our team, receiving additional functions and growing to be greater. With a few easy steps, you are able to begin your PDF journey:
Step 1: Open the PDF doc in our editor by pressing the "Get Form Button" at the top of this page.
Step 2: When you start the editor, you'll see the form ready to be filled out. In addition to filling out various fields, you can also do many other things with the file, that is writing custom words, modifying the initial text, inserting graphics, putting your signature on the PDF, and a lot more.
This document will need specific details; to guarantee consistency, make sure you take into account the guidelines further on:
1. It is crucial to fill out the usda rd 3560 11 properly, thus pay close attention while filling out the areas including these blank fields: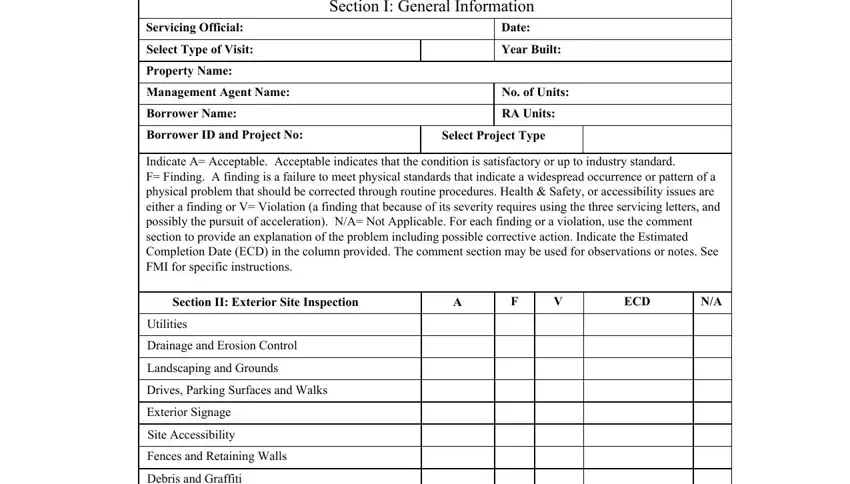 2. The subsequent part would be to submit these blanks: Debris and Graffiti, Lighting, Foundation, Exterior Walls and Siding, Roofs Flashing and Gutters, Windows Doors and Exterior, Common Area Signage, Common Area Accessibility, and CommentsObservations use.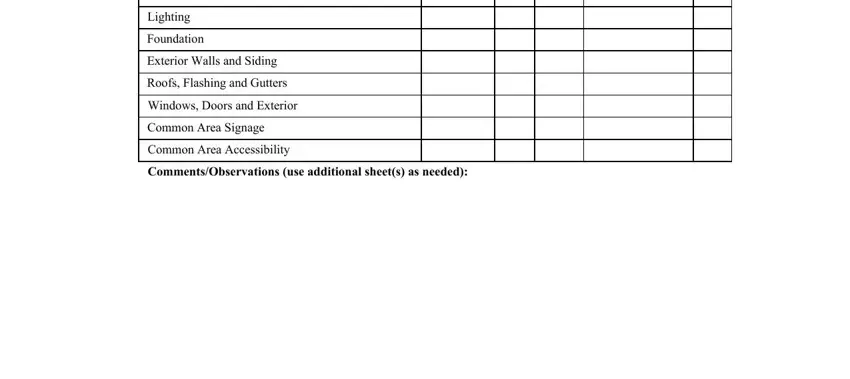 3. This subsequent part should also be quite straightforward, Section III Unit Inspection, Is this unit vacant , Tenant Name, Unit , Date vacated, Rent Ready, Apartment Unit General, ECD, Water Heaters, Emergency Call System if installed, Fire Protection, Accessibility, Electrical Air Conditioning and, InsectRodent Infestation, and Living RoomDining Room - all these form fields has to be filled in here.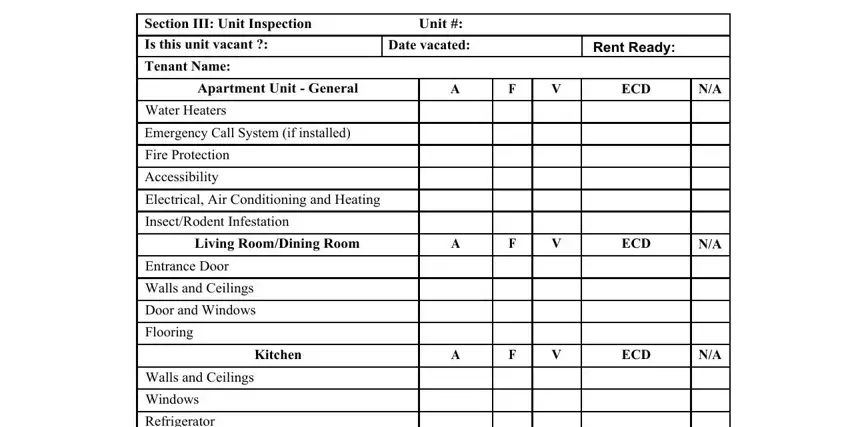 4. The subsequent part requires your details in the following areas: Refrigerator, Range and Range Hood, Sinks, Cabinets, Flooring, Accessibility, Bathroom, ECD, Water Closet, Bathtub and Shower Stall, SinksVanity, Walls and Ceilings, Doors, Flooring, and Accessibility. It is important to fill in all of the requested info to go onward.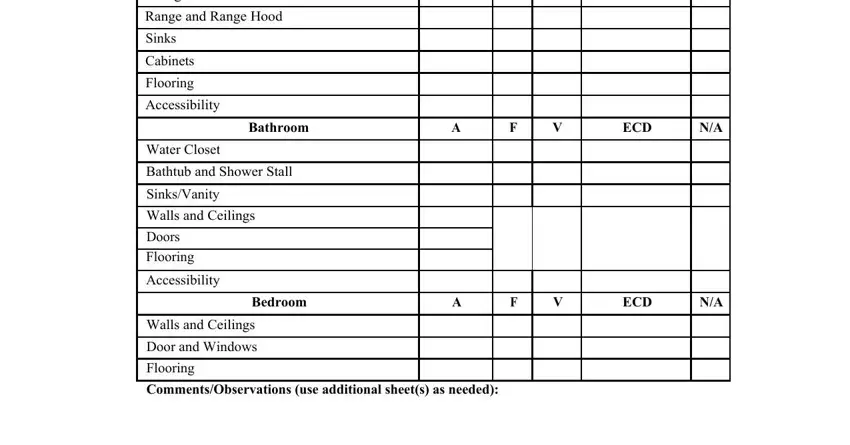 Regarding ECD and Water Closet, ensure that you review things in this current part. Those two are the key ones in this document.
Step 3: After you've reviewed the details in the file's blank fields, press "Done" to conclude your form at FormsPal. Join us right now and immediately use usda rd 3560 11, all set for downloading. Each and every change made is conveniently saved , helping you to customize the pdf at a later time if needed. We don't sell or share the details that you use whenever working with forms at our site.