Writing the nfpa 25 chapter 6 document is a breeze with this PDF editor. Follow these steps to create the document in no time.
Step 1: Click on the "Get Form Here" button.
Step 2: Now you are allowed to alter nfpa 25 chapter 6. You have a lot of options thanks to our multifunctional toolbar - you can add, delete, or alter the information, highlight the specified areas, as well as undertake other commands.
To fill in the nfpa 25 chapter 6 PDF, provide the details for each of the segments: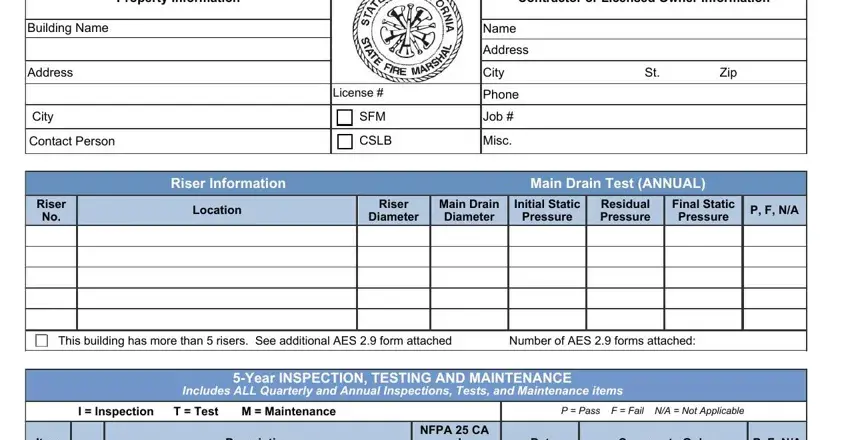 In the Item, Description, I Control Valves – Identification, I Control Valves – Inspection, I Water, flow Alarm Devices, Supervisory Devices, I Gauges (Wet Pipe Systems) I, (For hydraulically designed, Enter Water Supply Pressure Below, (not required for system prior to, I I General Information Sign, I Heat Tape, Spare Sprinklers, Date, and Comments Only box, note down the information you have.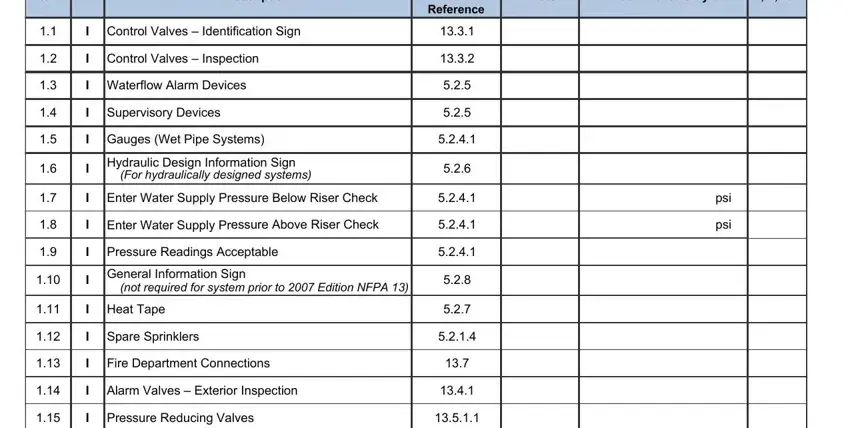 Point out the main details of the Fire Department Connections, Alarm Valves – Exterior Inspection, Pressure Reducing Valves, Back, flow Prevent, ers Form AES 2, and Sept part.

Describe the rights and responsibilities of the sides within the space Name Job #, ANNUAL INSPECTION, Include ALL Quarterly Inspections, M = Maintenance, Building Name Address City, I = Inspection, T = Test, Item, Description, Small Hose Connections - Hose, PR, V – Fire Sprinkler Systems, I Buildings (Freeze Protection) I, I Sprinklers - Accessible, I Pipe and Fittings, and I Pipe and Fittings - Accessible.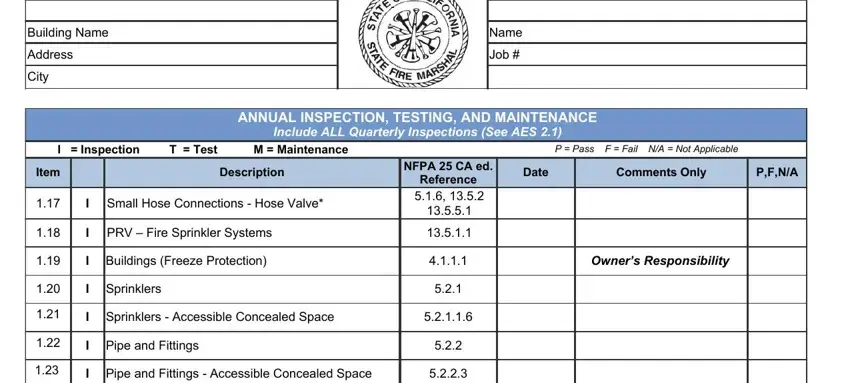 End up by looking at all these sections and preparing them correspondingly: I Pipe and Fittings - Accessible, I Hangers, I Hangers - Accessible Concealed, I Seismic Braces, I Seismic Braces - Accessible, If not present = Pass; If present, Send Report to Fire Code Official, I Un, sprinkle, red Areas T Field, (Enter data on Page 1 of this form), T Control Valve – Operation, T Supervisory Devices, T Back, flow Prevent, er Assemblies T, w, PR, V Hose Valves – Partial Flow, T Pressure Gauges - Calibration, and Yes If REQUIRED.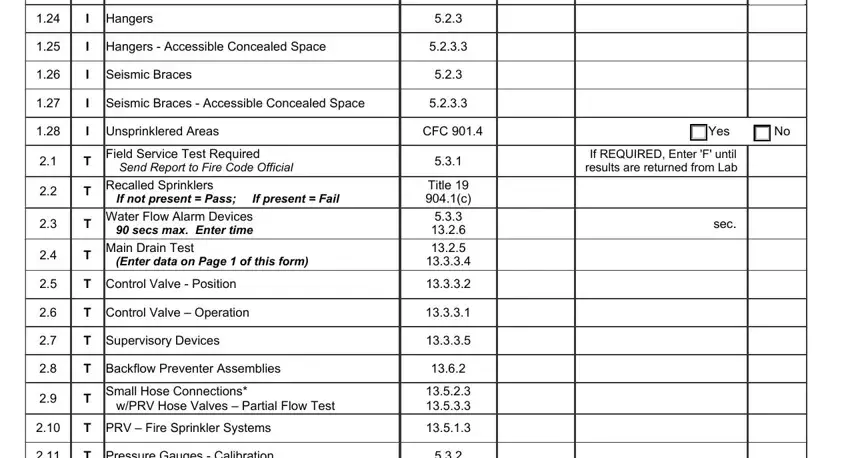 Step 3: Once you have selected the Done button, your form is going to be ready for upload to any type of electronic device or email address you specify.
Step 4: Ensure you stay clear of possible future complications by creating no less than 2 duplicates of your form.