The entire process of completing the oregon drivers license renewal form is actually comparatively straightforward. Our experts made certain our software is not difficult to understand and can help complete just about any document within minutes. Explore a few simple steps you need to follow:
Step 1: Hit the orange button "Get Form Here" on the following web page.
Step 2: After you've accessed the oregon drivers license renewal form editing page you can find the different options you can undertake concerning your template from the upper menu.
For each part, create the data demanded by the program.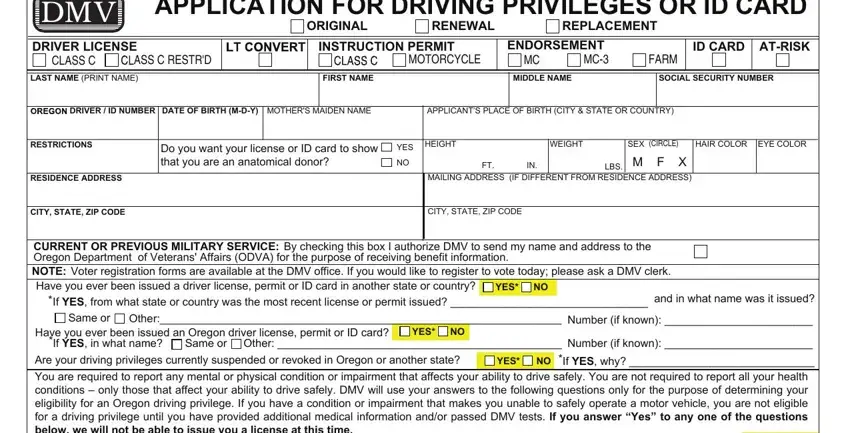 Write the details in 2) Do you have any physical or, NO * If Yes: a) What is the, YES*, Describe how this affects your, YES, 3) Do you use alcohol, NO * If Yes: Describe how your use, YES*, I am a resident of or domiciled in, IF under 18 years of age:, SIGNATURE OF APPLICANT, And applying for first driving, X S, SN Disclosure of your Social, OUTSTANDING REQUIREMENTS DATE, and TSR ID.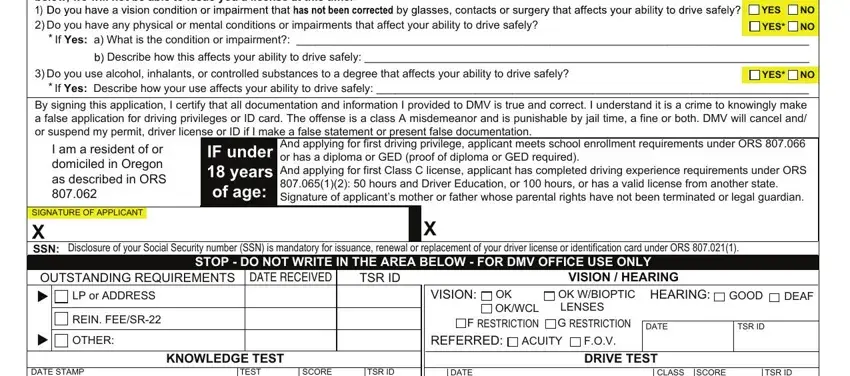 Step 3: When you select the Done button, your ready document can be simply transferred to any of your gadgets or to electronic mail stated by you.
Step 4: Be sure to remain away from upcoming difficulties by creating minimally 2 duplicates of your document.