Our PDF editor was designed with the purpose of making it as simple and user-friendly as possible. These particular steps will help make filling in the acord form 130 fast and simple.
Step 1: Choose the orange "Get Form Now" button on the following web page.
Step 2: As soon as you've entered the editing page acord form 130, you should be able to discover all of the actions available for the document at the top menu.
Fill out the a, cord form 130 PDF and type in the information for each and every area: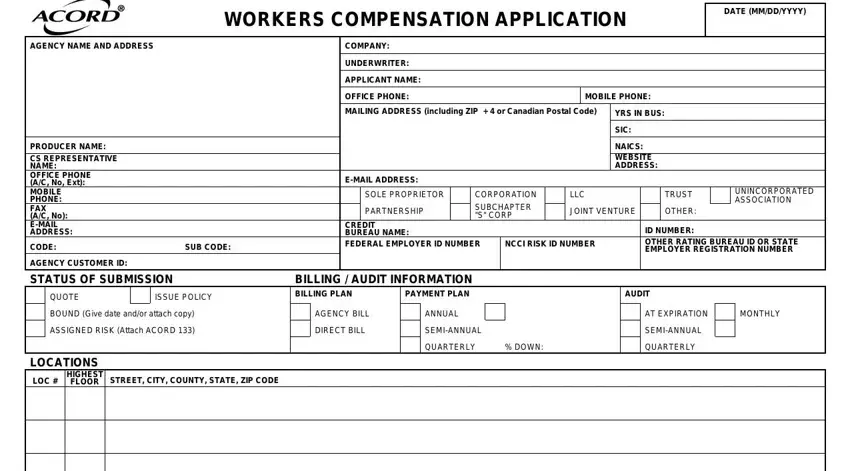 In the LOCATIONS HIGHEST FLOOR, LOC #, STREET, POLICY INFORMATION, PROPOSED EFF DATE, PROPOSED EXP DATE, NORMAL ANNIVERSARY RATING DATE, PARTICIPATING, NON, PARTICIPATING RETRO PLAN, PART 1 - WORKERS, COMPENSATION (States), PART 2 - EMPLOYER, 'S LIABILITY, PART 3 - OTHER STATES IN, S and DIVIDEND PLAN, SAFETY GROUP box, note down your data.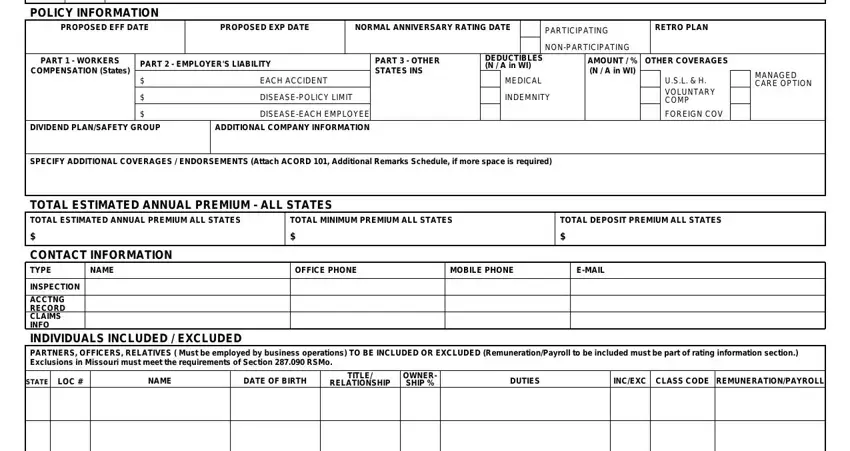 The application will request information to quickly submit the segment INSPECTION ACC, TNG RECORD CLAIMS, STATE, LOC #, NAME, DATE OF BIRTH, TITLE/, RELATIONSHIP, OWNER- SHIP %, DUTIES, INC, EX, C CLASS CODE, A, CORD 130 2013, 01 Page 1 of 4, © 1980, 2013 A, CORD CORPORATION, and The A, CORD name and logo are.

Make sure you describe the rights and obligations of the sides inside the STATE RATING SHEET #, SHEETS, AGENCY CUSTOMER ID:, FOR MULTIPLE STATES, RATING INFORMATION - STATE:, STATE RATING WORKSHEET, LOC #, CLASS CODE, DES, CR CODE, CATEGORIES, # EMPLOYEES PART FULL TIME TIME, SIC, NAIC, S ESTIMATED ANNUAL, and REMUNERATION/ part.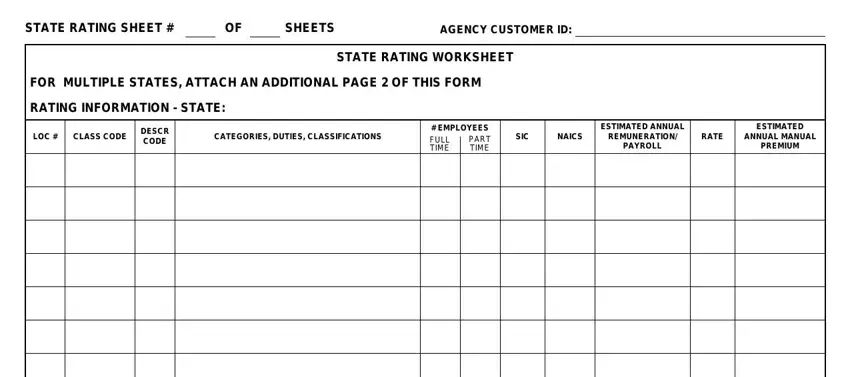 Finish by checking the following sections and preparing them as required: PREMIUM, STATE:, TOTAL, INCREASED LIMITS, DEDUCTIBLE *, EXPERIENCE OR MERIT MODIFICATION, ASSIGNED RISK SURCHARGE *, ARAP *, * N / A in Wisconsin, FACTOR, N / A, TOTAL ESTIMATED ANNUAL PREMIUM, MINIMUM PREMIUM, FACTORED PREMIUM, and FACTOR.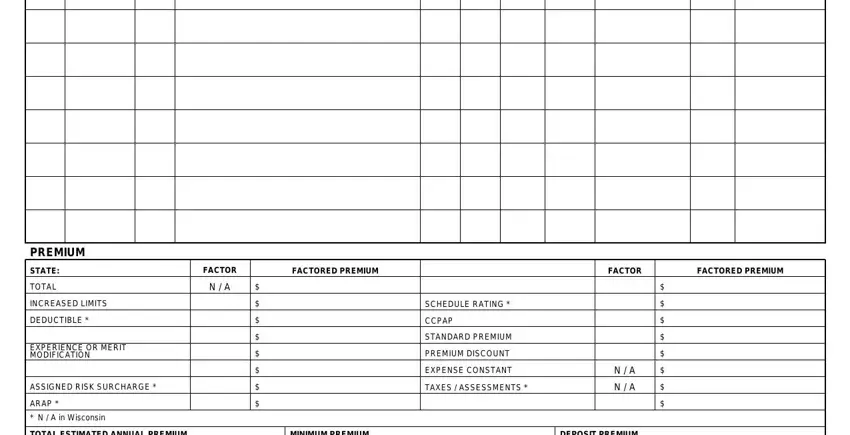 Step 3: As soon as you've hit the Done button, your document will be readily available transfer to any kind of device or email you indicate.
Step 4: Be sure to generate as many copies of the form as you can to avoid potential troubles.