You can certainly complete documents through our PDF editor. Editing the 130 notice file is effortless in case you try out the next steps:
Step 1: To get going, select the orange button "Get Form Now".
Step 2: Now it's easy to manage your 130 notice. This multifunctional toolbar allows you to include, remove, transform, and highlight text or perform other sorts of commands.
Enter the requested details in every single part to create the PDF 130 notice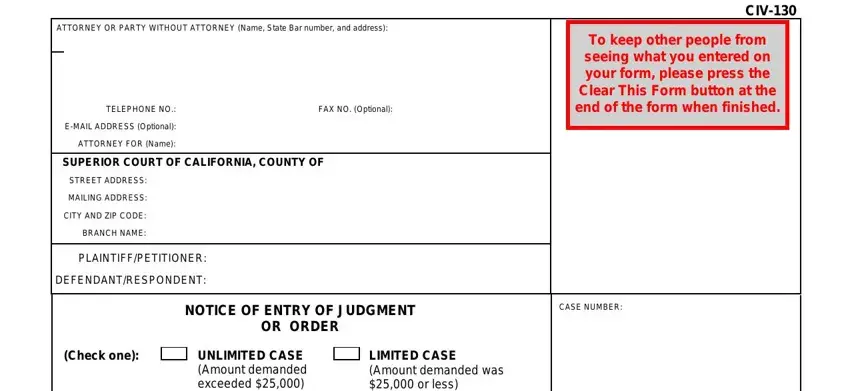 Inside the segment TO ALL PARTIES : 1, A judgment, A copy of the judgment, Date:, (TYPE OR PRINT NAME OF, ATTORNEY, PARTY WITHOUT ATTORNEY), and (SIGNATURE) type in the information that the application asks you to do.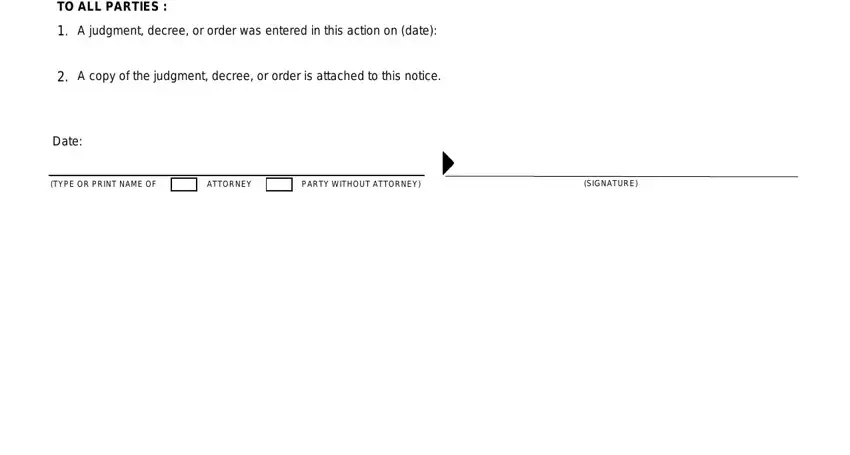 Within the section dealing with PLAINTIFF, PETITIONER DEFENDANT, RESPONDENT CASE NUMBER:, CIV, 130 PROOF OF SERVICE BY FIRST, CLASS (NOTE: You cannot serve the Notice, I am at least 18 years old and not, I served a copy of the Notice of, deposited the sealed envelope with, and The Notice of Entry of Judgment or, it's important to put down some significant data.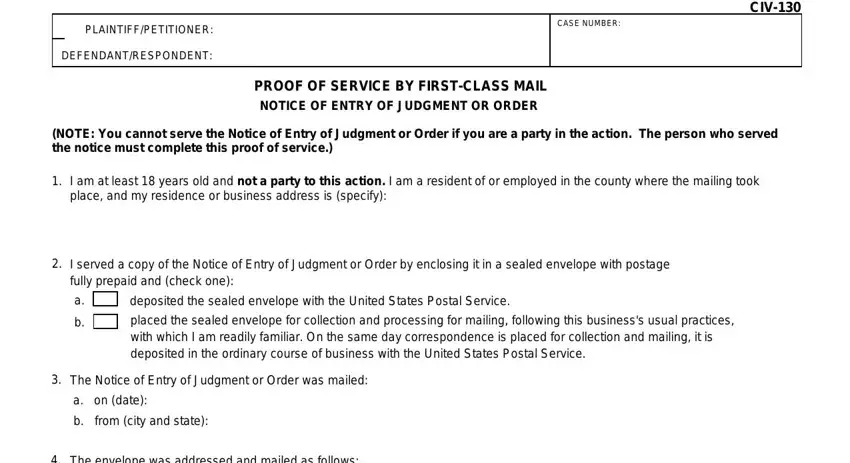 The The Notice of Entry of Judgment or, from (city and state):, The envelope was addressed and, Street address: City: State and, Street address: City: State and, Street address: City: State and, Street address: City: State and, Names and addresses of additional, Number of pages attached , I declare under penalty of perjury, and Date: field enables you to specify the rights and obligations of both sides.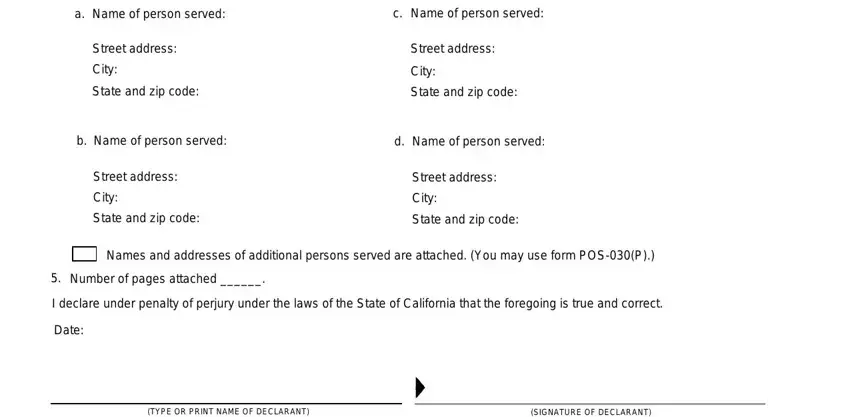 Finalize by reviewing the next areas and completing them as required: (TYPE OR PRINT NAME OF DE, CLARA, NT (SIGNATURE OF DE, CLARA, NT CIV, 130 New January 1, NOTICE OF ENTRY OF JUDGMENT OR, and Page 2 of 2.

Step 3: Choose the Done button to ensure that your finalized document could be transferred to any electronic device you select or forwarded to an email you indicate.
Step 4: You could make copies of the form tostay clear of all forthcoming concerns. Don't be concerned, we don't disclose or record your data.