Whenever you wish to fill out af form 1327, you don't need to install any kind of programs - simply give a try to our PDF editor. To retain our editor on the forefront of convenience, we strive to put into action user-driven capabilities and enhancements on a regular basis. We're routinely glad to receive suggestions - assist us with revampimg PDF editing. Here's what you'll need to do to begin:
Step 1: Simply click on the "Get Form Button" at the top of this page to launch our pdf file editing tool. This way, you'll find everything that is required to work with your document.
Step 2: With our advanced PDF editor, you could accomplish more than simply fill in forms. Edit away and make your documents appear great with customized text incorporated, or optimize the file's original content to excellence - all that supported by the capability to insert your personal photos and sign it off.
With regards to the blank fields of this precise document, here's what you should consider:
1. The af form 1327 usually requires certain information to be typed in. Ensure that the subsequent blanks are complete: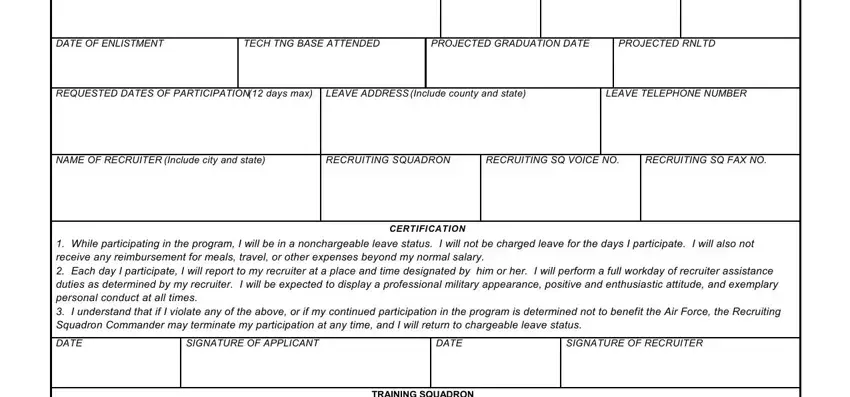 2. Once this part is completed, go on to type in the applicable details in all these: COMMENTS, TRAINING SQUADRON, APPROVED, DATE, DISAPPROVED, APPROVED, DATE, DISAPPROVED, TYPED NAMEGRADE OF APPROVING, TRAINING GROUP, TYPED NAMEGRADE OF APPROVING, APPROVED DATES, RECRUITING SQUADRON, APPROVED, and DISAPPROVED.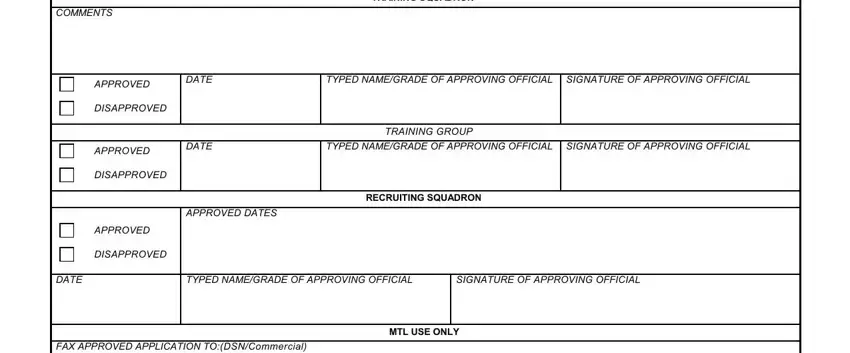 Be extremely attentive when filling in APPROVED and RECRUITING SQUADRON, as this is the section in which many people make mistakes.
Step 3: Soon after taking one more look at your form fields you've filled out, click "Done" and you are good to go! Create a free trial account with us and obtain instant access to af form 1327 - with all transformations kept and accessible in your FormsPal cabinet. FormsPal is committed to the privacy of all our users; we always make sure that all personal data entered into our tool remains confidential.