afto 43 fillable can be completed easily. Simply try FormsPal PDF tool to get the job done fast. Our editor is consistently evolving to give the very best user experience attainable, and that is due to our dedication to continuous enhancement and listening closely to user feedback. By taking a few easy steps, you can start your PDF journey:
Step 1: Click on the "Get Form" button above on this page to access our PDF editor.
Step 2: With the help of this online PDF editing tool, it is possible to do more than just fill out forms. Try each of the features and make your documents appear high-quality with customized textual content added in, or fine-tune the original content to perfection - all that comes with an ability to insert your own photos and sign it off.
It's simple to fill out the document with this practical tutorial! This is what you need to do:
1. Fill out your afto 43 fillable with a group of major blanks. Consider all of the required information and be sure nothing is left out!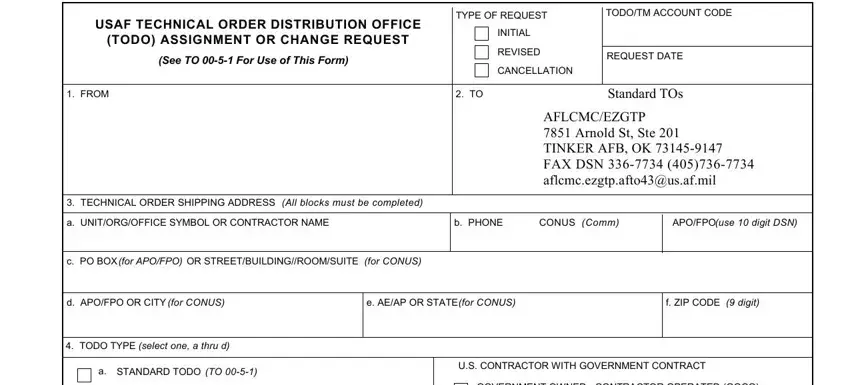 2. After the last part is completed, go on to type in the relevant details in all these - b NUCLEAR WEAPON TODO TO Chapter , c NUCLEAR RELATED EOD TODO TO , d NONNUCLEAR EOD TODO TO Chapter , GOVERNMENT OWNED CONTRACTOR, CONTRACTOR OWNED CONTRACTOR, CONTRACT NUMBER, ISSUING AGENCY, USAF ORGANIZATION select a MAJCOM, CANCELLATION DATE, YYYYMMDD, US GOVERNMENT NONUSAF ORG, Indicate Department or Government, ACCOUNTS REQUIRED ACCOUNTS REQUIRED, Select All Required see completion, and TOs TOs.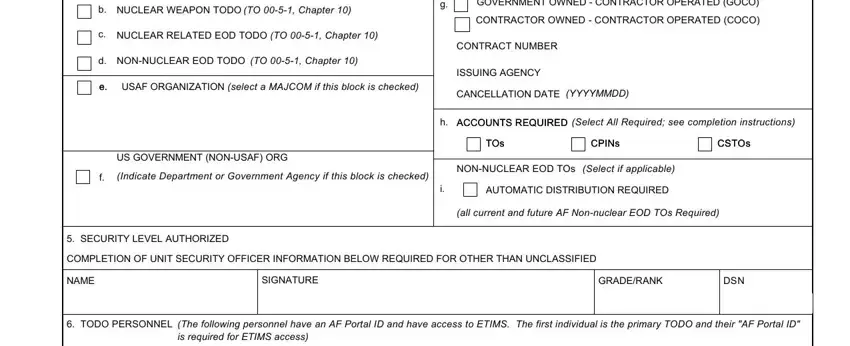 3. The following section is mostly about a ORGANIZATIONAL EMAIL ADDRESS, SEE COMPLETION INSTRUCTIONS, LEAD TODO REQUIRING ETIMS ETOOL, PRIMARY, ALTERNATE, NAME, TITLE, GRADE, DSN, EMAIL, NAME, TITLE, EMAIL, GRADE, and DSN - fill out these blank fields.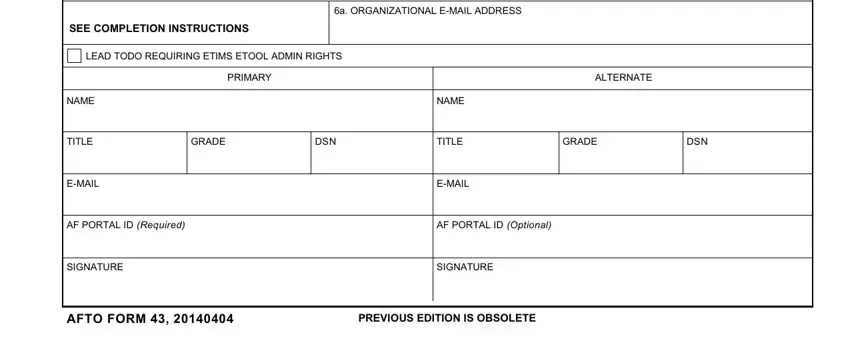 4. To move ahead, this step will require completing a couple of blank fields. Examples of these are ORGANIZATION, ADDRESS, NAME, SIGNATURE, TITLE, GRADE, DSN, COMMANDCONTRACTING OFFICER, ORGANIZATION, ADDRESS, NAME, SIGNATURE, FOR AFMC TODO CODE MANAGEMENT, TITLE, and GRADE, which you'll find fundamental to continuing with this particular PDF.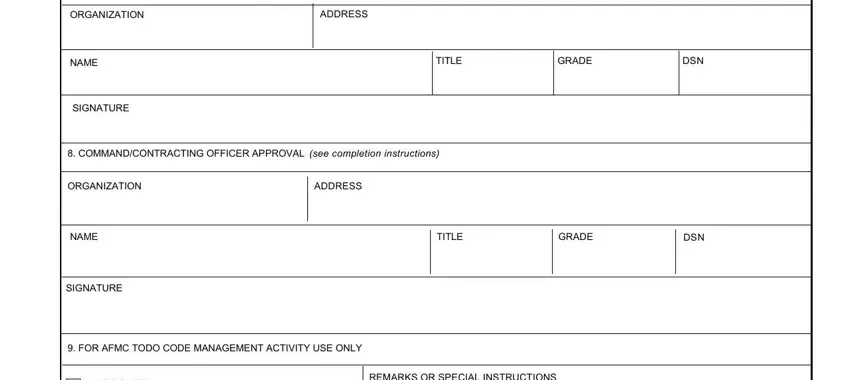 In terms of TITLE and COMMANDCONTRACTING OFFICER, make sure that you double-check them in this section. Both these are viewed as the most important ones in this page.
5. As you reach the completion of your file, you will find a few more things to complete. In particular, APPROVED, DISAPPROVED, CONTINUATION, REMARKS OR SPECIAL INSTRUCTIONS, and CPINS APPROVAL ONLY should be filled in.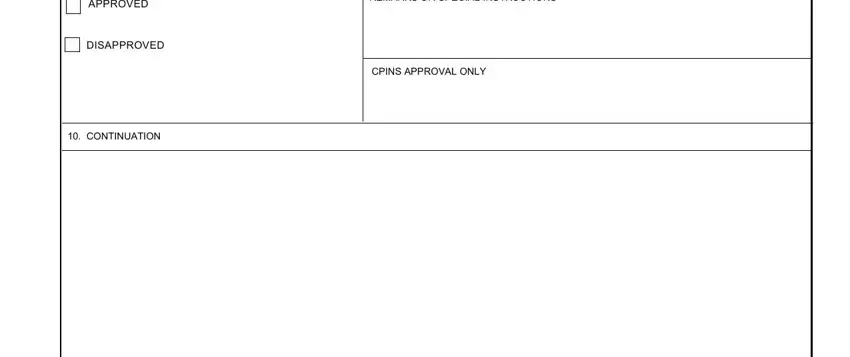 Step 3: Revise the information you have typed into the blanks and hit the "Done" button. Get hold of your afto 43 fillable the instant you register here for a free trial. Instantly get access to the pdf document from your FormsPal account, along with any edits and adjustments being automatically kept! FormsPal is devoted to the privacy of our users; we make sure that all personal information coming through our tool stays protected.