il ptax 343 a can be filled in effortlessly. Simply make use of FormsPal PDF editing tool to perform the job fast. FormsPal is aimed at giving you the best possible experience with our editor by continuously adding new functions and upgrades. With these updates, working with our tool gets easier than ever before! This is what you'll need to do to get started:
Step 1: Open the PDF in our editor by pressing the "Get Form Button" at the top of this page.
Step 2: After you launch the editor, you will notice the document all set to be filled in. Aside from filling out different blanks, you may as well do various other things with the form, such as writing any textual content, editing the original textual content, adding illustrations or photos, affixing your signature to the form, and more.
This form will require particular information to be entered, thus make sure you take the time to enter exactly what is required:
1. You will want to fill out the il ptax 343 a correctly, so take care when working with the segments comprising all of these blank fields: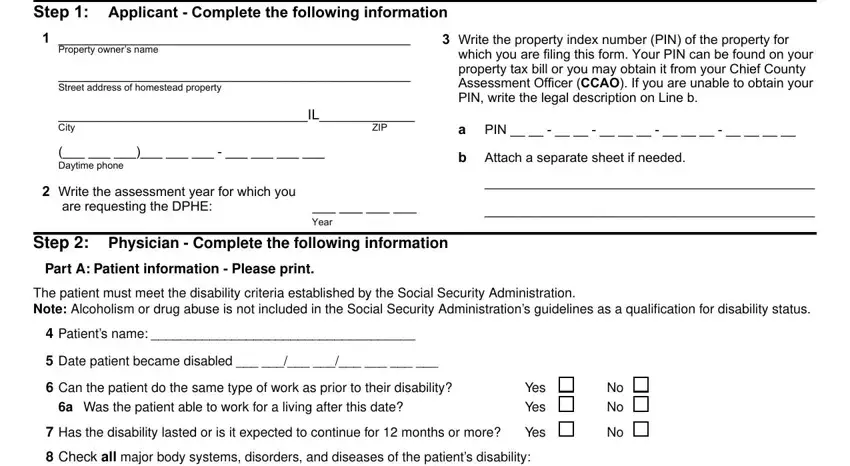 2. Given that this section is finished, it's time to add the essential specifics in Musculoskeletal, Special Senses and Speech, Skin, Endocrine, Respiratory, Cardiovascular, Digestive, Genitourinary, Hematological, Impairments that Affect Multiple, Neurological, Mental, Malignant Neoplastic, Immune, and What is the nature of the allowing you to move on further.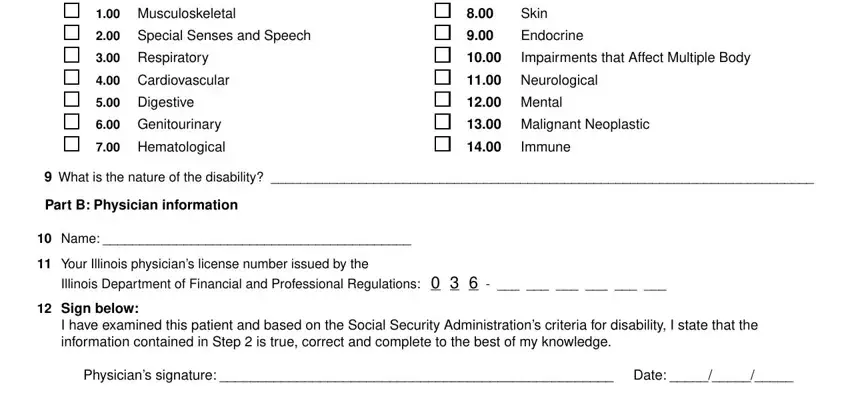 3. Completing To qualify for the Disabled, When and where must I fi le this, What is considered proof of, County CCAO, Mailing address, City If you have any questions, ZIP, A Class Illinois Disabled Person, Illinois Secretary of States Offi, Proof of Social Security, SSAL SSAL or SSAL, Proof of Veterans Administration, includes an award letter or verifi, Proof of Railroad or Civil, and includes an award letter or verifi is essential for the next step, make sure to fill them out in their entirety. Don't miss any details!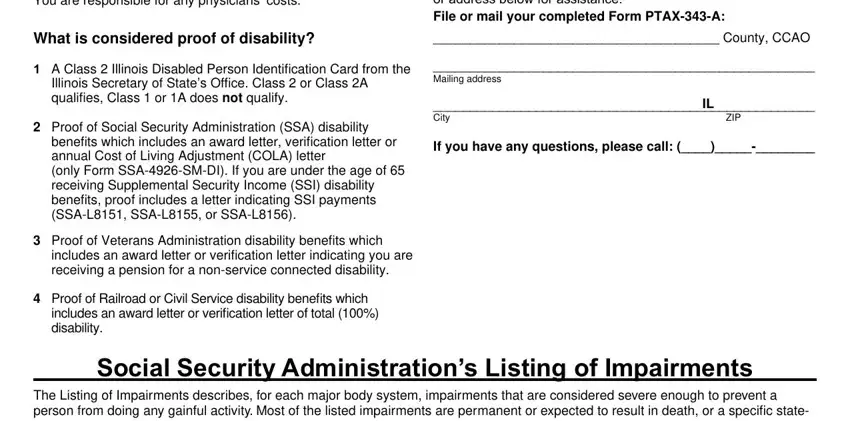 4. Filling out Date received, Month Day Year, DFPR license verifi ed, Month Day Year, Offi cial use Do not write in this, Comments, and PTAXA N is vital in the fourth step - don't forget to invest some time and fill in each empty field!

It's easy to make errors when completing the Date received, hence be sure you take a second look prior to when you send it in.
Step 3: After rereading your fields, click "Done" and you're done and dusted! Join us now and immediately obtain il ptax 343 a, ready for download. Every single modification you make is handily saved , which means you can change the file later as required. FormsPal guarantees your information confidentiality by using a secure method that never saves or distributes any sort of sensitive information used. Be assured knowing your paperwork are kept protected any time you work with our services!