You are able to prepare ar1103 form instantly with the help of our online PDF tool. FormsPal team is committed to giving you the ideal experience with our tool by regularly releasing new features and enhancements. With all of these improvements, working with our tool becomes easier than ever! To start your journey, take these simple steps:
Step 1: Click on the "Get Form" button above. It will open up our pdf editor so you could begin completing your form.
Step 2: Once you open the PDF editor, you'll notice the document made ready to be filled in. Aside from filling in different blanks, you might also do other sorts of things with the form, such as adding custom words, modifying the initial text, adding illustrations or photos, affixing your signature to the form, and much more.
Be mindful while completing this pdf. Make sure each and every field is done correctly.
1. You will need to complete the ar1103 form accurately, so pay close attention when working with the segments including these blanks: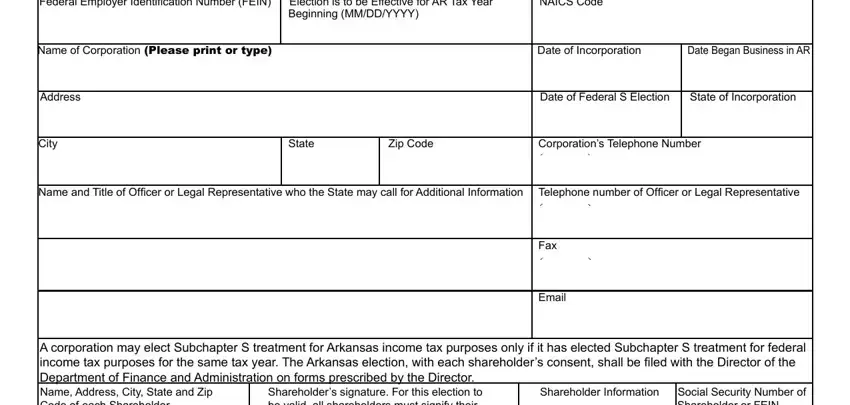 2. Now that the previous section is complete, you're ready to include the needed particulars in Do Not write in shaded areas, Signature, Date, m a f f i k c e h C, r e b m e m, f o , d e n w O , a D, d e r i u q c A, e c n e d s e R, f o e t a t S, NOTE For this election to be valid, Officers Title, and Date so you can proceed to the next stage.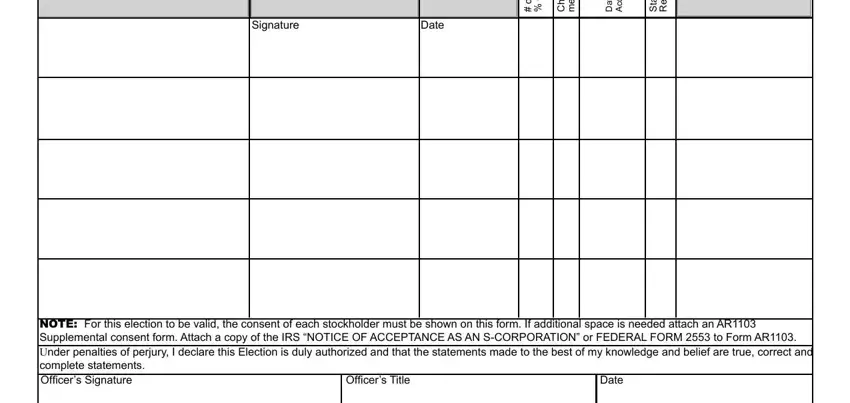 You can easily make an error while filling in the r e b m e m, so be sure you reread it before you decide to finalize the form.
3. This subsequent part is fairly simple, Name of Corporation, Federal Employer Identification, Name Address City State and Zip, Shareholders signature For this, Shareholder Information, Do Not write in shaded areas, r o s e r a h S, f o , d e n w O , l i, m a f f i k c e h C, r e b m e m, d e r i u q c A, s e t a D, and y c n e d s e R - each one of these blanks will need to be completed here.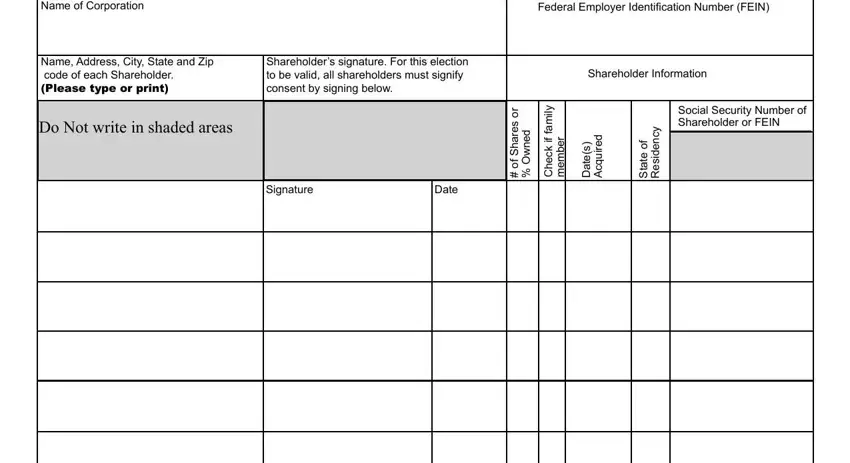 4. The subsequent subsection requires your attention in the following areas: NOTE Attach this supplemental, and Mail completed Form to Corporation. Be sure to enter all required information to go onward.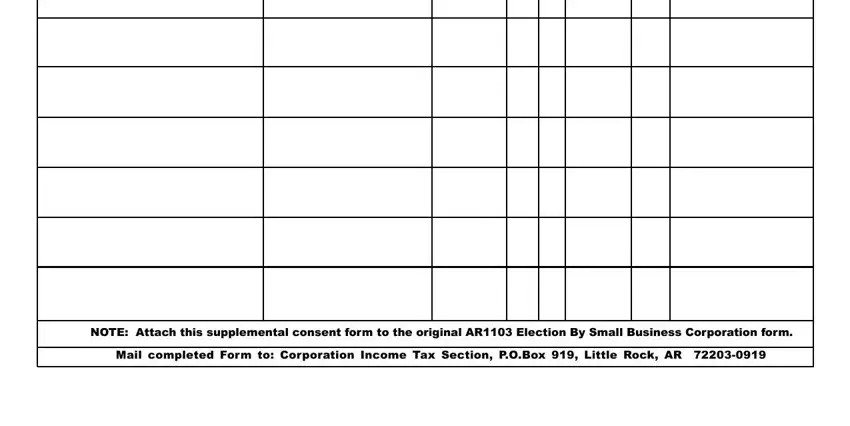 Step 3: After looking through your fields and details, click "Done" and you're good to go! Get the ar1103 form after you subscribe to a 7-day free trial. Instantly gain access to the form inside your personal account, with any modifications and adjustments automatically kept! FormsPal ensures your information confidentiality by having a protected system that in no way saves or distributes any type of sensitive information involved. Feel safe knowing your documents are kept safe whenever you use our tools!