In case you would like to fill out Form 103 Short, you won't have to download any sort of applications - just use our online tool. Our tool is continually evolving to present the very best user experience attainable, and that is thanks to our commitment to constant improvement and listening closely to feedback from users. Here's what you'll need to do to get going:
Step 1: Press the "Get Form" button above. It is going to open up our pdf tool so you could start filling in your form.
Step 2: Using this state-of-the-art PDF editing tool, you may do more than merely fill out blank form fields. Express yourself and make your forms look sublime with customized textual content put in, or tweak the original input to perfection - all backed up by the capability to add almost any photos and sign the file off.
When it comes to blank fields of this precise PDF, this is what you should consider:
1. Complete your Form 103 Short with a group of necessary blank fields. Get all of the necessary information and be sure there is nothing neglected!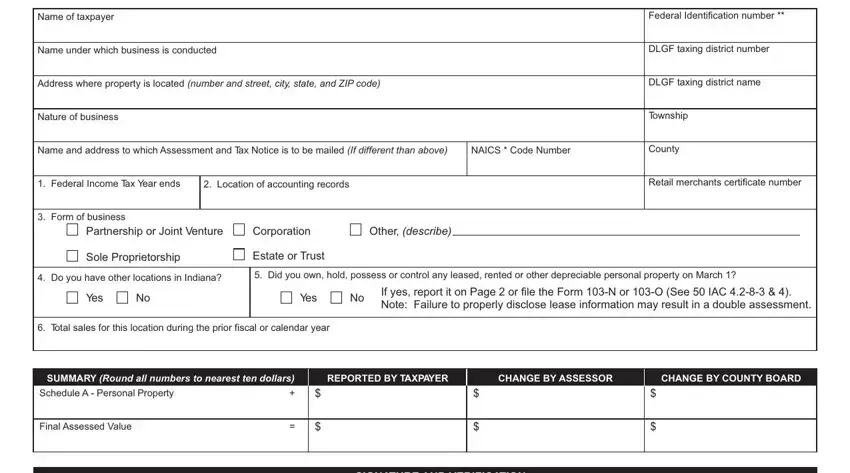 2. Once the prior section is filled out, go to type in the applicable details in these - Under Penalties of Perjury I, Signature of authorized person, Printed name of authorized person, Title, Signature of person preparing, Contact email address, Printed name and contact, Date month day year, Telephone number, NAICS North American Industry, NOTE The NAICS Code Number appears, An individual using his Social, and Page of.

3. Completing DEPRECIABLE PERSONAL PROPERTY, TOTAL COST, TTV, TRUE TAX VALUE, From To, Prior To, TOTALS, of line Column A, Line must be the greater of Line, Total True Tax Value of, Fully depreciated assets must be, Election to report cost of, Yes No, Filing Basics, and To locate contact information for is essential for the next step, make sure to fill them out in their entirety. Don't miss any details!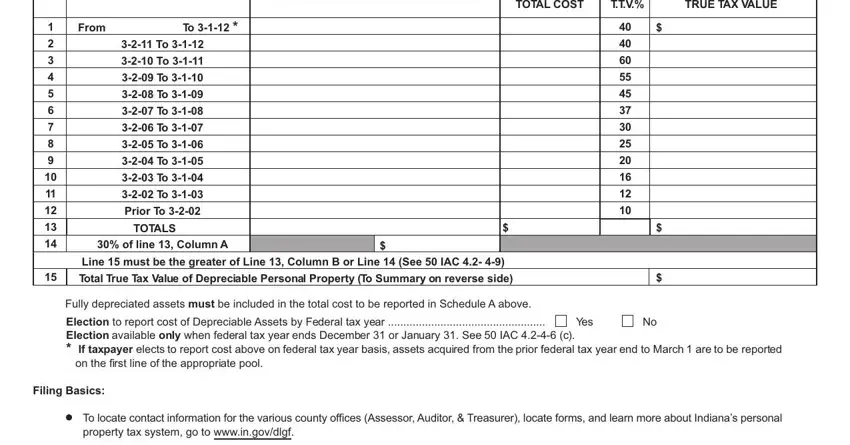 4. This next section requires some additional information. Ensure you complete all the necessary fields - Name and Address, of Owner, Location of, Property, Date of Lease, month day year, Model Number and Description, Quantity, Cost If Known, and Page of - to proceed further in your process!

People often make some mistakes while filling in of Owner in this part. Be sure to reread what you type in right here.
Step 3: Soon after proofreading the fields and details, hit "Done" and you're good to go! Sign up with us today and immediately access Form 103 Short, all set for download. Every single change you make is handily saved , letting you edit the document at a later stage if needed. FormsPal ensures your information confidentiality by having a secure system that in no way saves or shares any type of private information used in the file. Rest assured knowing your docs are kept confidential every time you work with our services!