The PDF editor was designed to be as straightforward as it can be. Since you follow the following steps, the process of managing the arbonne prices document is going to be hassle-free.
Step 1: Choose the button "Get Form Here" and click it.
Step 2: Right now, you can begin editing the arbonne prices. The multifunctional toolbar is at your disposal - insert, delete, modify, highlight, and undertake many other commands with the content in the file.
The PDF form you desire to create will include the next segments: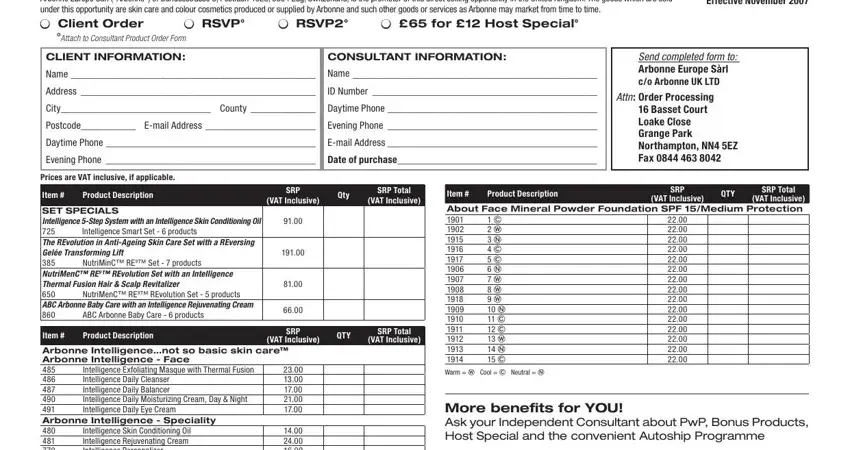 Write the essential information in the Intelligence Skin Conditioning Oil, Intelligence Thermal Fusion Hair, Damage Control Water Resistant SPF, Intelligence mL Herbal Foot Cream, RElease Deep Pore Cleansing Masque, Arbonne Intelligencenot so basic, REveal Exfoliating Wash REstoring, Sunscreen SPF High Protection Hair, C W N C C N W W W N C, CLIENT ORDER SUMMARY, PRODUCT TOTAL, BONUS TOTAL, SPECIALS TOTAL, Delivery Charge, and ORDER TOTAL section.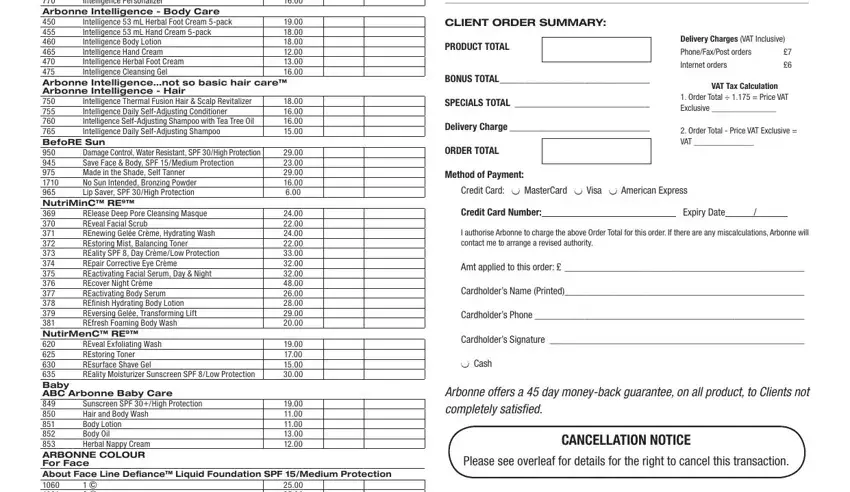 The application will demand for extra info with the intention to automatically fill out the box Arbonne Intelligencenot so basic, C W N C C N W W W N C, ClientBuyers Signature, I wish to order the products set, and R ARBONNE INTERNATIONAL LLC.

In the field NOTICE OF RIGHT TO CANCEL, DATE of transaction, You have the right to cancel this, Arbonne Independent Consultant, and Address City County Postcode, identify the rights and responsibilities.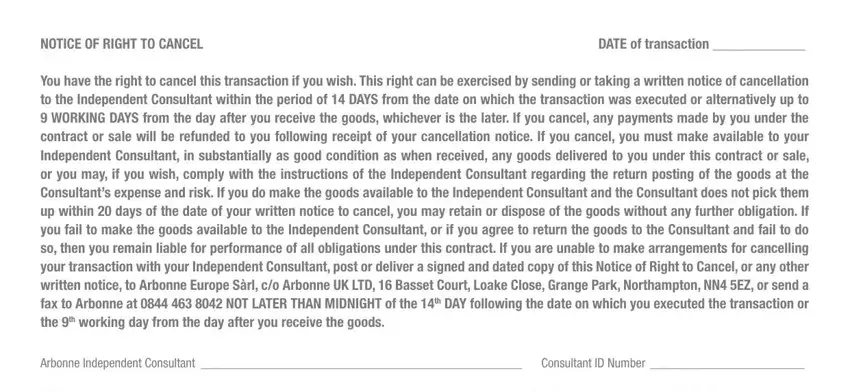 Finish by reading the following sections and completing the pertinent data: I HEREBY CANCEL THIS TRANSACTION, and Date ClientBuyers signature.

Step 3: Hit "Done". It's now possible to export the PDF form.
Step 4: Create duplicates of your form - it will help you remain away from future worries. And fear not - we don't share or view your details.