The 127 acknowledgment paternity form completing course of action is easy. Our editor lets you work with any PDF document.
Step 1: To begin the process, select the orange button "Get Form Now".
Step 2: At the moment, you can start modifying your 127 acknowledgment paternity form. The multifunctional toolbar is at your disposal - insert, erase, transform, highlight, and perform several other commands with the words and phrases in the document.
The next sections are contained in the PDF document you'll be completing.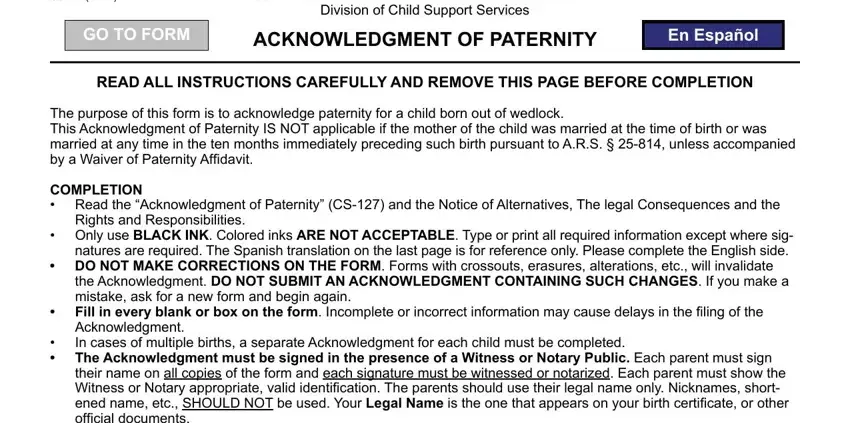 Provide the appropriate data in the CS Page, ARIZONA DEPARTMENT OF ECONOMIC, CHILDS NAME First Middle Last, BIRTHDATE MMDDYY, MALE, FEMALE, PLACE OF BIRTH CITY, COUNTY, STATE, HOSPITAL, HOW YOU WANT THE CHILDS NAME TO, IF THE CHILDS NAME HAS NOT CHANGED, FIRST, MIDDLE, and LAST area.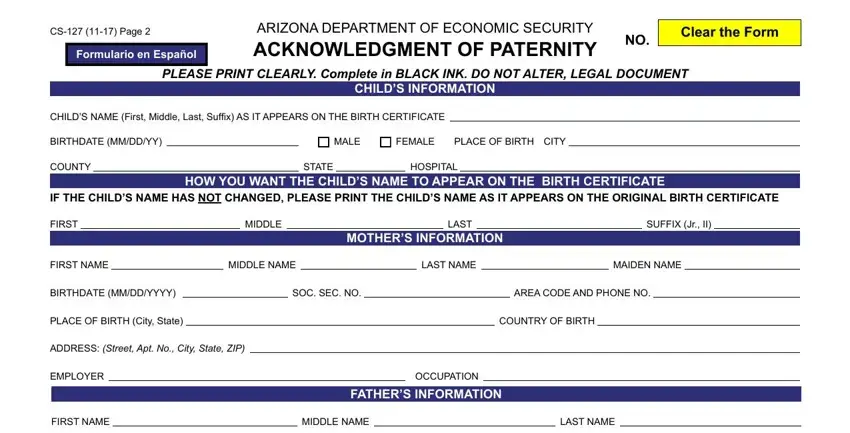 The application will request you to write some significant details to automatically fill in the segment BIRTHDATE MMDDYYYY, SOC SEC NO, AREA CODE AND PHONE NO, PLACE OF BIRTH City State, COUNTRY OF BIRTH, ADDRESS Street Apt No City State, EMPLOYER, OCCUPATION, The mother was legally married at, A Waiver of Paternity Affidavit, the presentformer husband is, This Acknowledgment is being, SIGNATURE OF MOTHER Sign only in, SIGNATURE OF FATHER Sign only in, and SIGNATURE OF WITNESS TO BE.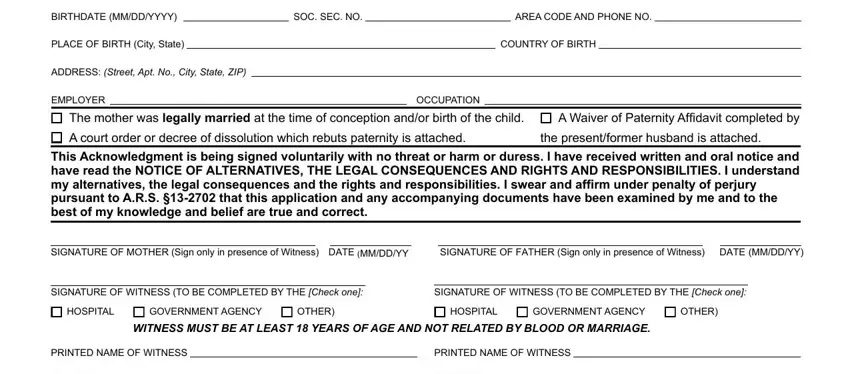 Inside the part ADDRESS, ADDRESS, ADDRESS NOTARY SECTION TO BE, ADDRESS, State of Arizona County of, State of Arizona County of, this, day of, this, day of, NOTARY PUBLIC, NOTARY PUBLIC, PLACE NOTARY SEAL HERE, PLACE NOTARY SEAL HERE, and My Commission expires, include the rights and responsibilities of the sides.

Review the sections The Arizona Department of Health, CHILDS NAME First Middle Last, BIRTHDATE, MOTHERS NAME Last First MI, FATHERS NAME Last First MI, What is the highest level of, FATHERS EDUCATION Check One, th grade or less th th grade no, Associate degree eg AA AS, FATHERS RACE Check All That Apply, White Black African American, American Indian or Alaska Native, Primary or Enrolled tribe, Additional Tribe, and Additional Tribe and thereafter complete them.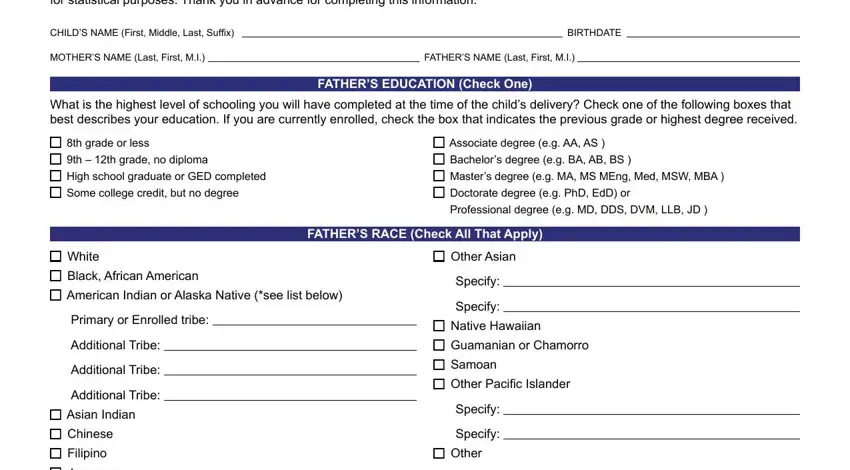 Step 3: At the time you click the Done button, your final file is easily exportable to every of your devices. Or, you will be able to deliver it through mail.
Step 4: Produce around a couple of copies of the document to avoid any sort of future challenges.