Using PDF documents online is certainly a piece of cake with our PDF editor. You can fill out bir form 1902 pdf here within minutes. To maintain our editor on the leading edge of convenience, we work to put into action user-oriented capabilities and enhancements on a regular basis. We're always looking for feedback - play a pivotal part in reshaping PDF editing. Should you be looking to get going, here is what it requires:
Step 1: Click on the "Get Form" button in the top part of this page to access our PDF editor.
Step 2: Using this handy PDF file editor, you can accomplish more than merely fill out blanks. Try all the features and make your documents seem sublime with custom textual content put in, or fine-tune the original content to excellence - all backed up by an ability to add just about any images and sign the document off.
This PDF form requires some specific information; in order to ensure accuracy and reliability, take the time to bear in mind the recommendations further on:
1. It is crucial to fill out the bir form 1902 pdf correctly, therefore take care when filling in the sections containing these specific blanks: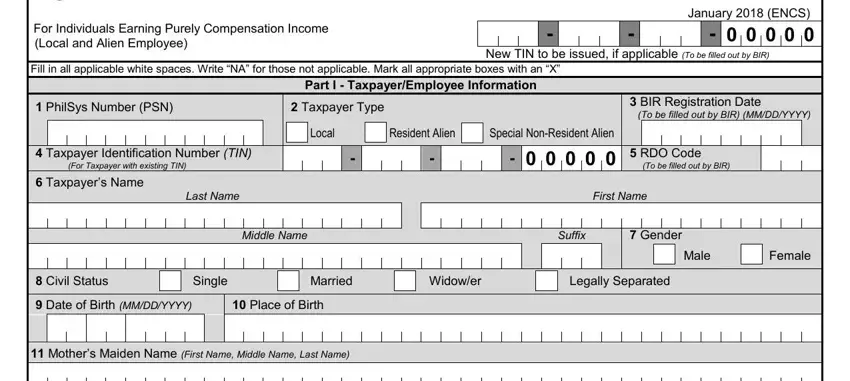 2. The next step is to fill in all of the following blanks: Fathers Name First Name Middle, Citizenship, Other Citizenship, Building NameTower, Street Name, Barangay, MunicipalityCity, Province, ZIP Code, Identification Details eg, Tax Type INCOMETAX Form Type BIR, Number, Effective Date MMDDYYYY Expiry, Local Residence Address, and UnitRoomFloorBuilding No.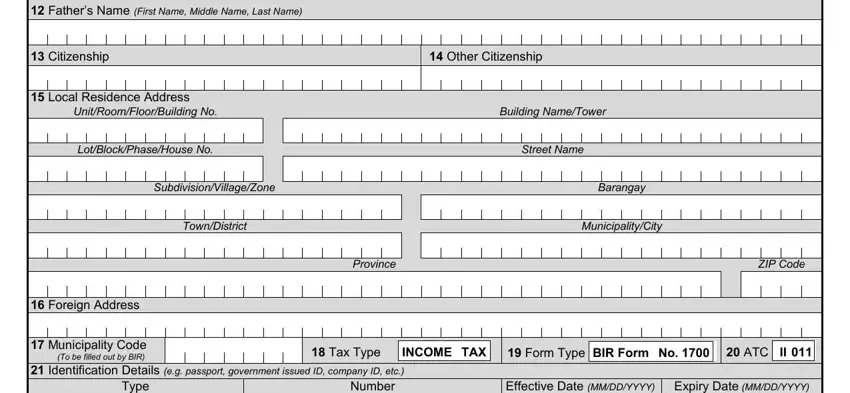 Lots of people often make mistakes when filling out Province in this area. Make sure you revise what you type in here.
3. The next step should be fairly uncomplicated, Number, PlaceCountry of Issue, Effective Date MMDDYYYY Expiry, Mobile Number, Part II Spouse Information if, Unemployed Employed Locally, Spouse Name Last Name First Name, Middle Name, Spouse TIN , Suffix, Spouse Employers Name Last Name, Spouse Employers TIN, Issuer, Type, and Preferred Contact Type - these blanks must be completed here.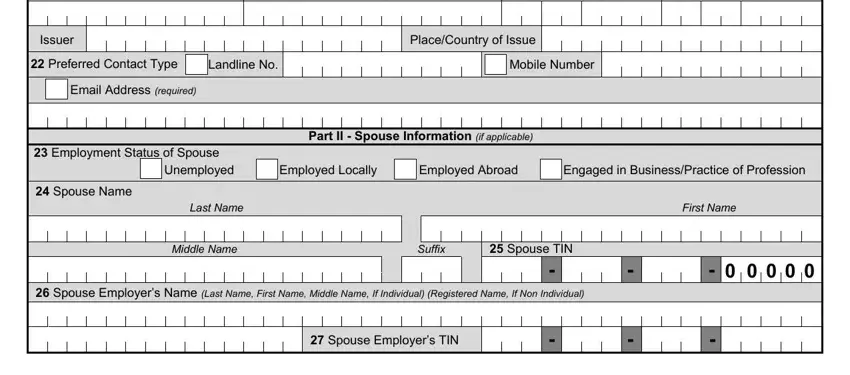 4. Filling in Part III For Employee with Two or, Type of Multiple Employments, Successive Employments With, Concurrent Employments With two or, If successive enter previous, A Name of Employer, A Name of Employer, A Name of Employer, B TIN of Employer, Previous andor Concurrent, B TIN of Employer, B TIN of Employer, Declaration I declare under the, TaxpayerEmployeeAuthorized, and Signature over Printed Name is key in the next step - don't forget to take your time and take a close look at each and every blank!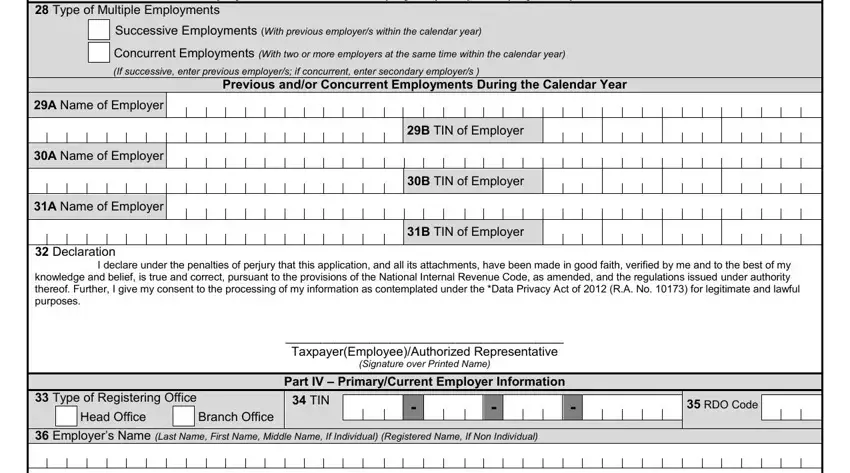 5. The document should be concluded with this particular segment. Below there can be found a detailed set of form fields that must be filled in with specific information for your document usage to be accomplished: Employers Address, UnitRoomFloorBuilding No, SubdivisionVillageZone, TownDistrict, Building NameTower, Street Name, Barangay, MunicipalityCity, Province, Contact Details Landline Number , Fax Number, Mobile Number, Municipality Code To be filled, ZIP Code, and Stamp of BIR Receiving Office.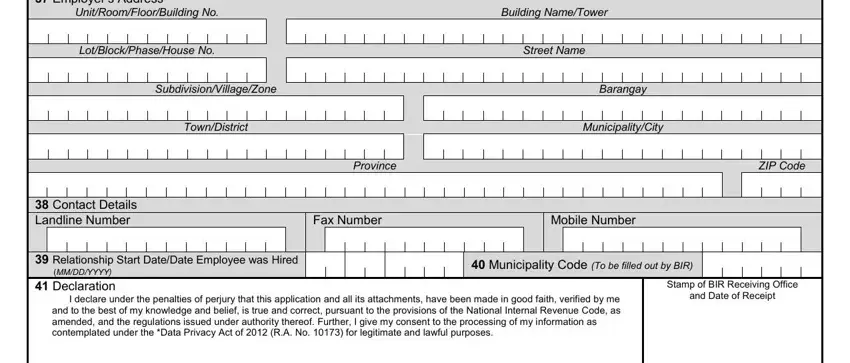 Step 3: Spell-check what you've typed into the blank fields and click the "Done" button. Join us now and instantly get bir form 1902 pdf, all set for download. Every single edit you make is handily saved , allowing you to edit the document at a later stage if necessary. We don't sell or share the details that you enter when completing forms at our site.