With the help of the online PDF editor by FormsPal, you are able to fill in or modify cf1 form download right here. FormsPal development team is continuously working to expand the tool and insure that it is much easier for people with its multiple functions. Benefit from present-day modern prospects, and discover a heap of unique experiences! To get the ball rolling, take these basic steps:
Step 1: First, access the pdf tool by clicking the "Get Form Button" in the top section of this webpage.
Step 2: This editor offers you the capability to change almost all PDF forms in various ways. Improve it with any text, adjust what's already in the document, and add a signature - all at your disposal!
It's straightforward to complete the document using out practical tutorial! This is what you should do:
1. The cf1 form download needs particular information to be inserted. Make sure the next blank fields are completed: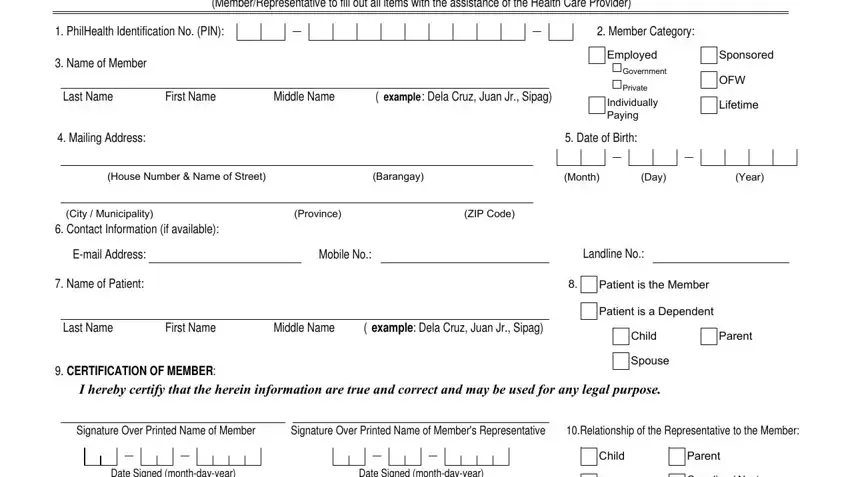 2. Once this array of fields is completed, you should add the essential specifics in Reason for Signing on Behalf of, Member is Abroad OutofTown, Member is Incapacitated, Other Reasons, Guardian Next of Kin, PART II EMPLOYERS CERTIFICATION, PhilHealth Employer No PEN, Business Name and Official Address, Contact No, Business Name of Employer, Building Number and Street Name, City Municipality Province ZIP, CERTIFICATION OF EMPLOYER, This is to certify that all, and Signature Over Printed Name of in order to go further.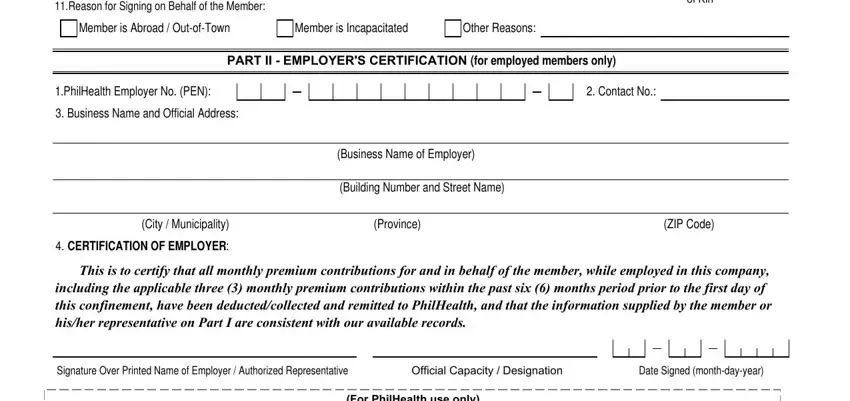 Always be extremely attentive while filling in PhilHealth Employer No PEN and Contact No, as this is the section where a lot of people make some mistakes.
3. Through this part, look at For PhilHealth use only. All of these have to be taken care of with highest precision.

Step 3: Prior to finalizing this document, check that blanks were filled out the proper way. Once you believe it is all fine, click "Done." Obtain the cf1 form download when you join for a 7-day free trial. Conveniently use the pdf file within your personal account, along with any edits and changes automatically synced! FormsPal is committed to the confidentiality of all our users; we make sure all personal information handled by our editor remains confidential.