Our main software engineers worked hard to set-up the PDF editor we are now delighted to deliver to you. The software will allow you to immediately fill in printable dialysis communication form and can save precious time. You only need to comply with this specific procedure.
Step 1: To begin with, choose the orange "Get form now" button.
Step 2: The document editing page is now available. Include text or manage present information.
These parts will help make up the PDF document: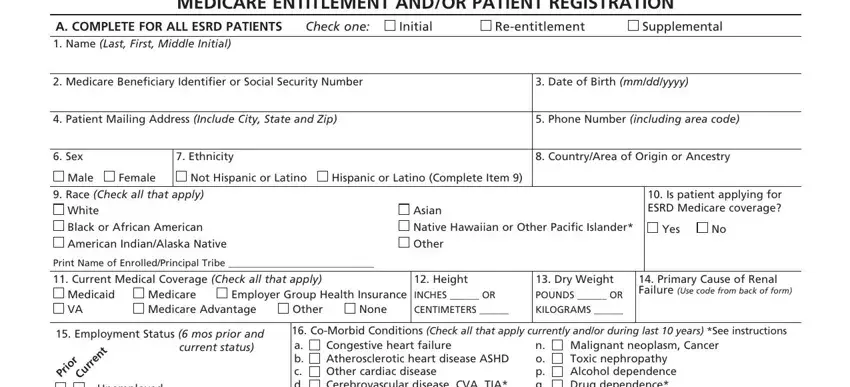 Put the essential details in the Unemployed Employed Full Time, CoMorbid Conditions Check all, Congestive heart failure, Malignant neoplasm Cancer Toxic, Nonrenal congenital abnormality, Assisted Living Nursing Home, v w, Prior to ESRD therapy, a Did patient receive exogenous, If not AVF then Is maturing AVF, Yes Yes Yes AVF Yes Yes, No No No Graft No No, Unknown If Yes answer Unknown If, Other, and months months months area.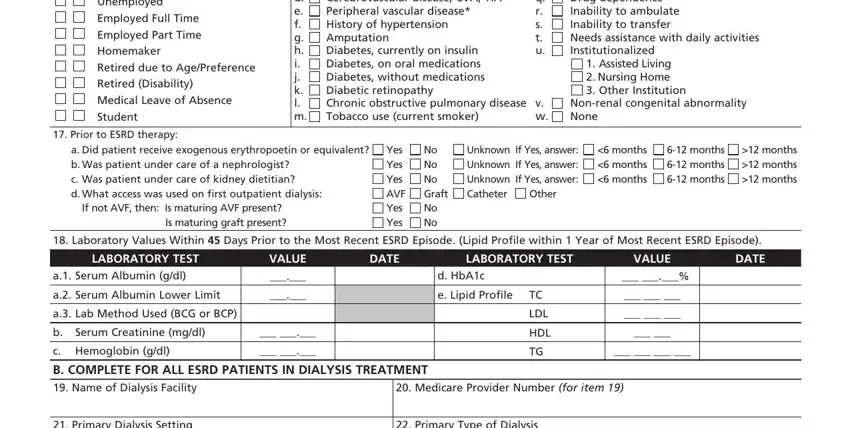 Inside the area referring to Primary Dialysis Setting, Primary Type of Dialysis, Home Dialysis Facility, SNFLong Term Care Facility, Hemodialysis Sessions per, CCPD Other, Date Regular Chronic Dialysis, Date Patient Started Chronic, Has patient been informed of, Yes No, FORM CMSU, If patient NOT informed of, Patient declined information, and Patient is not eligible medically, you will need to jot down some significant particulars.

Describe the rights and responsibilities of the sides within the box C COMPLETE FOR ALL KIDNEY, Name of Transplant Hospital, Medicare Provider Number for Item, Date patient was admitted as an, Enter Date mmddyyyy, Name of Preparation Hospital, Medicare Provider number for Item, Current Status of Transplant if, Type of Donor, Functioning, NonFunctioning, Deceased, Living Related, Living Unrelated, and If NonFunctioning Date of Return.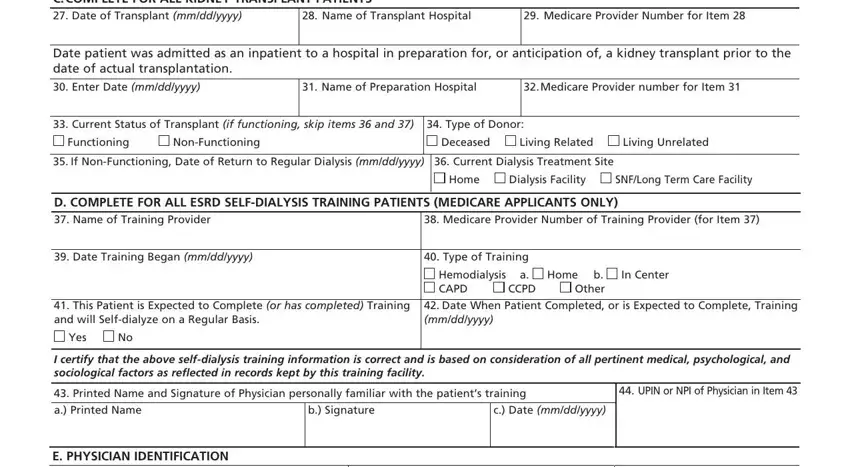 Finish by taking a look at the next sections and preparing them correspondingly: E PHYSICIAN IDENTIFICATION, Physicians Phone No include Area, UPIN or NPI of Physician in Item, PHYSICIAN ATTESTATION I certify, Attending Physicians Signature of, Physician Recertification, Remarks, Date mmddyyyy, Date mmddyyyy, F OBTAIN SIGNATURE FROM PATIENT, I hereby authorize any physician, Signature of Patient Signature by, Date mmddyyyy, G PRIVACY STATEMENT, and The collection of this information.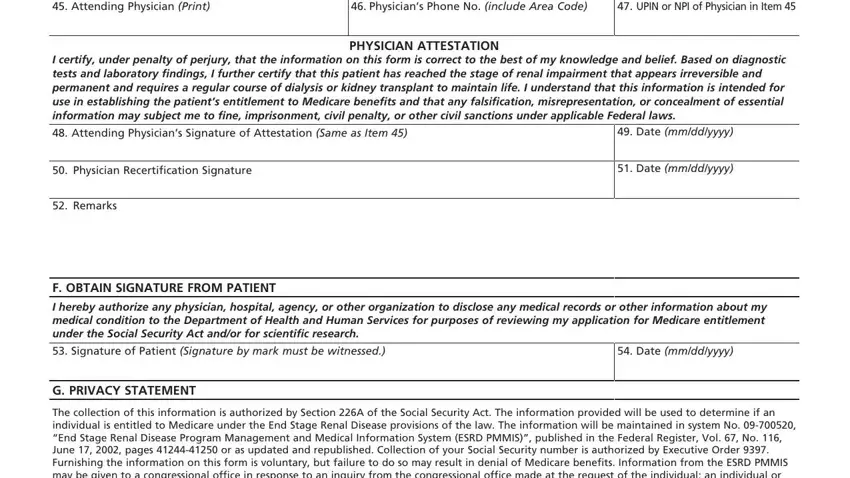 Step 3: Click the "Done" button. Now, you may transfer your PDF document - upload it to your device or send it by means of electronic mail.
Step 4: Generate copies of your document - it may help you stay away from forthcoming concerns. And don't get worried - we do not disclose or check your data.