Managing the nc industrial commission form file is a breeze with our PDF editor. Try out these particular steps to create the document straight away.
Step 1: First, select the orange "Get form now" button.
Step 2: You're now on the file editing page. You may edit, add information, highlight specific words or phrases, place crosses or checks, and put images.
Fill in the nc industrial commission form PDF and type in the content for each and every section: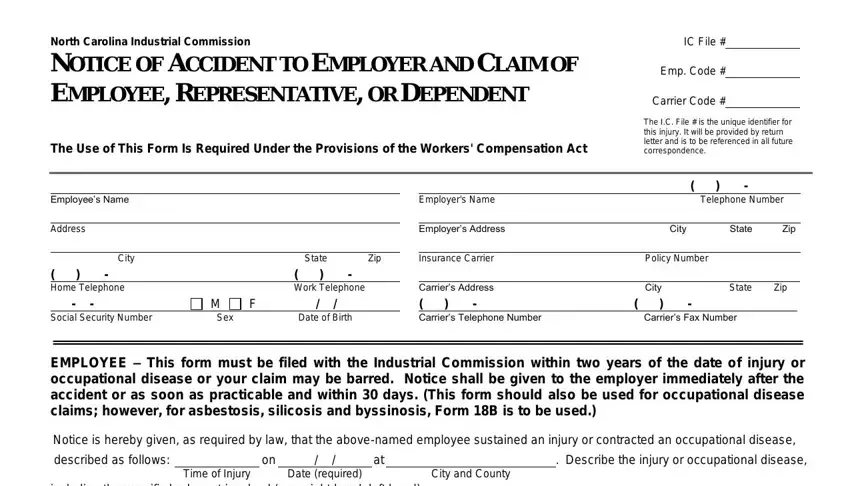 Jot down the information in Employee's Name Address City ( ), described as follows: including, Time of Injury, Date (required), City and County, Occupation when injured: Number of, Number of hours worked per day:, Nature of employer's business:, Days worked per week:, NOTE: If employee is unable to, Signature of (Check One) ฀, ฀ Representative, Telephone Number, Address EMPLOYER: This notice is, State Zip Date Completed, and City.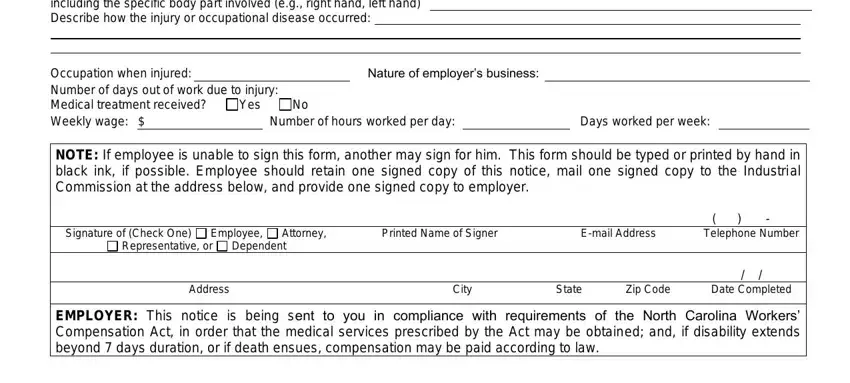 The system will ask you for details to conveniently fill in the field FORM 18 8/08 PAGE 1 OF 1, RESEARCHER:, CC: _____________ EC:, FORM 18, and MAIL TO: NCIC - CLAIMS.

Step 3: Click the "Done" button. It's now possible to export your PDF form to your gadget. In addition, you may forward it via email.
Step 4: Prepare duplicates of your form. This would prevent potential future worries. We do not check or reveal your details, as a consequence you can be confident it is safe.