We were building the PDF editor having the concept of making it as quick to apply as it can be. This is the reason the procedure of managing the concentra form pdf will likely to be simple use these particular steps:
Step 1: You can click the orange "Get Form Now" button at the top of this website page.
Step 2: At this point, you're on the file editing page. You may add information, edit current details, highlight certain words or phrases, put crosses or checks, add images, sign the file, erase unwanted fields, etc.
The PDF file you plan to prepare will consist of the following parts:

Within the field cid, 84 Non, regulated drug screen, cid, 84 Rapid drug screen, cid, 84 Human Performance, cid, 43 cid, 84 Other, cid, 84 HA, ZM, AT cid, 84 Medical, Type of Substance Abuse Testing, cid, 84 Other, cid, 84 P, replacement cid, 84, Billing (check if applicable), cid, 84 Post, accident cid, 84 Random, cid, 84 Employee to pay charges, cid, 84 Follow, up and Special instructions, comments type in the information that the program asks you to do.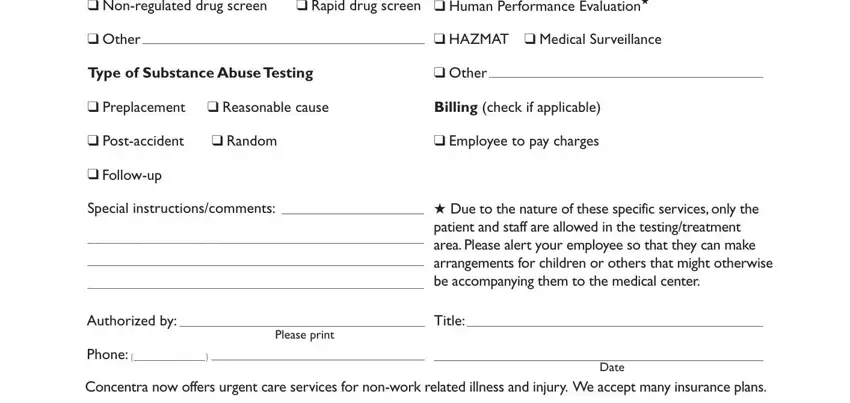 The application will require data to quickly prepare the box Please print, Phone:, Date, Con, cent, ra now offers urgent care, (Copies of this form are available, and © 2008 Con, cent, ra Inc.

Step 3: Once you choose the Done button, your ready form can be exported to all of your gadgets or to electronic mail chosen by you.
Step 4: Get a duplicate of every document. It may save you some time and make it easier to keep clear of troubles in the future. Also, your data isn't revealed or viewed by us.