If you intend to fill out cipc form correctional services canada, you won't have to download any software - simply try using our online tool. Our editor is constantly developing to give the very best user experience achievable, and that's because of our dedication to continual enhancement and listening closely to customer feedback. With a few easy steps, you are able to start your PDF editing:
Step 1: Simply press the "Get Form Button" at the top of this page to see our pdf editing tool. There you'll find all that is necessary to fill out your file.
Step 2: As you access the PDF editor, you'll notice the form made ready to be completed. Aside from filling out various blanks, you can also perform several other things with the form, such as writing custom textual content, changing the original textual content, adding images, affixing your signature to the PDF, and a lot more.
Completing this document needs focus on details. Ensure every field is filled in accurately.
1. While completing the cipc form correctional services canada, ensure to complete all of the needed blanks in the corresponding section. It will help to expedite the work, making it possible for your details to be processed efficiently and appropriately.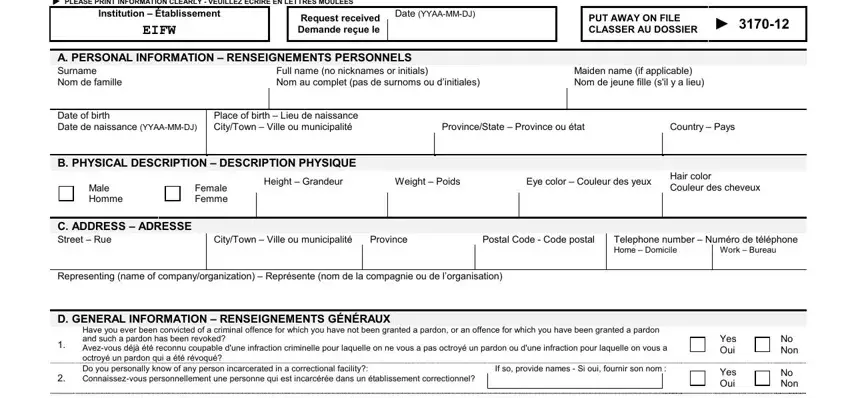 2. The next step is usually to complete all of the following blank fields: If so provide names Si oui, Do you have any reason to believe, Are you relatedassociated to an, Yes Oui Yes Oui Yes Oui, No Non No Non No Non, If you have answered YES to any of, Une fois que les sections A à E, E SIGNATURE When sections A to E, En soumettant la présente demande, Applicants signature Signature du, F FOR OFFICE USE ONLY RÉSERVÉ AU, Institutional tour for Forum of, Gillian Welton, No criminal record An outstanding, and Aucun casier judiciaire Auteur du.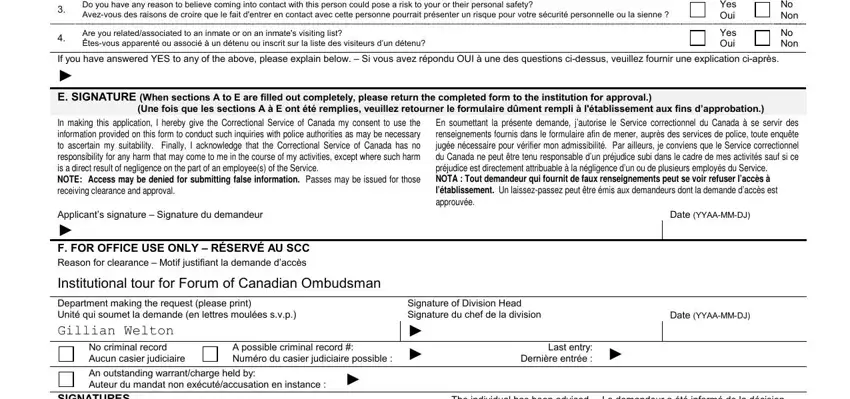 People often make some errors when completing Institutional tour for Forum of in this part. Make sure you read again everything you enter right here.
Step 3: Just after going through the filled out blanks, click "Done" and you are done and dusted! Grab the cipc form correctional services canada the instant you register online for a 7-day free trial. Quickly use the pdf file from your FormsPal cabinet, together with any modifications and changes being all synced! FormsPal provides risk-free form tools without data recording or sharing. Rest assured that your data is secure with us!