You are able to prepare connecticut pc 246 without difficulty in our online PDF tool. We at FormsPal are dedicated to making sure you have the ideal experience with our tool by continuously introducing new features and enhancements. Our editor is now much more user-friendly with the latest updates! Now, editing PDF forms is easier and faster than before. With some simple steps, you'll be able to begin your PDF editing:
Step 1: Access the PDF doc in our editor by clicking the "Get Form Button" above on this page.
Step 2: After you launch the file editor, you'll notice the form all set to be filled out. In addition to filling out various fields, it's also possible to perform some other actions with the form, specifically writing any textual content, editing the original textual content, inserting graphics, signing the form, and a lot more.
Filling out this document calls for attentiveness. Make sure that every field is filled in properly.
1. It's essential to fill out the connecticut pc 246 properly, so be careful while filling in the parts including these blank fields: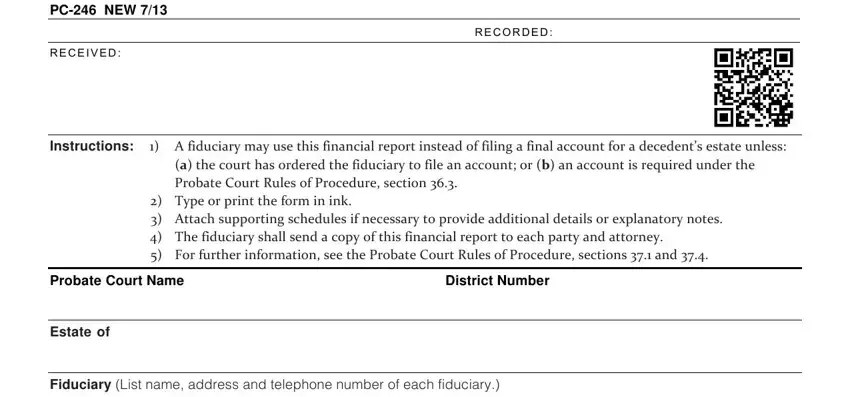 2. Given that this part is finished, you should put in the required details in Assets and Income Received, Total amount reported on the, Interest Dividends Rent Other, Net amount of gain or loss on the, If real property has been sold, Cash advanced to the estate by to, Indicate if there is an, Yes No, Total, Financial Report Decedents Estate, and PC NEW PAGE so that you can proceed further.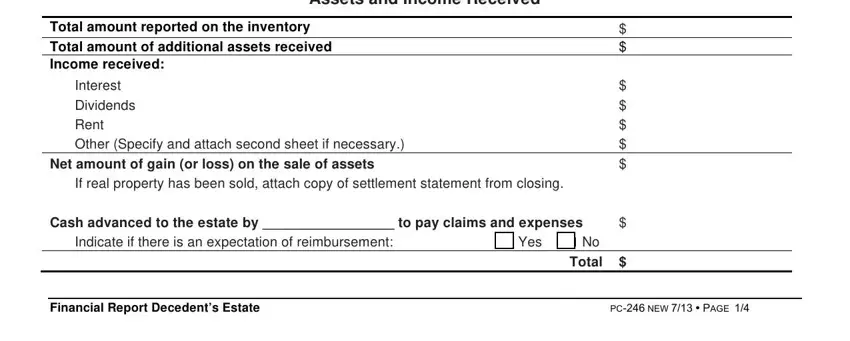 3. The next part should be relatively straightforward, Financial Report Decedents Estate, Funeral Expenses, Administration Expenses, R E C O R D E D, Payments, Fiduciary fees Fiduciary, Taxes, Town of State of Connecticut, Income Tax Estate Tax, Property Tax, and Income Tax Estate Tax - each one of these blanks has to be completed here.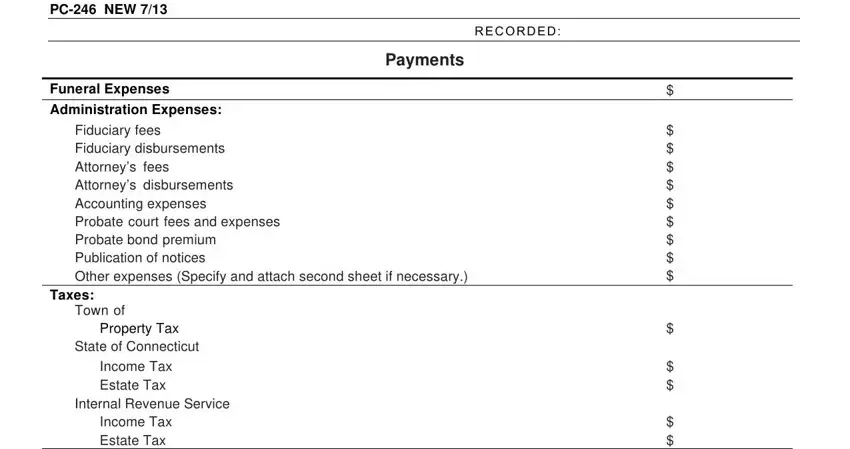 4. This next section requires some additional information. Ensure you complete all the necessary fields - Total amount of claims as reported, Distributions, Total, Except as provided in section of, Distributions Already Made as of, If decedent had a will, Name of Distributee, specify section, Assets Distributed, Fair Market Value, providing for distribution, Subtotal, and Subtotal Subtotal Total - to proceed further in your process!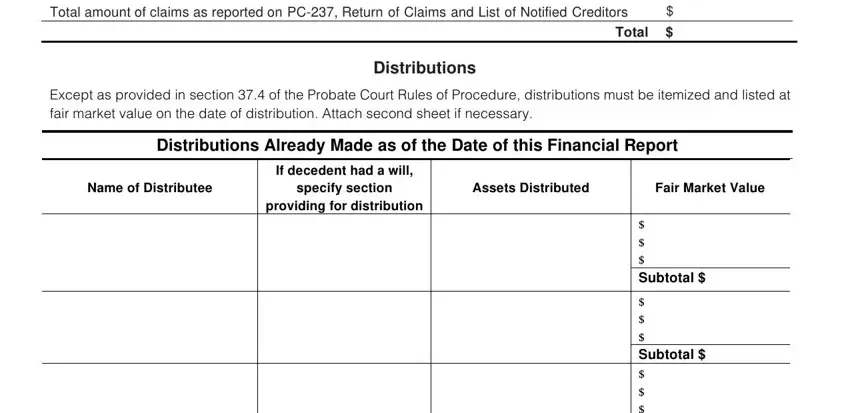 5. While you get close to the completion of your file, you will find a few extra points to do. In particular, Subtotal Subtotal Total, Financial Report Decedents Estate, and PC NEW PAGE cidcid must all be done.

Those who use this form generally make errors when filling in PC NEW PAGE cidcid in this part. You need to read twice everything you type in right here.
Step 3: Always make sure that your information is accurate and simply click "Done" to continue further. Go for a 7-day free trial option at FormsPal and get direct access to connecticut pc 246 - available inside your FormsPal account. Here at FormsPal, we do everything we can to make certain that your details are stored private.