You may prepare probate structured michigan easily using our PDFinity® PDF editor. The tool is continually maintained by us, acquiring awesome functions and growing to be greater. Getting underway is simple! All that you should do is follow these easy steps directly below:
Step 1: Simply click the "Get Form Button" at the top of this page to open our pdf editor. This way, you'll find all that is required to work with your document.
Step 2: After you start the online editor, you'll see the document made ready to be completed. Besides filling in various blanks, you can also perform some other actions with the PDF, such as writing any words, modifying the initial textual content, adding illustrations or photos, placing your signature to the PDF, and a lot more.
This PDF will need particular info to be filled in, thus be certain to take whatever time to provide precisely what is expected:
1. It is recommended to fill out the probate structured michigan correctly, so take care when working with the areas comprising these particular fields: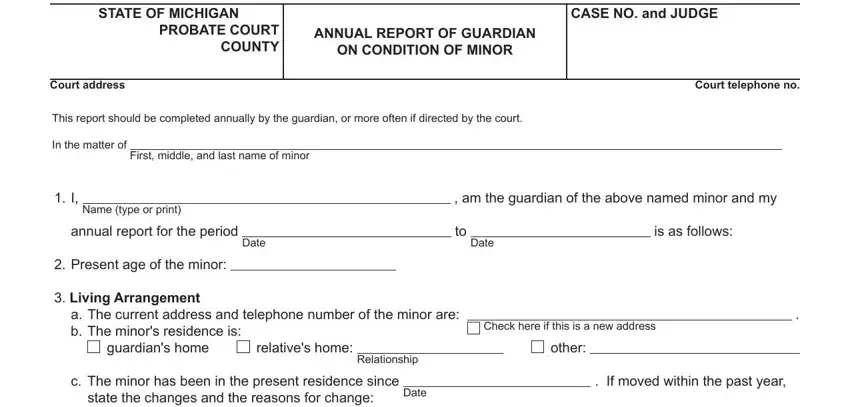 2. Once your current task is complete, take the next step – fill out all of these fields - d I rate the minors living, excellent, average, below average, e I believe the minor is, content with the living situation, unhappy with the living situation, f I recommend a more suitable, Physical Health a The minors, remained about the same improved, Explain, excellent, good, fair, and poor with their corresponding information. Make sure to double check that everything has been entered correctly before continuing!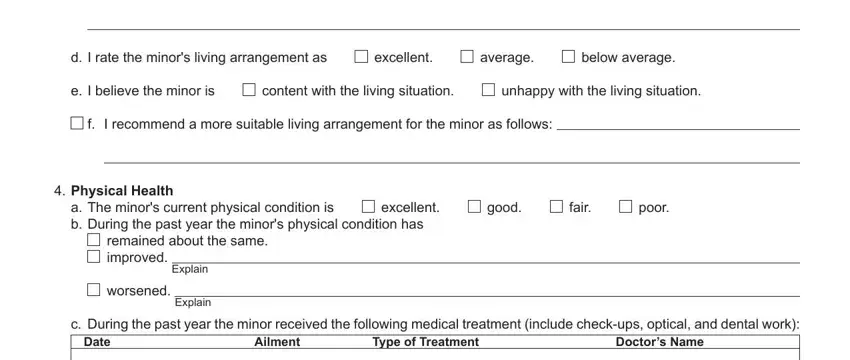 3. Completing Approved SCAO Form PC Rev MCL f is essential for the next step, make sure to fill them out in their entirety. Don't miss any details!
4. The following section will require your input in the subsequent areas: Annual Report of Guardian on, Case No, Education, a The minor regularly attends, and is in grade, b The minor attends alternative, and is in grade, c The minor does not attend school, Activities of Minor a The minors, and b During the past year the minor. Ensure that you give all required information to go onward.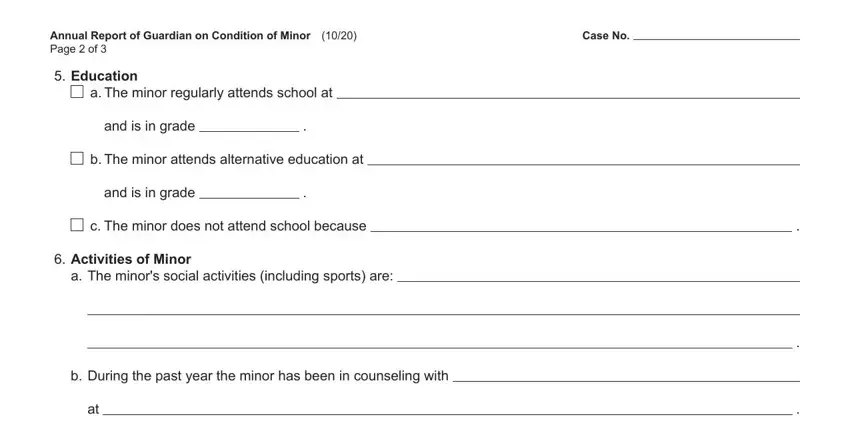 5. The document needs to be wrapped up by filling out this part. Here you can find a full listing of blank fields that have to be filled in with accurate details to allow your document submission to be accomplished: Parenting time between the minor, a Parents name and current address, Parenting time, b Parents name and current address, Parenting time, c Comments about parenting time, Parents complied with the, courtstructured plan, limited guardianship placement plan, as follows, and Changes should be made to the plan.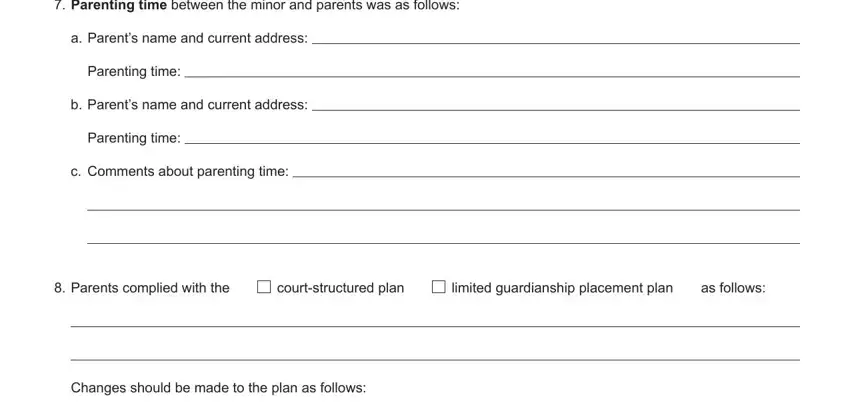 As to a Parents name and current address and b Parents name and current address, ensure that you get them right in this current part. Both these are thought to be the key fields in this form.
Step 3: Ensure that your information is correct and then just click "Done" to progress further. Sign up with us today and immediately obtain probate structured michigan, prepared for download. All adjustments you make are saved , enabling you to change the document at a later point when necessary. When using FormsPal, you can certainly complete documents without worrying about personal information leaks or records getting shared. Our secure platform ensures that your personal details are kept safely.