We were building our PDF editor with the notion of allowing it to be as fast to work with as it can be. That's why the actual procedure of filling out the florida doc visitation form will likely to be simple accomplish all of these actions:
Step 1: Find the button "Get Form Here" on the site and click it.
Step 2: At the moment you're on the form editing page. You may change and add information to the document, highlight specified content, cross or check certain words, add images, sign it, delete unnecessary areas, or remove them altogether.
Complete the particular parts to fill in the template: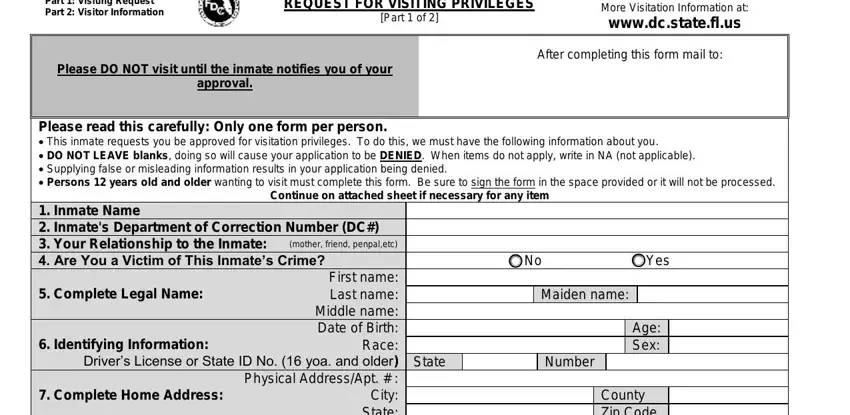 Put down the data in the First name: Last name: Middle, Have you ever worked for the, No Yes, * List dates, Yes, Yes Yes, No No Prison #, Yes, State Federal County, Dept, Other, If Probation/Parole has been, What is their name(s) and DC#(s), Name:, and suspended area.
You should include certain details in the space Formulario en 2 Partes Parte 1:, Departamento de Correction de La, Parte 1 de 2, ENGLISH VERSION IS ON THE REVERSE, Para Más información Sobre Visitas:, APLICACIÓN www, Por favor, notificado por el preso que usted, aprobado, Despues de llenar este formulario, Por favor,  El preso arriba nombrado, indicado porque la planilla no, Continúe en una hoja adjunta si es, and (madre.

The Apellido: Primer nombre: Segundo, (Encierre en un círculo cada uno, No Sí Aplicación Pendiente, Sí—Encierre en un círculo cual, Sí Sí Sí, No No No, Estado, Federal, Condado, Dept, Otro, Sí DC#:, trabajo Familia Otra razón, Por correo Vecindario Prisión, and Explique por favor: area may be used to indicate the rights and obligations of each party.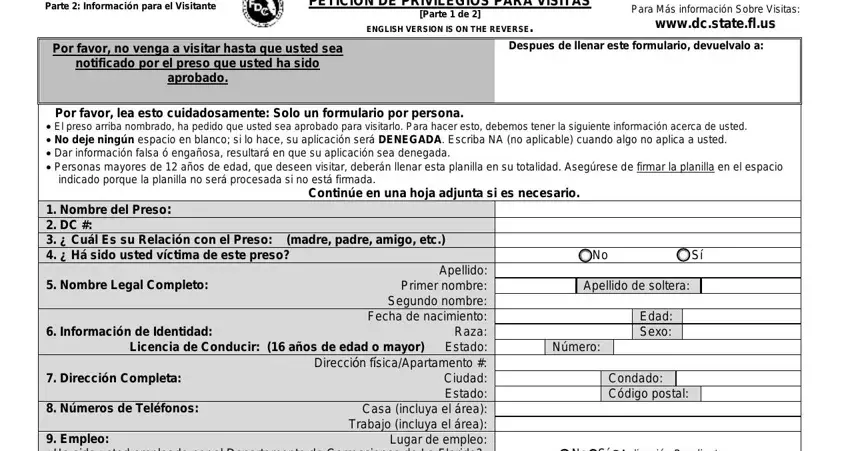 Finalize by checking the next areas and preparing them accordingly: Yo certifico que toda la anterior, Firma, Firma del padre o del guardian, Nombre en letra de Imprenta, Fecha Fecha, POR FAVOR, and Incorporated by Reference in Rule.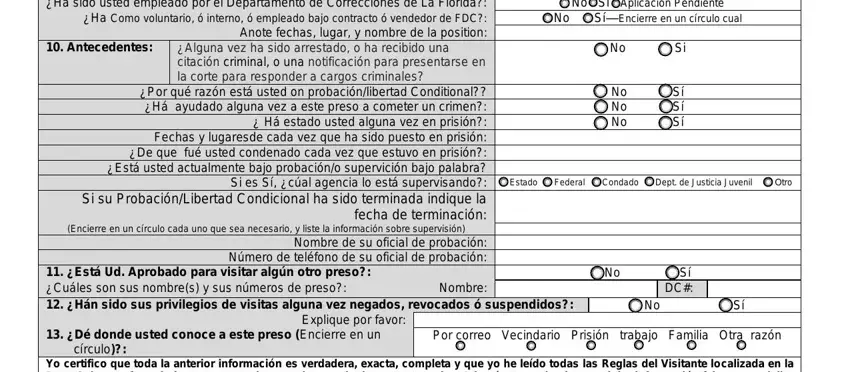 Step 3: Press the "Done" button. At that moment, you can export your PDF document - upload it to your device or send it by means of electronic mail.
Step 4: It may be better to keep copies of the document. You can rest easy that we are not going to display or read your particulars.