You could prepare 11000 06 nondisclosure easily with our online PDF editor. To make our tool better and simpler to use, we consistently design new features, with our users' feedback in mind. With some easy steps, you can start your PDF editing:
Step 1: Firstly, open the tool by pressing the "Get Form Button" at the top of this webpage.
Step 2: The editor enables you to customize almost all PDF files in a range of ways. Modify it with personalized text, adjust what is originally in the file, and include a signature - all manageable within a few minutes!
If you want to fill out this document, be certain to enter the information you need in every field:
1. When submitting the 11000 06 nondisclosure, be certain to incorporate all of the important fields within its associated area. It will help facilitate the work, making it possible for your details to be handled efficiently and correctly.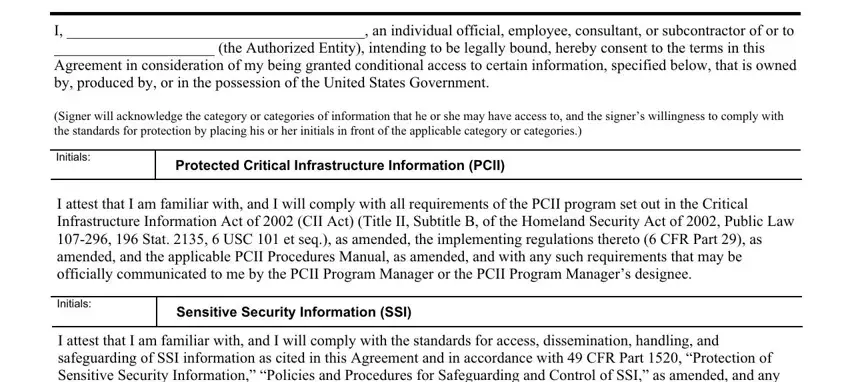 2. Once your current task is complete, take the next step – fill out all of these fields - Initials, Other Sensitive but Unclassified, As used in this Agreement, I attest that I am familiar with, I understand and agree to the, I hereby acknowledge that I have, and By being granted conditional with their corresponding information. Make sure to double check that everything has been entered correctly before continuing!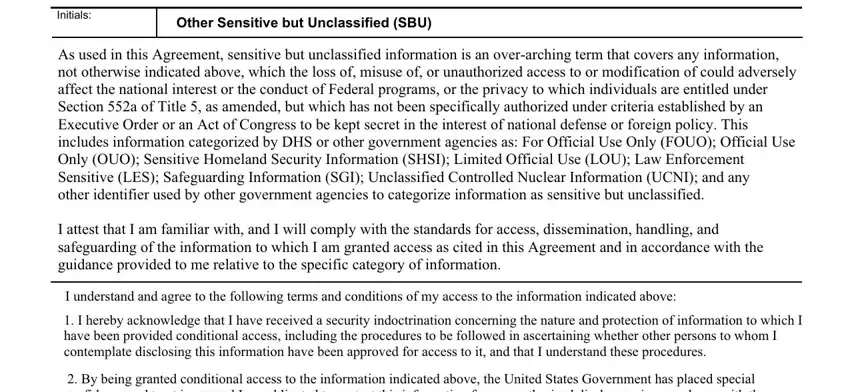 Those who work with this PDF generally get some things incorrect while completing Other Sensitive but Unclassified in this area. You should definitely read twice everything you enter right here.
3. The following step is all about TypedPrinted Name, GovernmentDepartmentAgencyBusiness, I make this Agreement in good, Signature, WITNESS, TypedPrinted Name, Signature, GovernmentDepartmentAgencyBusiness, This form is not subject to the, DHS Form, and Page - fill in each of these blank fields.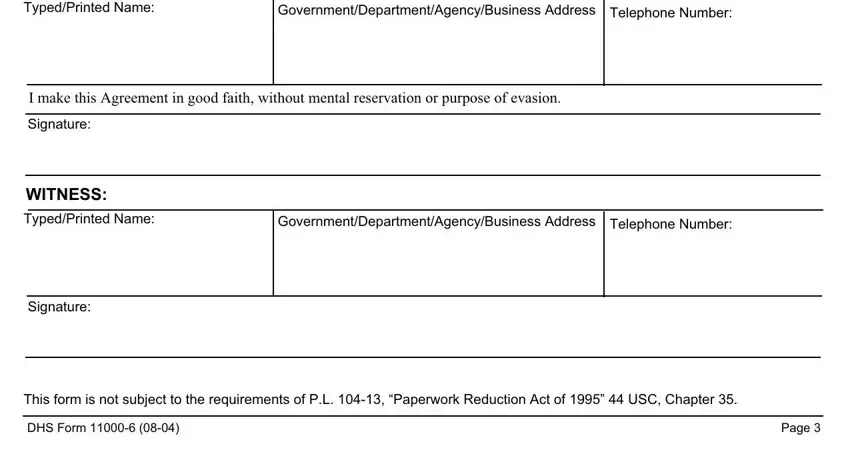 Step 3: After you have glanced through the details entered, click on "Done" to complete your FormsPal process. Create a 7-day free trial account with us and get immediate access to 11000 06 nondisclosure - download, email, or edit from your personal account page. FormsPal guarantees your information confidentiality by having a protected method that never saves or shares any sort of personal information used. Be assured knowing your docs are kept confidential every time you use our tools!