Handling PDF forms online is always simple with this PDF editor. Anyone can fill in 01E here without trouble. To make our editor better and easier to use, we consistently design new features, bearing in mind feedback from our users. To begin your journey, go through these simple steps:
Step 1: Firstly, open the editor by clicking the "Get Form Button" above on this webpage.
Step 2: The tool grants the opportunity to change PDF files in many different ways. Improve it by writing customized text, correct what is originally in the file, and put in a signature - all manageable in no time!
Filling out this PDF requires attention to detail. Make sure all necessary fields are filled out accurately.
1. The 01E usually requires particular information to be typed in. Make sure the following blank fields are complete:

2. The subsequent part is to fill in these particular fields: SECTION MEMBER INFORMATION, LAST, JR SR II ETC SOCIAL SECURITY NUMBER, STREET MAILING ADDRESS, CITY, STATE, ZIP, MEMBERS TELEPHONE NUMBERS WORK, HOME, SECTION CERTIFICATION BY, NAME ON ACCOUNT, ACCOUNT NUMBER TELEPHONE NUMBER, The qualified plan or individual, A retirement plan under Internal, and WHAT AMOUNT IS TAX DEFERRED.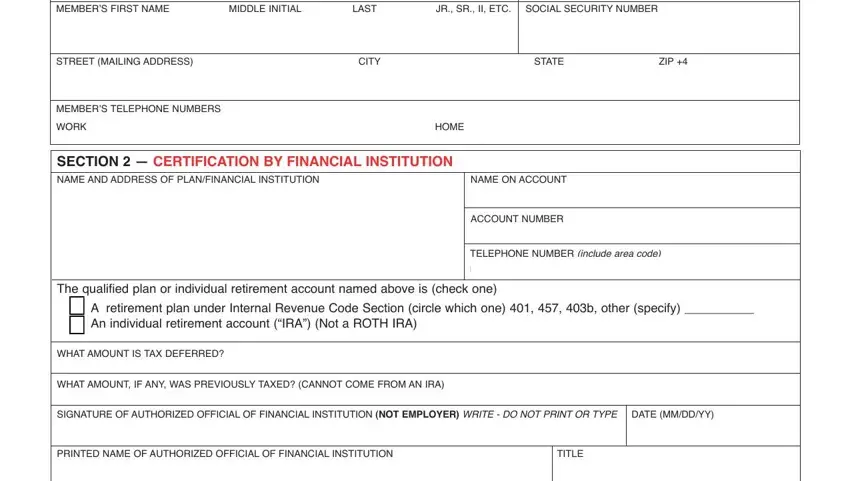 As for ACCOUNT NUMBER TELEPHONE NUMBER and MEMBERS TELEPHONE NUMBERS WORK, make sure you do everything correctly in this current part. Those two are thought to be the most significant fields in the file.
3. This next part focuses on SECTION MEMBER CERTIFICATION I, q Married or in a civil union for, I understand that I may be, that my rollover must be made to, Member Signature write do not, Date, ALL QUESTIONS MUST BE ANSWERED, Illinois Municipal Retirement Fund, Suite York Road Oak Brook IL, Member Services Representatives, IMRF Form E Rev, and wwwimrforg - type in every one of these fields.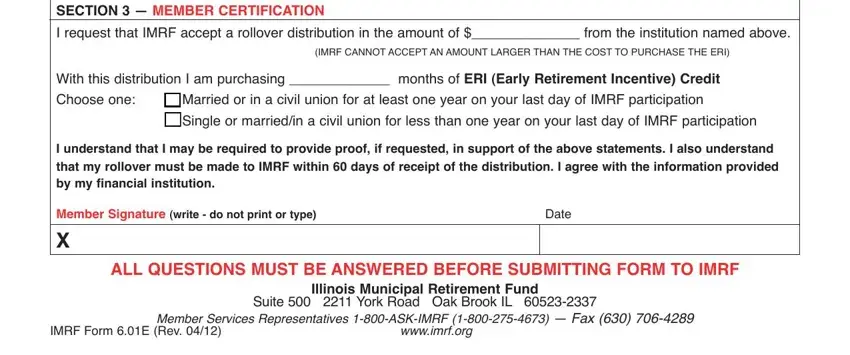 Step 3: As soon as you have looked over the details in the fields, press "Done" to conclude your form. Sign up with us right now and instantly gain access to 01E, set for download. All adjustments made by you are saved , which enables you to edit the file at a later point when necessary. With FormsPal, you can certainly fill out documents without worrying about personal information leaks or records getting shared. Our protected software helps to ensure that your personal data is stored safe.