By using the online editor for PDFs by FormsPal, you are able to fill in or change suffolk county clerk recording fees here and now. The tool is constantly maintained by us, receiving new functions and turning out to be even more convenient. To begin your journey, take these basic steps:
Step 1: First of all, access the editor by clicking the "Get Form Button" in the top section of this page.
Step 2: With the help of our online PDF editing tool, it is possible to accomplish more than merely fill out blanks. Edit away and make your docs seem faultless with customized textual content incorporated, or modify the file's original input to excellence - all that comes along with the capability to incorporate almost any graphics and sign the file off.
This form will require particular details to be typed in, thus you should definitely take whatever time to provide what is expected:
1. The suffolk county clerk recording fees usually requires particular details to be inserted. Ensure the subsequent blanks are finalized: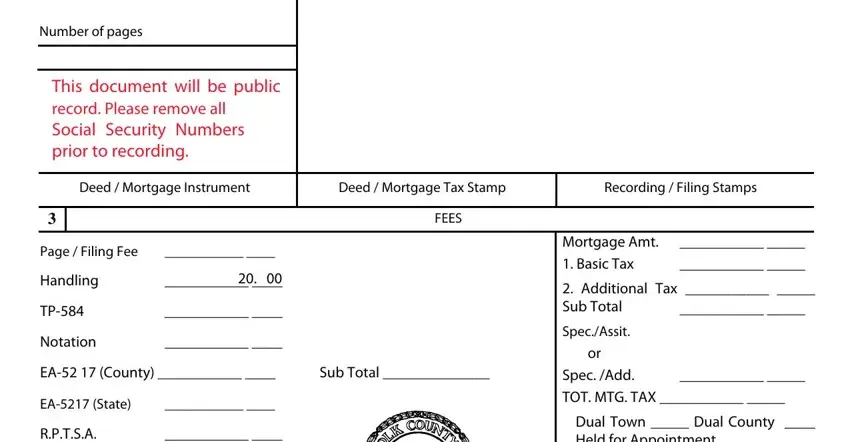 2. Once your current task is complete, take the next step – fill out all of these fields - RPTSA, Comm of Ed, Affidavit, Certified Copy, NYS Surcharge, Other, Sub Total, Grand Total, Dual Town Dual County Held for, Transfer Tax, Mansion Tax, The property covered by this, YES or NO, If NO see appropriate tax clause, and Dist with their corresponding information. Make sure to double check that everything has been entered correctly before continuing!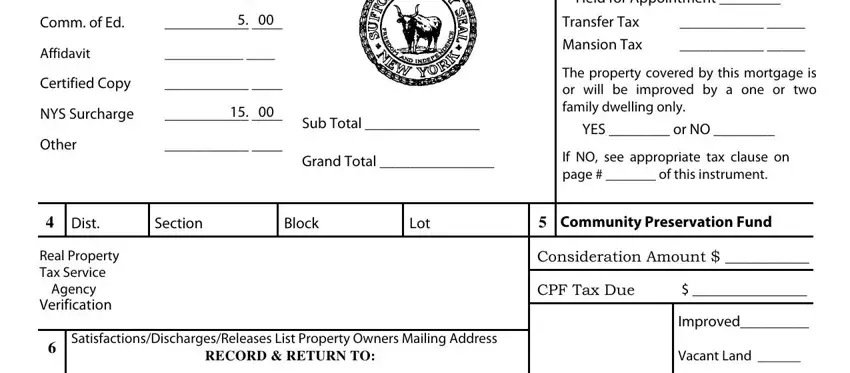 Concerning Certified Copy and NYS Surcharge, be certain that you double-check them in this section. Those two are the key ones in the page.
3. This 3rd segment is considered relatively straightforward, Mail to Judith A Pascale Suffolk, Title Company Information, Center Drive Riverhead NY, Co Name, Title, Suffolk County Recording, This page forms part of the, SPECIFY TYPE OF INSTRUMENT, The premises herein is situated, and In the TOWN of - all these form fields has to be filled in here.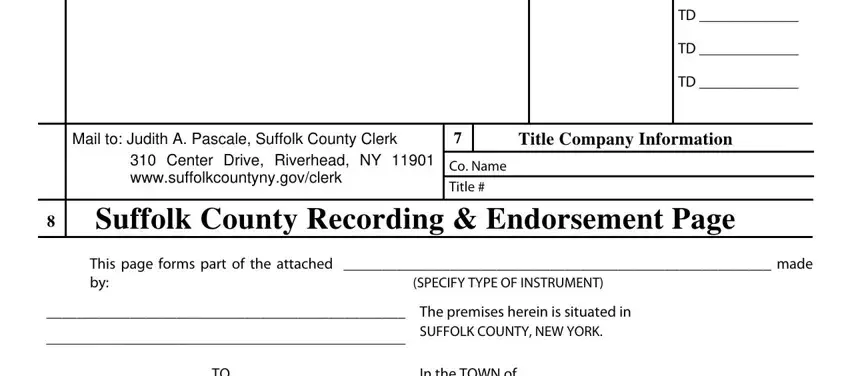 4. Completing In the TOWN of, In the VILLAGE, or HAMLET of, BOXES THRU MUST BE TYPED OR, and over is key in this section - make sure you devote some time and fill in each blank area!

Step 3: Just after looking through the fields you have filled out, click "Done" and you are done and dusted! Get the suffolk county clerk recording fees the instant you sign up at FormsPal for a free trial. Immediately gain access to the pdf document from your personal account page, together with any modifications and changes all synced! At FormsPal.com, we strive to make sure that your details are kept private.