You may work with georgia petition henry county without difficulty by using our online PDF editor. We are dedicated to making sure you have the absolute best experience with our tool by constantly adding new capabilities and upgrades. With these improvements, working with our tool becomes better than ever! All it requires is several easy steps:
Step 1: Hit the "Get Form" button above. It's going to open our tool so you can begin filling in your form.
Step 2: After you open the file editor, you will find the document ready to be filled out. Aside from filling in various blank fields, it's also possible to perform other sorts of things with the Document, including adding your own textual content, changing the initial text, inserting graphics, affixing your signature to the document, and much more.
As for the blank fields of this precise document, here is what you should consider:
1. The georgia petition henry county requires particular details to be typed in. Ensure that the next fields are complete: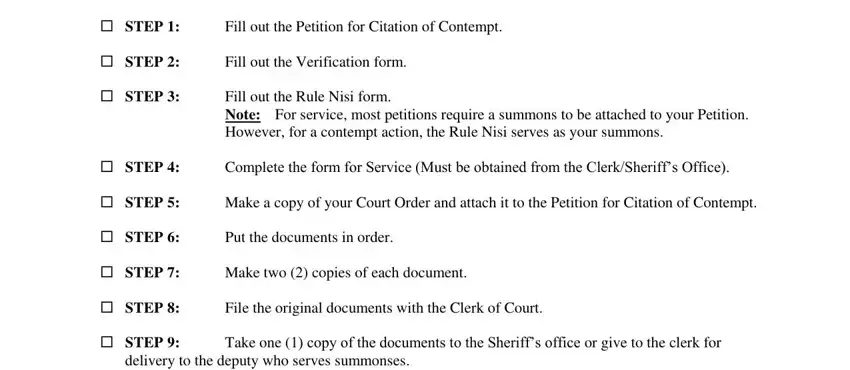 2. Soon after performing the last part, head on to the subsequent part and fill out the necessary particulars in these blanks - STEP final order, Come to Court on the date and time, and Contempt Packet Page of.

You can potentially make a mistake when filling out your Contempt Packet Page of, and so make sure you reread it before you finalize the form.
3. This next part will be about Step, Print or type your full name next, public notary Public notaries are, Rule Nisi This document is used, Respondent, You must have a hearing date, The remaining information on this, take the papers to be filed, and Contempt Packet Page of - complete all these blank fields.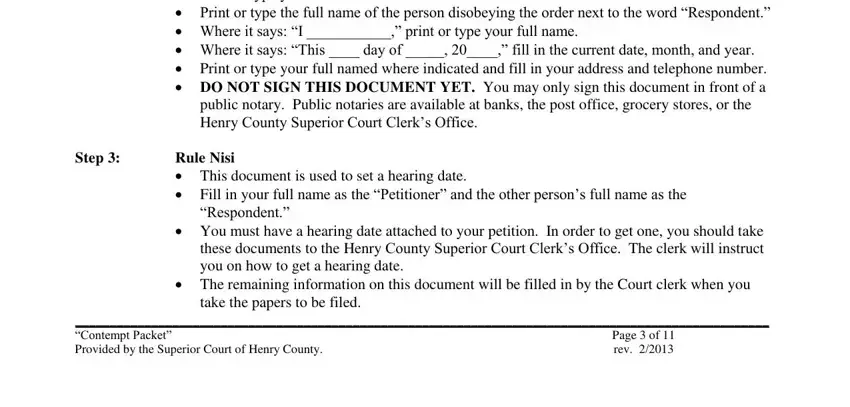 4. It's time to begin working on this fourth section! Here you've got these Petitioner and Respondent, Civil Action File No, PETITION FOR CITATION OF CONTEMPT, NOW COMES your full name, Petition for Citation of Contempt, An Order was entered in the, The case name as it appeared in, Respondent is subject to the, and Respondent is not a resident of form blanks to do.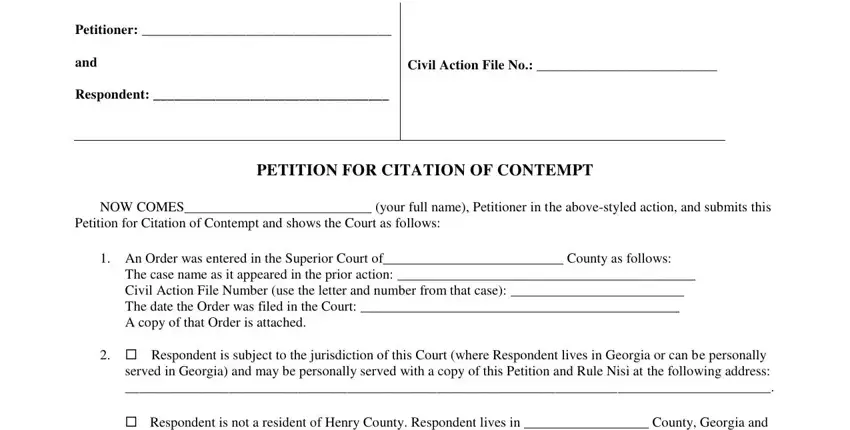 5. This very last notch to finalize this form is crucial. Be sure to fill out the mandatory blank fields, for instance Respondent is subject to the, Statute where Respondent is a, In the prior Order Respondent was, to pay to Petitioner the amount of, to allow Petitioner to visit with, to give to Petitioner the, and Other, prior to using the pdf. Otherwise, it could produce a flawed and probably unacceptable form!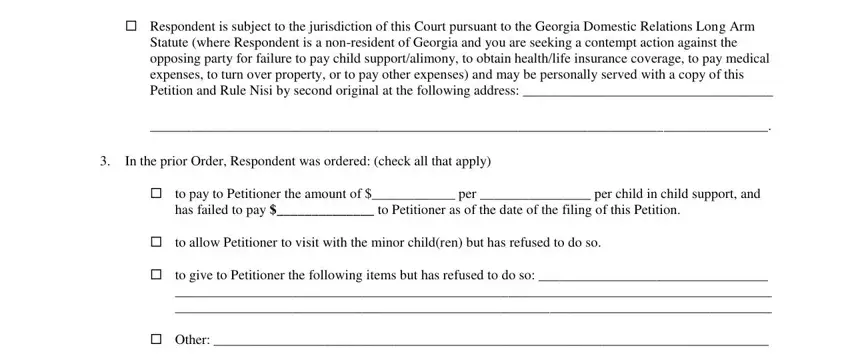 Step 3: Ensure your details are accurate and click on "Done" to progress further. Download the georgia petition henry county as soon as you register online for a 7-day free trial. Immediately view the pdf file within your FormsPal account, together with any edits and adjustments automatically preserved! At FormsPal, we endeavor to be sure that all your information is kept protected.