Our best web programmers have worked collectively to get the PDF editor that you'll take advantage of. This specific app allows you to prepare fl cdl medical card update files promptly and effortlessly. This is all you need to carry out.
Step 1: The initial step should be to hit the orange "Get Form Now" button.
Step 2: Now you are going to be within the form edit page. You'll be able to add, alter, highlight, check, cross, include or remove fields or phrases.
These segments are in the PDF template you will be filling out.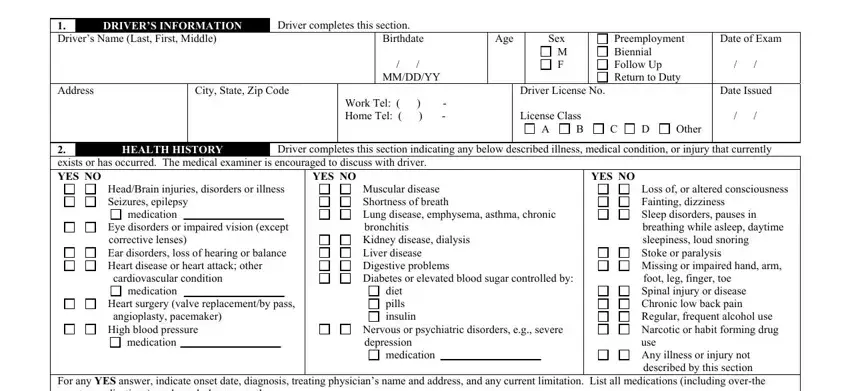 Put down the information in the Date, DriversSignature, VISION, ACUITYRightEyeLeftEyeBothEyes, UNCORRECTED, CORRECTED, CorrectiveLenses, Yes, Yes, LicenseNoStateofIssue, Signature, HEARING, Checkifhearingaidusedfortests, and Numericalreadingsmustberecorded area.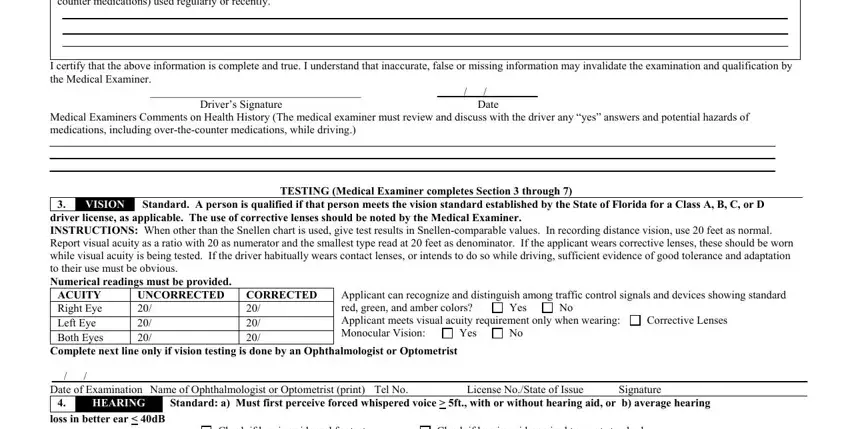 In the RightEarFeet, LeftEarFeet, RightEarHzAverage, and LeftEarHzAverage area, identify the essential particulars.
Spell out the rights and responsibilities of the sides inside the part BloodPressure, Driverqualifiedifoninitialexam, Diastolic, Numericalreadingsmustberecorded, PulseRate, RegularIrregular, Oninitialexam, Withinmonths, Ifandorqualifymosonly, Ifandornotqualifieduntilreducedto, Thenqualifyformosonly, IfandorqualifyforyrDocumentRx, controltherdmonth, IfandorqualifyformosDocumentRx, and controltherdmonth.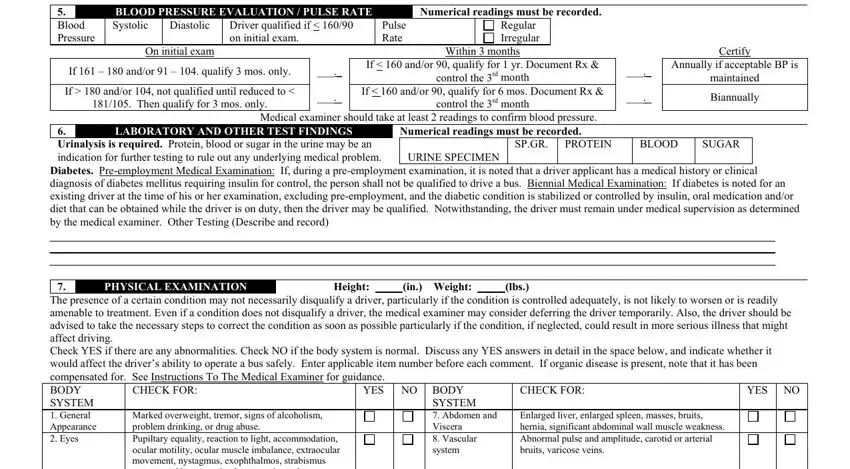 Finish by looking at the following fields and filling out the required particulars: Ears, MouthandThroat, Heart, Hernias, months, months, year, Other, MedicalExaminersSignature, MedicalExaminersNameprint, PhysicianAssistant, and AdvancedRegisteredNursePractitioner.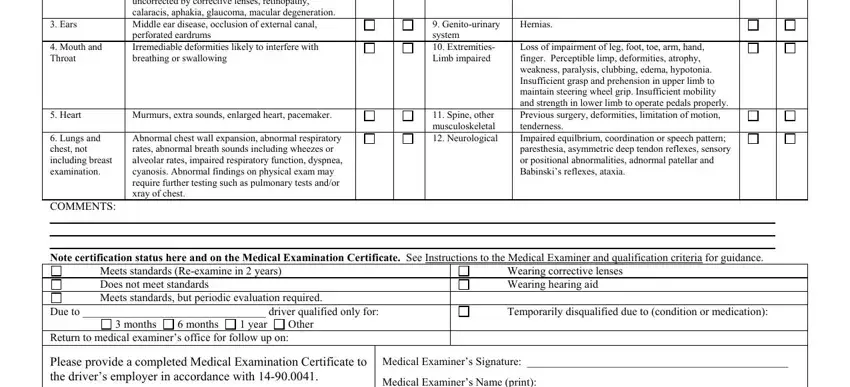 Step 3: As soon as you've hit the Done button, your document will be accessible for transfer to any kind of electronic device or email address you indicate.
Step 4: Generate copies of your document - it may help you stay clear of future issues. And fear not - we cannot disclose or see your details.