It is a piece of cake to prepare the department of corrections visitation form. Our tool was created to be help you prepare any document efficiently. These are the actions to go through:
Step 1: On the page, click the orange "Get form now" button.
Step 2: At this point, you may change the department of corrections visitation form. Our multifunctional toolbar will let you insert, delete, adapt, highlight, and conduct several other commands to the content and fields within the document.
These particular segments are what you are going to prepare to receive the finished PDF form.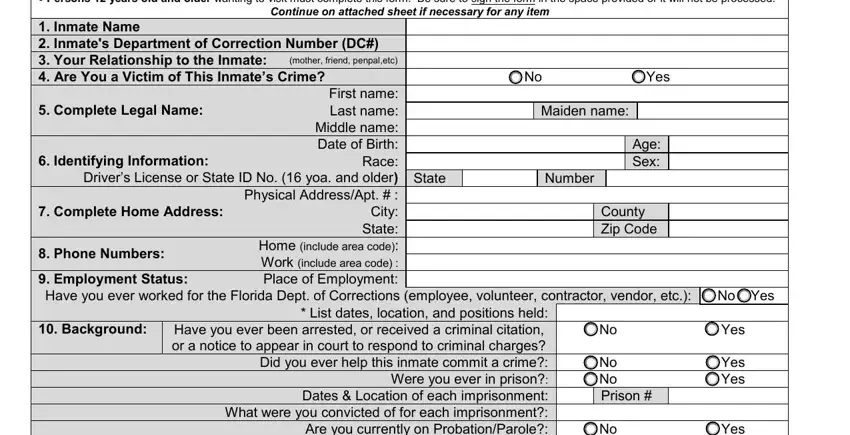 Write down the required information in the section What were you convicted of for, If ProbationParole has been, No Yes, State Federal County, Dept of Juv Justice Other, Are you approved to visit any, What is their names and DCs, Have your visitation privileges, No Yes, Name, No Yes, Where did you meet this inmate, suspended or terminated Please, Pen pal Neighborhood Work Family, and I certify all the information.
You should emphasize the necessary particulars within the indicado porque la planilla no, Continúe en una hoja adjunta si es, Nombre del Preso DC Cuál Es, Nombre Legal Completo, Información de Identidad, Licencia de Conducir años de edad, Apellido Primer nombre Segundo, Números de Teléfonos, Dirección Completa, Antecedentes, Alguna vez ha sido arrestado o ha, Por qué razón está usted on, No Sí, Apellido de soltera, and Edad Sexo part.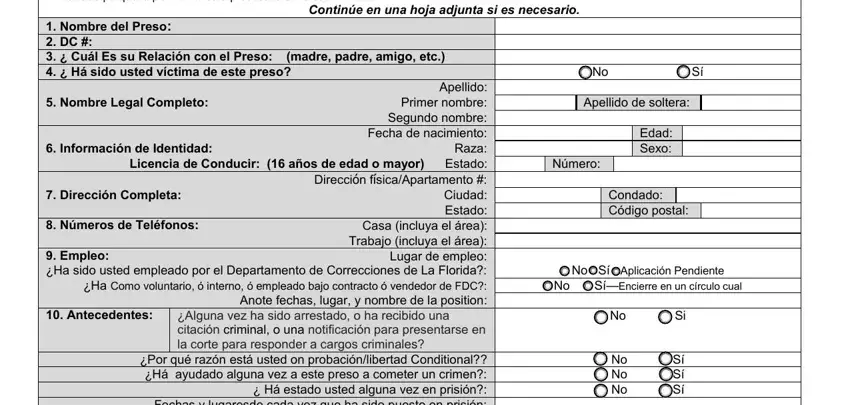 The Por qué razón está usted on, Encierre en un círculo cada uno, Nombre de su oficial de probación, Estado Federal Condado Dept de, Está Ud Aprobado para visitar, Nombre, No Sí DC, No Sí, Explique por favor, Dé donde usted conoce a este, Por correo Vecindario Prisión, Firma, Fecha, Nombre en letra de Imprenta, and Firma del padre o del guardian box could be used to point out the rights and obligations of both parties.
Step 3: Click the "Done" button. So now, you can export your PDF document - download it to your electronic device or send it through electronic mail.
Step 4: Ensure that you keep away from future misunderstandings by producing minimally a pair of duplicates of the document.