There's nothing hard concerning preparing the allergy action plan form when you launch our PDF editor. By following these simple steps, you will have the prepared PDF in the shortest time feasible.
Step 1: Click the button "Get form here" to get into it.
Step 2: At this point, you are able to update the allergy action plan form. The multifunctional toolbar will let you add, remove, transform, highlight, as well as undertake several other commands to the words and phrases and areas inside the form.
To be able to fill out the allergy action plan form PDF, provide the information for each of the parts: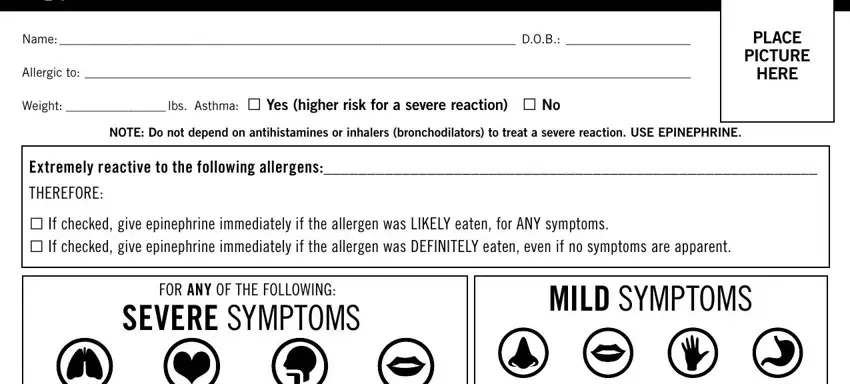 Type in the requested particulars in anaphylaxis and may need, Consider giving additional, Antihistamine Inhaler, MEDICATIONSDOSES, Epinephrine Brand or Generic, Epinephrine Dose mg IM mg IM, Lay the person flat raise legs, Antihistamine Brand or Generic, difficult or they are vomiting let, If symptoms do not improve or, Alert emergency contacts, Antihistamine Dose, Other eg inhalerbronchodilator if, Transport patient to ER even if, and remain in ER for at least hours part.

In the OTHER DIRECTIONSINFORMATION may, Treat the person before calling, EMERGENCY CONTACTS CALL, OTHER EMERGENCY CONTACTS, RESCUE SQUAD, NAMERELATIONSHIP PHONE, DOCTOR PHONE, NAMERELATIONSHIP PHONE, PARENTGUARDIAN PHONE, NAMERELATIONSHIP PHONE, and FORM PROVIDED COURTESY OF FOOD part, point out the essential data.

Step 3: Choose the Done button to save the file. Now it is offered for transfer to your electronic device.
Step 4: It may be more convenient to maintain copies of the file. You can rest assured that we are not going to display or see your data.