Filling out the ford credit app form is not difficult using our PDF editor. Follow the next steps to create the document straight away.
Step 1: You should select the orange "Get Form Now" button at the top of the web page.
Step 2: So you are on the form editing page. You may edit and add text to the document, highlight specified content, cross or check certain words, include images, insert a signature on it, get rid of unneeded fields, or eliminate them completely.
Create the ford credit app PDF and type in the information for each and every section: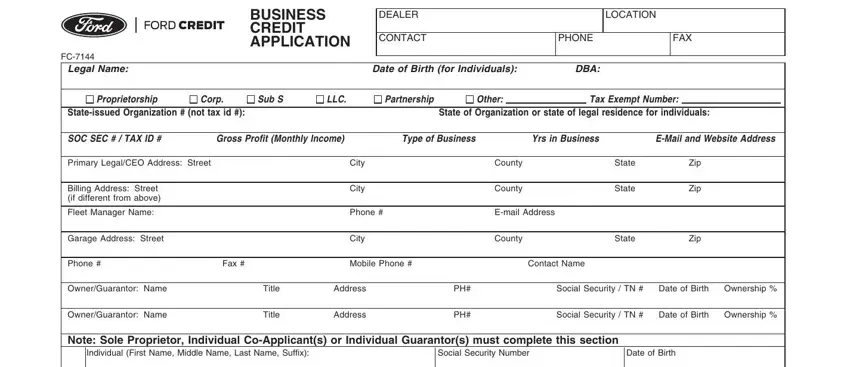 The software will demand you to fill out the saudvdn, Iro, epmoC, Address, PhoneNumber, MonthlyIncome, SecondaryIncome, Source, MortgageHolderLandlordNameAddress, MortgageHolderLandlordPhone, MortgagePaytMonthlyRent, Relationship, Relationship, HomePhone, and HomePhone segment.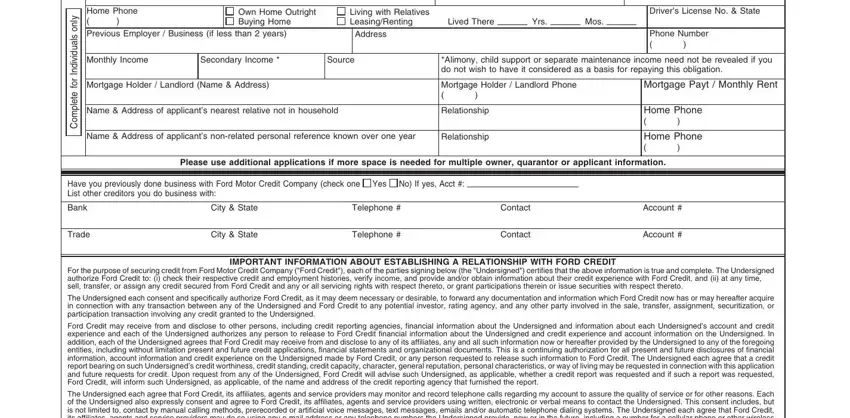 In the field discussing ApplicantSignature, Iintendtoapplyforjointcredit, ApplicantInitialHere, CoApplicantSignature, Iintendtoapplyforjointcredit, CoApplicantInitialHere, GuarantorSignature, Title, Title, Title, Date, Date, Date, and FCREVFebruary, you should note down some required data.

The VEHICLEINFORMATIONQty, Year, MakeModel, TotalCAPCost, SerialVIN, Residual, GVW, Totalcostofbodyupliftsaddons, Qty, Year, MakeModel, GVW, SerialVIN, TotalCAPCost, and Residual section has to be used to list the rights or responsibilities of both parties.

Step 3: Choose the button "Done". Your PDF form may be exported. You can easily upload it to your pc or send it by email.
Step 4: Come up with a duplicate of each separate document. It should save you time and allow you to keep clear of problems in the future. Also, your data won't be distributed or monitored by us.