We chose the top web programmers to set-up this PDF editor. The software will let you prepare the new car checklist pdf form with no trouble and won't consume a great deal of your time. This convenient instruction can help you start out.
Step 1: To begin with, choose the orange "Get form now" button.
Step 2: Once you've accessed the editing page new car checklist pdf, you should be able to discover every one of the options readily available for your file within the top menu.
You should enter the following information to fill out the new car checklist pdf PDF: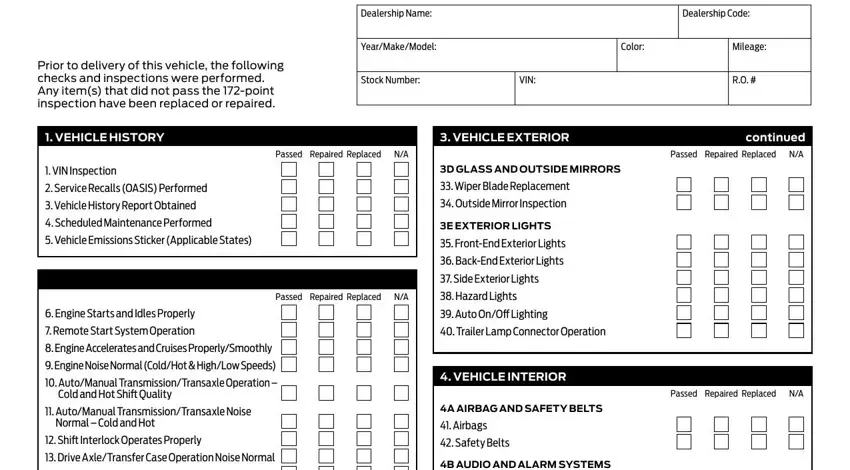 In the box ShitInterlockOperatesProperly, ClutchOperatesProperly, BodyandSuspensionSqueaksandRattles, StrutsShocksOperateProperly, BrakesABSOperateProperly, CruiseControl, GaugesOperateProperly, DriverSelectMemoryProileSystems, NoAbnormalWindNoise, VEHICLEEXTERIOR, PassedRepairedReplaced, ABODYPANELSANDBUMPERS, PassedRepairedReplaced, VEHICLEINTERIOR, and AAIRBAGANDSAFETYBELTS type in the details that the platform requires you to do.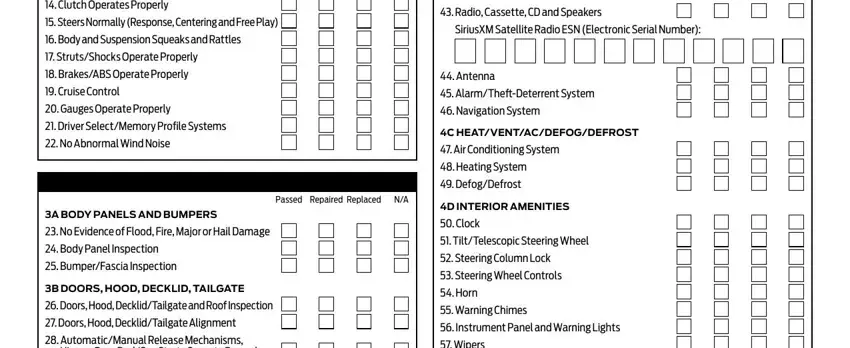 You can be expected to type in the information to help the system complete the box BodyPanelInspection, BumperFasciaInspection, BDOORSHOODDECKLIDTAILGATE, DoorsHoodDecklidTailgateAlignment, CGRILLETRIMANDROOFRACK, GrilleTrimandRoofRackInspection, DeployableRunningBoards, DGLASSANDOUTSIDEMIRRORS, TiltTelescopicSteeringWheel, SteeringColumnLock, SteeringWheelControls, Horn, WarningChimes, InstrumentPanelandWarningLights, and Wipers.

Spell out the rights and responsibilities of the sides inside the space DINTERIORAMENITIES, SYNCSystem, MyFordTouch, ActiveParkAssist, RearEntertainmentSystem, PowerOutletsandLighter, Ashtrays, GloveBoxandCenterArmrestConsole, SunVisorsVanityMirrorandLight, AdjustablePedalsifequipped, ECARPETTRIMANDMATS, InteriorOdorFree, Carpet, FloorMats, and DoorTrimandDoorPanels.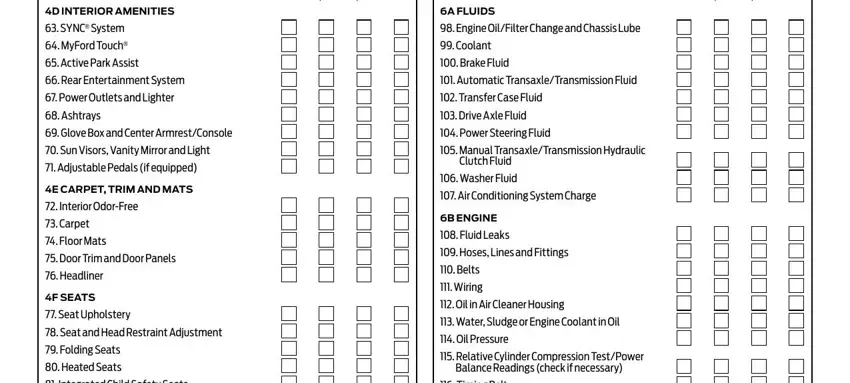 Review the fields ConvertibleTop, HWINDOWSANDDOORLOCKS, DoorHandlesandReleaseMechanisms, DoorLocks, ChildSafetyLocks, WindowControls, ILUGGAGECOMPARTMENT, CarpetTrimandCargoNet, LuggageCompartmentCargoAreaLight, VehicleJackandToolKit, TireInlatorKit, EmergencyTrunkLidRelease, CCOOLINGSYSTEM, Radiator, and PressureTestRadiatorCapandRadiat and then fill them in.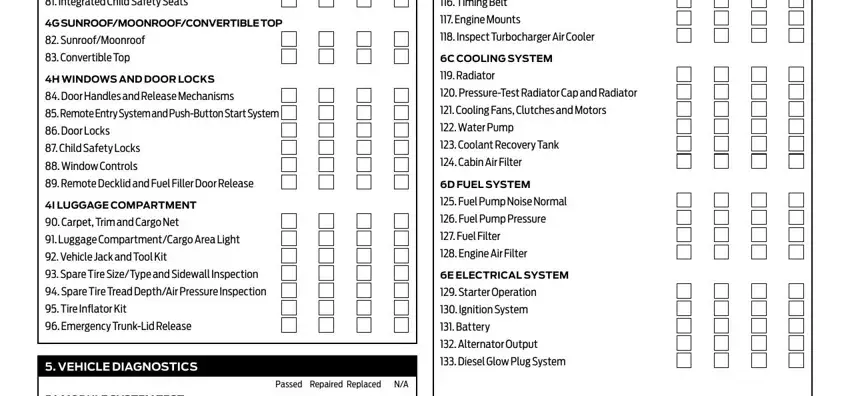 Step 3: Press the Done button to save the form. Then it is ready for upload to your gadget.
Step 4: Ensure you remain away from upcoming difficulties by making a minimum of two copies of your file.