Once you open the online tool for PDF editing by FormsPal, you'll be able to fill in or change department of aging form 4122 here and now. To maintain our tool on the leading edge of efficiency, we aim to implement user-oriented features and improvements on a regular basis. We are at all times happy to get feedback - join us in reshaping PDF editing. To get started on your journey, go through these simple steps:
Step 1: Open the PDF form in our editor by clicking the "Get Form Button" at the top of this page.
Step 2: After you start the PDF editor, there'll be the document all set to be filled out. Other than filling in various blank fields, you may also do other sorts of things with the PDF, namely adding custom text, changing the original textual content, inserting graphics, affixing your signature to the PDF, and more.
It will be an easy task to complete the pdf using this detailed guide! Here is what you should do:
1. It is critical to complete the department of aging form 4122 accurately, thus take care when filling out the sections comprising these blanks: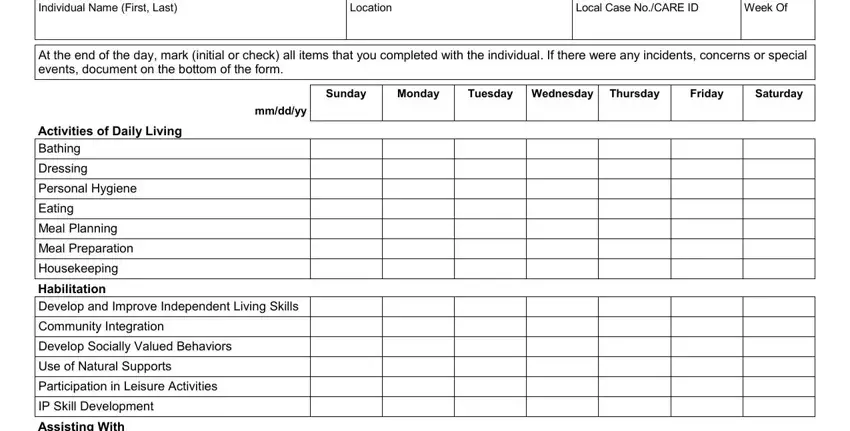 2. Once your current task is complete, take the next step – fill out all of these fields - Assisting With, Ambulation and Mobility, Administration of Medication, Reinforcing Specialized Therapies, Transportation, Supervising Safety and Security, Monitoring Health, Monitoring Personal Hygiene, Not in Home comments required, Temporary Discharge, Active on Leave, FosterCompanion Initials, Date, Initials, and Comments with their corresponding information. Make sure to double check that everything has been entered correctly before continuing!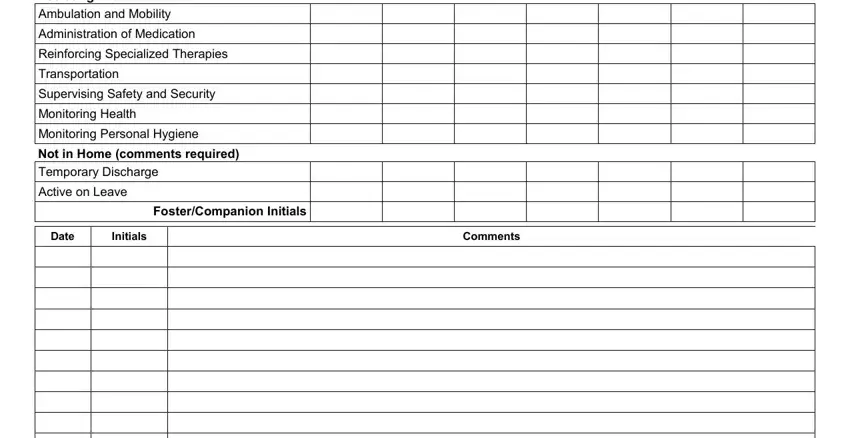 3. Your next part is easy - complete every one of the form fields in FosterCompanion Printed Name, FosterCompanion Staff Signature, and Staff ID No to finish this segment.

Those who use this PDF often get some things incorrect when completing FosterCompanion Printed Name in this area. Be sure you re-examine what you type in right here.
Step 3: Once you've looked over the information entered, just click "Done" to conclude your FormsPal process. After setting up afree trial account with us, it will be possible to download department of aging form 4122 or email it promptly. The PDF file will also be at your disposal in your personal account menu with your every modification. At FormsPal, we endeavor to make sure that your information is stored protected.