If you need to fill out Form 445104, it's not necessary to download any software - simply use our PDF editor. The tool is constantly updated by our staff, acquiring useful functions and becoming greater. To get started on your journey, take these basic steps:
Step 1: Click the "Get Form" button above on this page to access our editor.
Step 2: With our handy PDF file editor, you could do more than just fill in blank form fields. Try each of the features and make your docs appear professional with customized textual content added in, or adjust the file's original input to perfection - all that backed up by an ability to incorporate any pictures and sign it off.
This document will need some specific details; in order to ensure accuracy, please be sure to heed the guidelines hereunder:
1. The Form 445104 will require specific information to be typed in. Ensure that the subsequent blank fields are completed: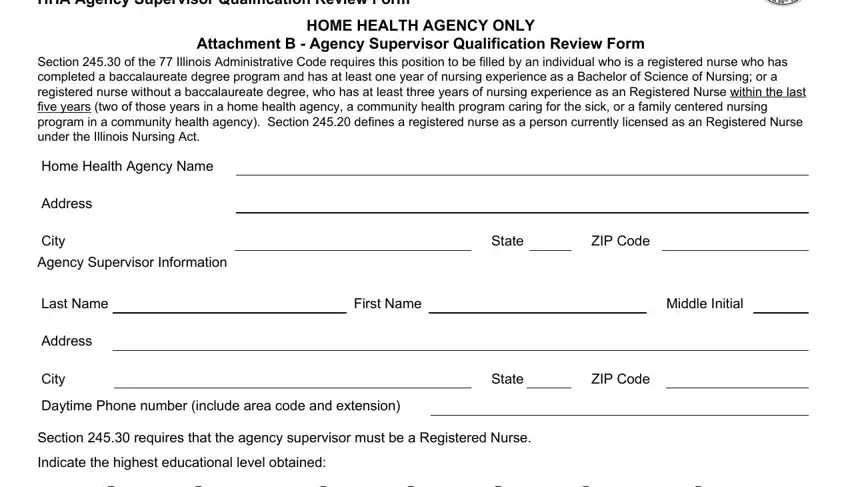 2. Given that this segment is done, you need to include the necessary particulars in ADN, Diploma RN, BSN, Masters, Doctorate, Please list the colleges attended, Name of College, Address of College, City, Date of Graduation, SpecialtyDegree, Name of College, Address of College, City, and Date of Graduation in order to proceed to the next step.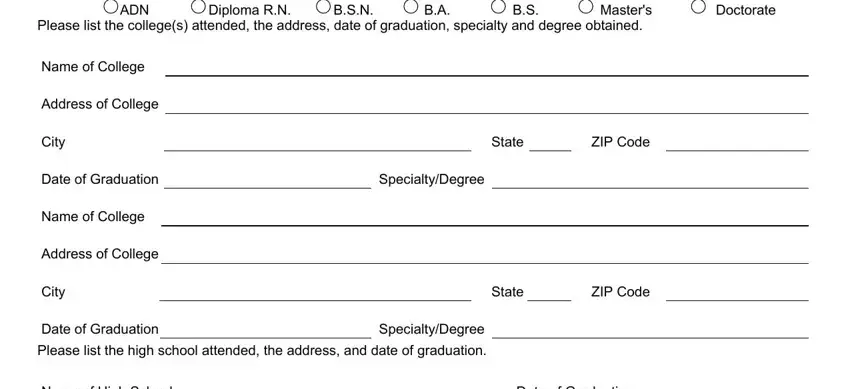 3. Throughout this step, check out Name of High School, Address of High School, City, Form Number, Date of Graduation, State, ZIP Code, and Page of. Each of these are required to be taken care of with highest precision.

4. Filling in HHA Agency Supervisor, List applicable professional, and Describe your relevant work is paramount in this next form section - be sure to spend some time and be mindful with each blank area!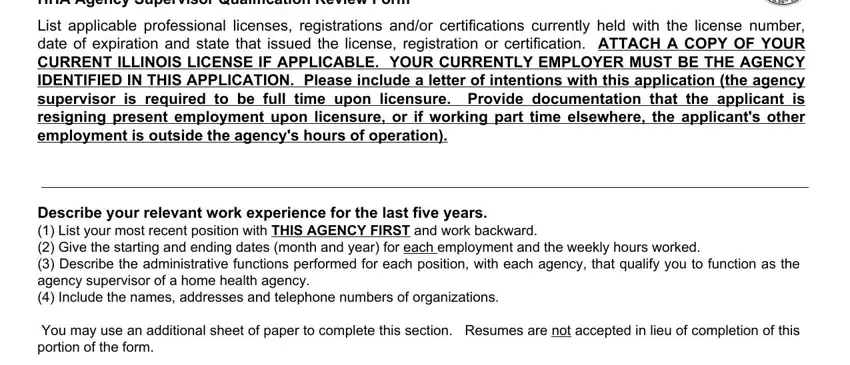 Regarding Describe your relevant work and HHA Agency Supervisor, be certain you get them right in this current part. Both of these are the most important ones in this page.
5. The very last step to finish this PDF form is critical. Ensure that you fill in the displayed blank fields, and this includes Current Employer Name, Address of Current Employer, City, State, ZIP Code, Starting month and year, Ending month and year, Total Hours Worked Weekly, Duties, Previous Employer Name, Address of Previous Employer, City, State, and ZIP Code, before submitting. If you don't, it could give you a flawed and probably unacceptable form!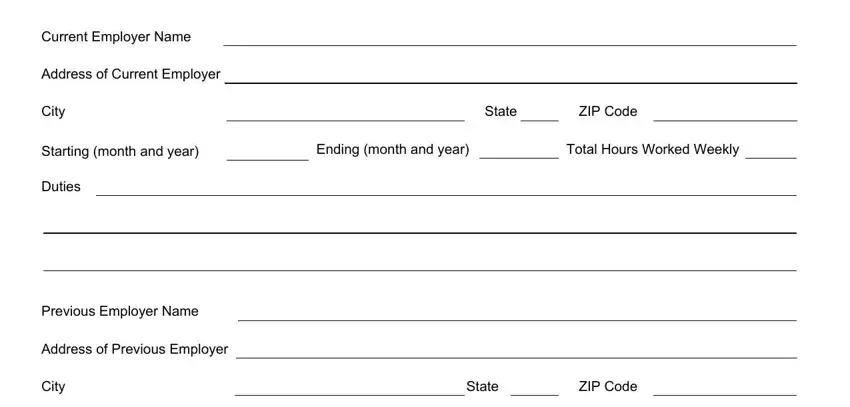 Step 3: Before moving on, double-check that blank fields were filled in the proper way. The moment you think it is all fine, click "Done." Get hold of your Form 445104 as soon as you register online for a 7-day free trial. Quickly view the form inside your FormsPal account page, together with any edits and changes automatically kept! We don't share the information you type in when dealing with documents at our website.