FECA can be filled in in no time. Just use FormsPal PDF editing tool to finish the job promptly. We are devoted to making sure you have the best possible experience with our tool by regularly releasing new features and enhancements. With these updates, using our editor becomes easier than ever! To get the ball rolling, consider these basic steps:
Step 1: Click the "Get Form" button at the top of this webpage to access our tool.
Step 2: As you launch the file editor, there'll be the document all set to be filled in. Aside from filling in various blanks, you may also do several other actions with the PDF, particularly adding any words, changing the initial textual content, inserting images, affixing your signature to the PDF, and more.
It is simple to finish the form using out detailed tutorial! This is what you must do:
1. The FECA will require specific details to be typed in. Make certain the next blanks are complete: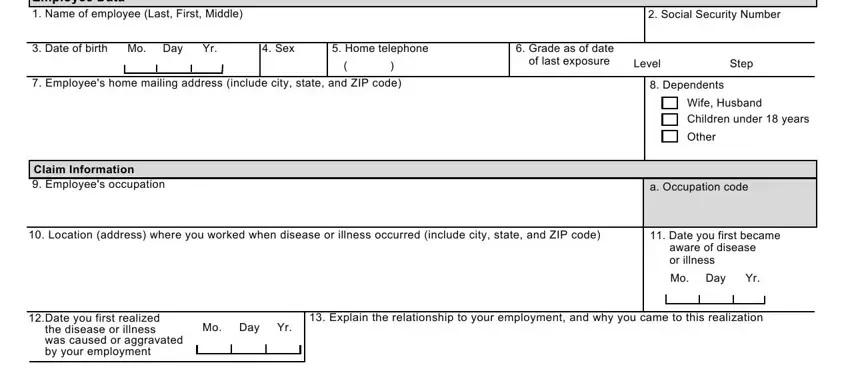 2. Soon after completing the last step, go to the next part and complete the necessary particulars in all these blanks - Nature of disease or illness, OWCP Use NOI Code, b Type code c Source code, If this notice and claim was not, If the statement requested in, If the medical reports requested, Employee Signature, I certify under penalty of law, Government and that it was not, and I hereby authorize any physician.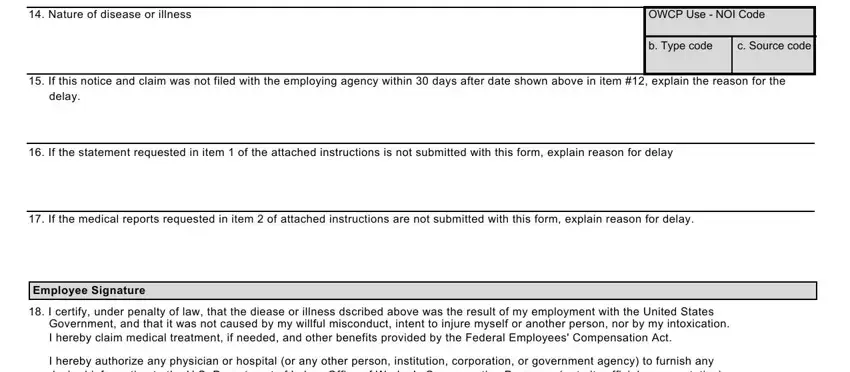 3. This third part is generally fairly uncomplicated, I hereby authorize any physician, Signature of employee or person, Date, Have your supervisor complete the, Any person who knowingly makes any, For Sale by the Superintendent of, and Form CA Rev Jan - these fields will have to be filled out here.
4. To move ahead, this step requires typing in a handful of blanks. Included in these are Supervisors Report Agency name, OWCP Agency Code, OSHA Site Code, Zip code, Employees duty station Street, Zip code, Regular work hours, From, am pm, am pm, Regular, work, schedule, Sun, and Mon, which you'll find essential to carrying on with this particular form.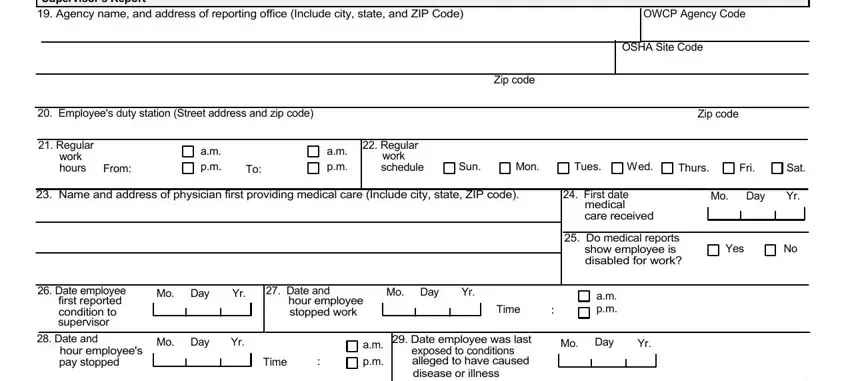 5. Lastly, the following final subsection is precisely what you should complete before closing the document. The blank fields under consideration are the following: Date returned to work, Day, Time, am pm, If employee has returned to work, Employees Retirement Coverage, Name and address of third party, Was injury caused by third party, Yes, If No go to item, and Signature of Supervisor A.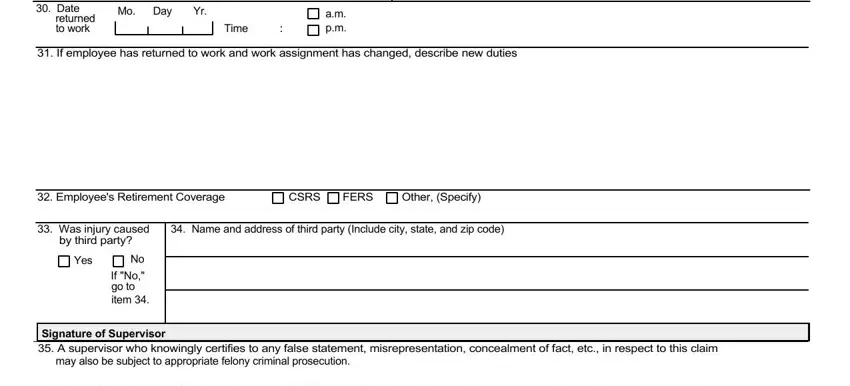 Lots of people generally make mistakes while filling out If employee has returned to work in this part. Be sure you go over everything you type in here.
Step 3: As soon as you've reread the details in the document, simply click "Done" to complete your FormsPal process. Right after setting up a7-day free trial account with us, you'll be able to download FECA or email it right off. The form will also be accessible from your personal cabinet with all your changes. At FormsPal.com, we do our utmost to be sure that your information is stored secure.