Form Cbt 100S can be filled in very easily. Just try FormsPal PDF editing tool to complete the task fast. Our team is ceaselessly endeavoring to enhance the tool and insure that it is much easier for clients with its handy features. Unlock an endlessly revolutionary experience now - explore and uncover new possibilities as you go! Getting underway is simple! All you have to do is adhere to the following simple steps below:
Step 1: Hit the "Get Form" button above. It'll open up our pdf editor so you could begin filling out your form.
Step 2: With this online PDF tool, you can do more than merely complete blank fields. Try all of the features and make your documents seem perfect with customized textual content added in, or optimize the original content to perfection - all that backed up by the capability to add stunning images and sign the document off.
This form will need you to enter specific information; in order to ensure accuracy, remember to bear in mind the guidelines further down:
1. To start off, when completing the Form Cbt 100S, start in the part that contains the subsequent fields: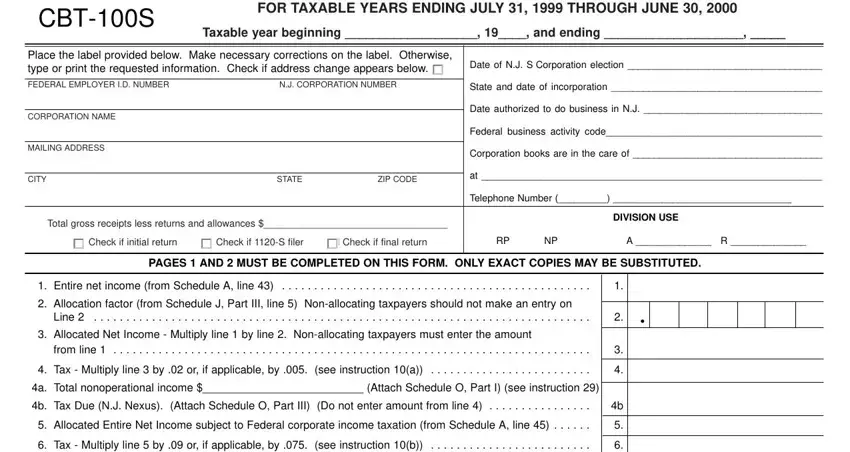 2. Now that the previous array of fields is finished, you have to insert the essential specifics in Tax Multiply line by or if, AMOUNT OF TAX lines plus b plus, Credit for taxes paid to other, Subtract line from line, Tax Credits from Schedule A see, TOTAL TAX LIABILITY line minus, INSTALLMENT PAYMENT see, Total of line plus line, PAYMENTS CREDITS see instruction, Balance of Tax Due line minus, Prorata Share of S Corporation, Column C, Gross Income Tax paid on behalf, Penalty and Interest Due see, and Penalty Interest in order to move forward to the next part.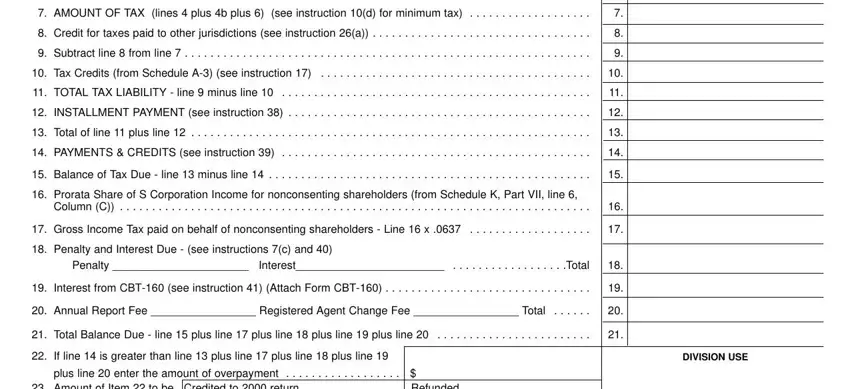 3. Completing Amount of Item to be Credited to, Refunded, I declare under the penalties, SIGNATURE AND VERIFICATION See, Date, Signature of Duly Authorized, Title, Date, Signature of Individual Preparing, Address, Preparers ID Number, Name of Tax Preparers Employer, Address, and Employers ID Number is essential for the next step, make sure to fill them out in their entirety. Don't miss any details!

4. The next subsection will require your information in the following places: SCHEDULE A, COMPUTATION OF ENTIRE NET INCOME, S Page, Gross receipts or sales Less, Cost of goods sold Schedule A, Gross profit Subtract line from, Net gain loss from Form attach, Other income loss attach schedule, Total Income loss Combine lines, Compensation of officers, Salaries and wages Less jobs, Repairs, Bad debts, Rents, and Taxes. Be sure that you enter all required info to move onward.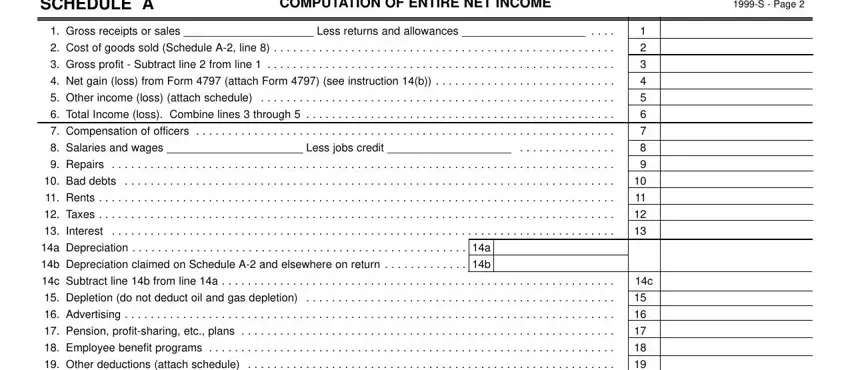 Concerning Other income loss attach schedule and SCHEDULE A, make sure that you double-check them in this current part. These could be the most significant fields in this page.
5. The final stage to complete this document is critical. Ensure you fill in the necessary blank fields, which includes Other deductions attach schedule, Total deductions add lines, Ordinary income loss from trade, a Gross income from all rental, b Expenses related to the above, c Net income loss from all rental, Portfolio income loss, a Interest income, b Dividend income, c Royalty income, d Capital gain net income attach, e Other portfolio income loss, Net gain loss under section, Other income loss attach schedule, and Section expense deduction attach, prior to submitting. If you don't, it can lead to an unfinished and possibly nonvalid document!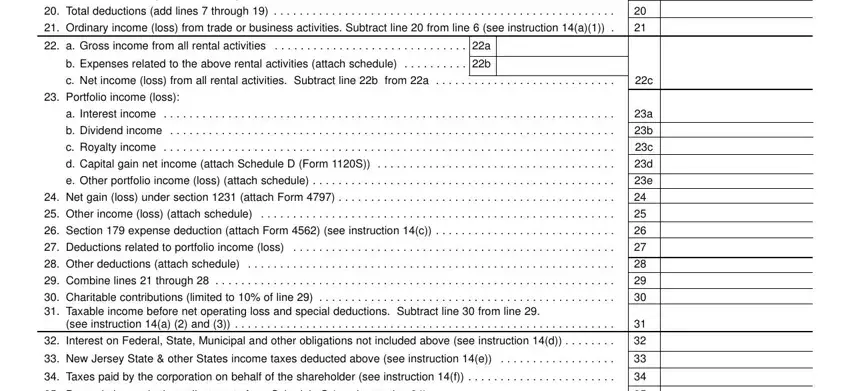 Step 3: Once you've reviewed the details in the blanks, just click "Done" to finalize your form at FormsPal. Make a free trial account at FormsPal and obtain direct access to Form Cbt 100S - download or modify inside your FormsPal account. We do not sell or share any information you type in while completing forms at our website.