Any time you need to fill out pa driver's license medical form, you don't have to download any programs - just give a try to our online PDF editor. We at FormsPal are dedicated to providing you with the perfect experience with our tool by regularly introducing new features and enhancements. With these updates, using our editor gets easier than ever! Getting underway is simple! All you have to do is follow the following simple steps below:
Step 1: Just click on the "Get Form Button" in the top section of this page to see our pdf form editing tool. This way, you will find everything that is necessary to fill out your document.
Step 2: As you open the editor, you will find the document all set to be completed. Besides filling out different blank fields, you may as well perform other sorts of things with the form, including writing your own words, changing the original text, inserting graphics, placing your signature to the PDF, and more.
With regards to the fields of this precise PDF, this is what you should do:
1. The pa driver's license medical form necessitates particular details to be inserted. Make certain the subsequent fields are finalized: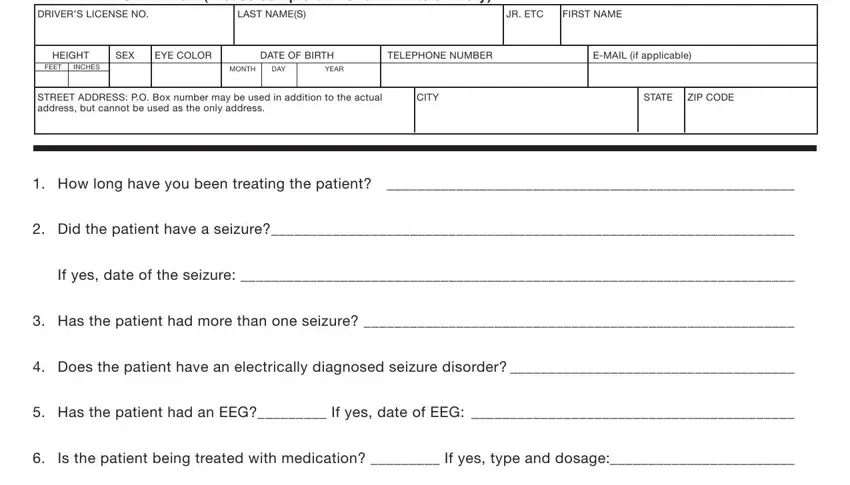 2. The next stage is usually to complete all of the following fields: Does the medication affect the, Other than a seizure disorder, that would interfere with the safe, If yes please explain, Does the patient have seizures, If yes when was the medication, If yes date of last seizure, Has the original medication been, and Page of.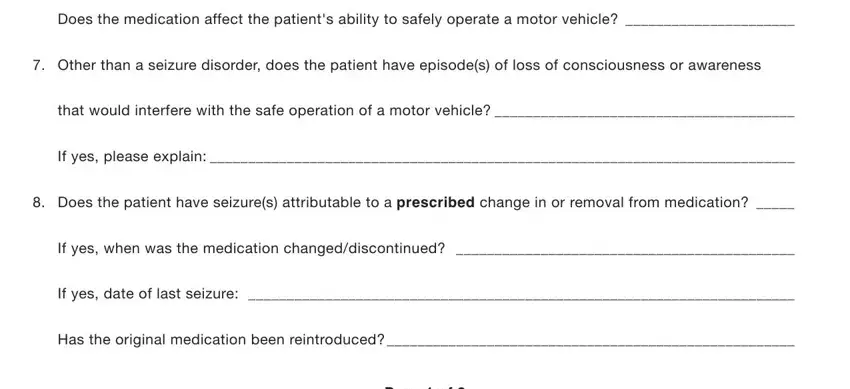 3. The following step is about PATIENT NAME DRIVERS LICENSE, Does the patient have seizures, If yes what is the duration of the, How is it manifested, Has the patient experienced the, Does the patient experience only, How is it manifested, and Has the patient experienced only - fill in these empty form fields.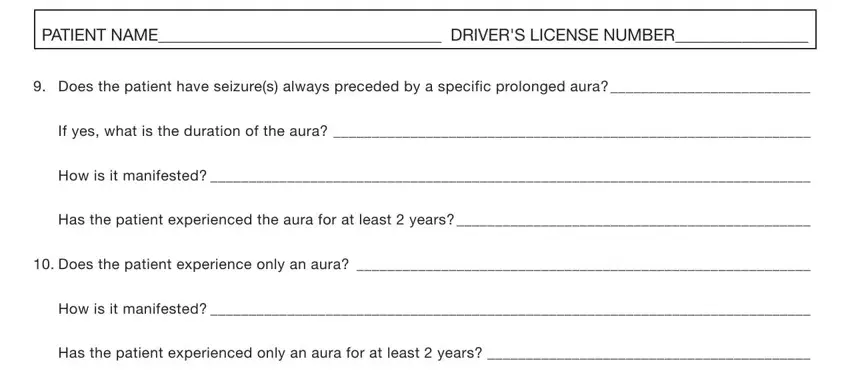 4. To go forward, this fourth form section requires completing several form blanks. These comprise of Does the patient have a pattern, upon awakening Has the patient, Were the only seizures the, illness toxic ingestion or, If yes please explain and include, HEALTH CARE PROVIDER INFORMATION, HEALTH CARE PROVIDERS NAME, SPECIALTY, HEALTH CARE PROVIDERS LICENSE, STREET ADDRESS, CITY, STATE, and ZIP CODE, which are integral to moving forward with this particular PDF.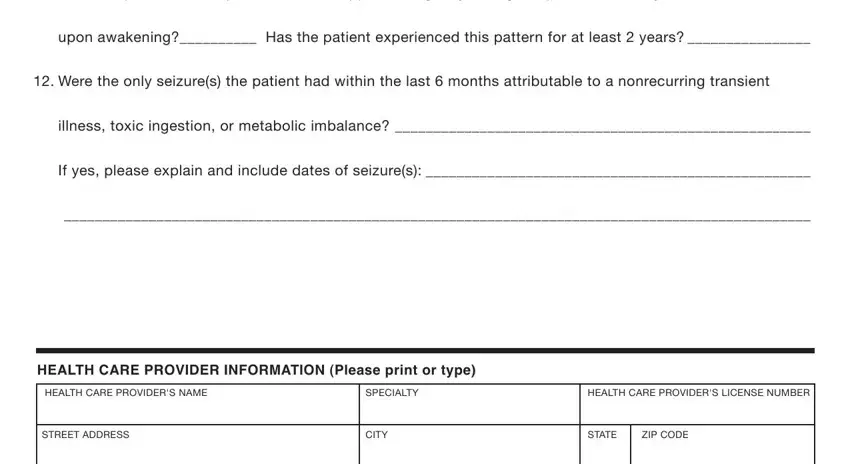 5. This final stage to submit this form is pivotal. Ensure that you fill out the displayed blank fields, for instance TELEPHONE NUMBER, FAX NUMBER, I hereby state that the facts, Health Care Providers Signature, Date, and Page of, before submitting. Failing to do this may contribute to an incomplete and potentially incorrect document!

Be extremely mindful when filling in FAX NUMBER and Date, because this is the section where most users make some mistakes.
Step 3: As soon as you have glanced through the details in the blanks, just click "Done" to finalize your FormsPal process. Acquire the pa driver's license medical form when you sign up for a 7-day free trial. Conveniently gain access to the pdf form within your FormsPal account, together with any edits and changes being all kept! FormsPal is dedicated to the personal privacy of all our users; we make certain that all information put into our editor is kept secure.