driving licence online form apply can be completed online with ease. Just use FormsPal PDF editing tool to complete the task without delay. Our tool is consistently evolving to provide the best user experience possible, and that's thanks to our dedication to continual development and listening closely to feedback from customers. Starting is simple! Everything you need to do is adhere to these easy steps directly below:
Step 1: Hit the "Get Form" button in the top area of this webpage to access our editor.
Step 2: The tool will give you the capability to customize your PDF file in a variety of ways. Enhance it by adding your own text, correct what's originally in the file, and include a signature - all within the reach of several clicks!
This PDF will need specific information to be entered, thus ensure that you take the time to fill in exactly what is requested:
1. To begin with, once completing the driving licence online form apply, start out with the area containing next fields: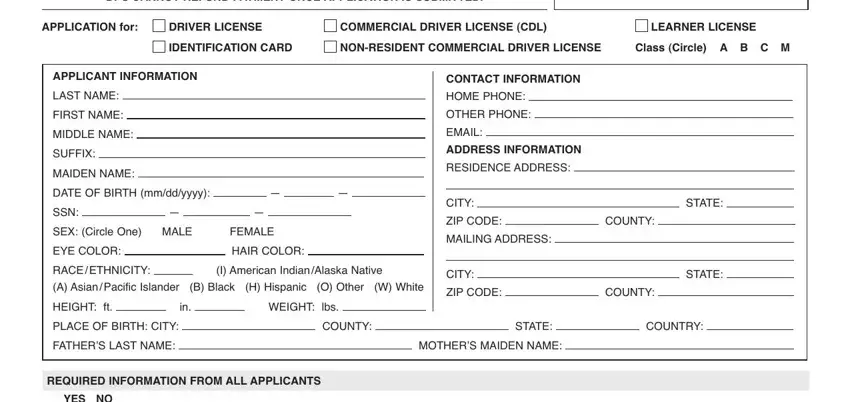 2. Right after filling in this step, go to the subsequent part and complete all required details in all these fields - YES NO, Are you a citizen of the United, If you are a US citizen would you, By providing my electronic, Do you wish to donate to the, Do you wish to donate to the, Would you like to register as an, Do you have a health condition, a Do you want a Veteran designator, documents are DD NGB or VA, b Are you a disabled Veteran, must complete form DL, Have you ever had a Texas, Have you ever had a driver license, and Have you ever had a license or.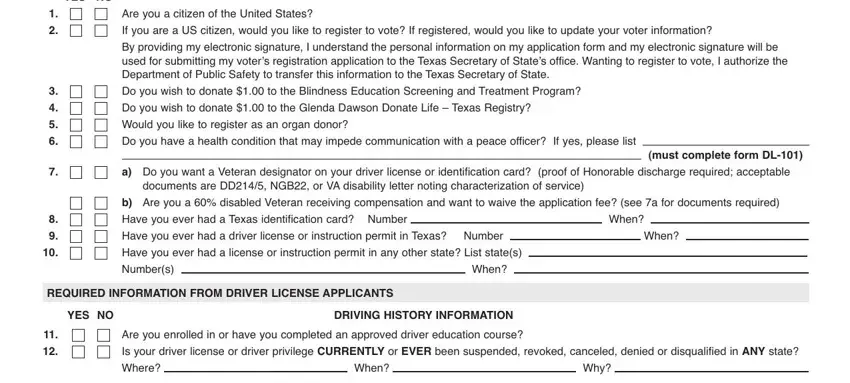 3. Completing Do you own a motor vehicle which, VEHICLE REGISTRATION AND INSURANCE, Do you own a motor vehicle which, Any male United States citizen or, UNITED STATES SELECTIVE SERVICE, DLA Rev, and APPLICATION CONTINUED ON BACK is essential for the next step, make sure to fill them out in their entirety. Don't miss any details!

You can easily make a mistake when filling out your UNITED STATES SELECTIVE SERVICE, so be sure to reread it before you submit it.
4. Filling out YES NO, Do you currently have or have you, MEDICAL HISTORY QUESTIONS, EXAMPLES including but not limited, Within the past two years have you, Have you ever had an epileptic, Do you have diabetes requiring, Do you have any alcohol or drug, of alcohol or drug abuse within, Within the past two years have you, Have you EVER been referred to the, NOTICE The information on this, DO NOT SIGN BELOW UNTIL INSTRUCTED, CERTIFICATION, and I do solemnly swear affirm or is paramount in this fourth form section - ensure to take your time and be mindful with every single blank!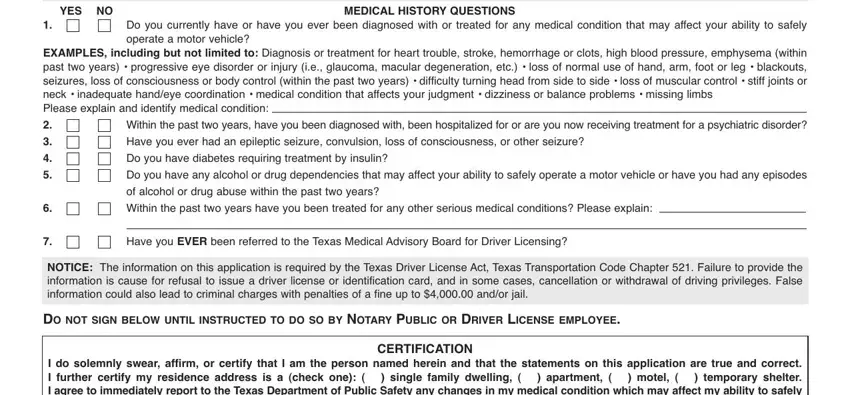 5. The document has to be finished by going through this section. Further there's an extensive set of form fields that need to be filled in with accurate information to allow your form submission to be accomplished: I do solemnly swear affirm or, Signature of Applicant, Date, Texas law requires the Texas, I hereby acknowledge receipt of, Minor Applicant, ParentLegal Guardian, Date of Receipt, PARENTAL AUTHORIZATION, Required for all driver license, I do solemnly swear affirm or, Usual Written Signature of Parent, Driver License Number, Date, and WAIVER OF PARENTAL AUTHORIZATION.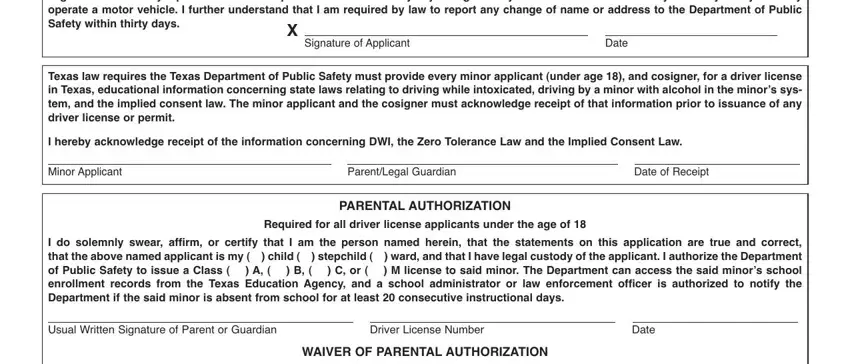 Step 3: Confirm that the details are correct and click "Done" to proceed further. Go for a 7-day free trial option at FormsPal and get instant access to driving licence online form apply - with all transformations kept and available inside your FormsPal account page. FormsPal guarantees your information privacy by having a protected method that in no way saves or distributes any personal data provided. You can relax knowing your docs are kept safe every time you use our service!