Using PDF files online is actually a breeze using our PDF editor. Anyone can fill in dps texas gov dl 174 here effortlessly. To have our editor on the forefront of convenience, we work to put into action user-driven features and enhancements on a regular basis. We are routinely thankful for any feedback - help us with revampimg how we work with PDF documents. To get the ball rolling, go through these basic steps:
Step 1: Hit the "Get Form" button above. It's going to open up our pdf tool so that you could start filling in your form.
Step 2: As you start the file editor, you will see the document ready to be filled in. Aside from filling in different blank fields, you might also perform other things with the file, specifically writing any textual content, editing the initial textual content, inserting illustrations or photos, placing your signature to the document, and a lot more.
With regards to the blank fields of this particular PDF, this is what you should know:
1. To start off, while completing the dps texas gov dl 174, start with the page that features the following blank fields: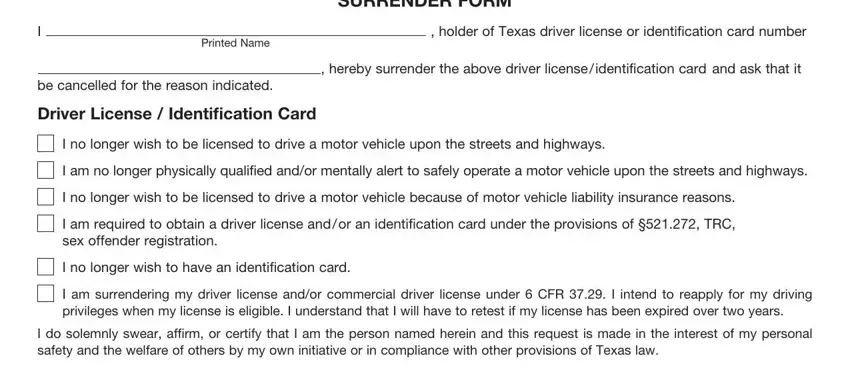 2. When the previous segment is complete, you have to include the necessary particulars in Signature, DL Rev, Date, Address, and Notary Public in and for the State so that you can progress to the next stage.

As to DL Rev and Notary Public in and for the State, ensure that you get them right in this current part. Both these could be the most significant ones in the PDF.
Step 3: Prior to submitting the form, it's a good idea to ensure that all form fields were filled out as intended. Once you determine that it is good, press "Done." Get hold of your dps texas gov dl 174 once you sign up at FormsPal for a free trial. Instantly get access to the pdf form in your FormsPal cabinet, together with any edits and changes being all preserved! At FormsPal, we strive to be certain that all of your details are maintained protected.