You can work with oO without difficulty by using our online tool for PDF editing. We at FormsPal are dedicated to providing you with the best possible experience with our tool by regularly presenting new capabilities and improvements. With these improvements, working with our tool gets better than ever before! By taking a few easy steps, it is possible to start your PDF editing:
Step 1: Access the PDF doc in our editor by hitting the "Get Form Button" in the top area of this page.
Step 2: This tool will let you customize almost all PDF files in various ways. Change it by writing any text, adjust existing content, and put in a signature - all when it's needed!
It really is an easy task to complete the pdf with our detailed guide! This is what you need to do:
1. Start completing the oO with a number of necessary fields. Get all of the important information and be sure there's nothing omitted!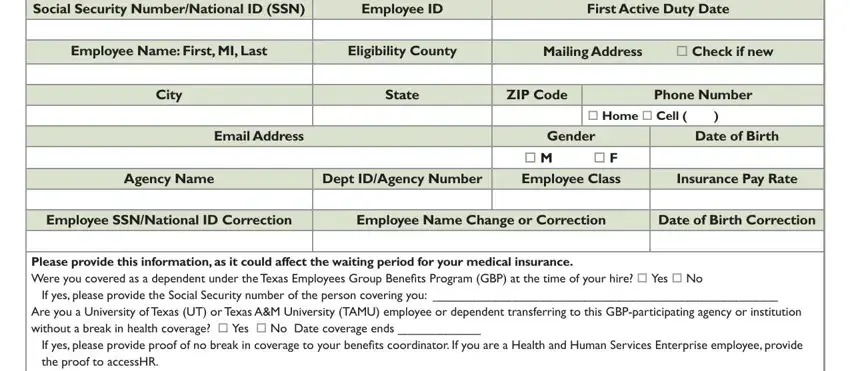 2. Once your current task is complete, take the next step – fill out all of these fields - Section B Action Mark appropriate, Event Date mmddyyyy, Section d inSuRAnce coveRAge Mark, medical coverage, Newly hired employees may elect, Effective date if different from, optional coverage, medical, Dental, Optional Life, Voluntary ADD, Dependent, Life, ShortTerm Disability, and o Waive o HealthSelectSM of Texas with their corresponding information. Make sure to double check that everything has been entered correctly before continuing!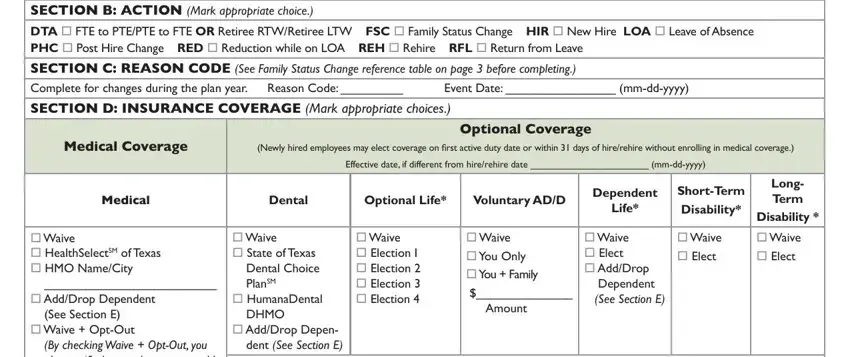 3. This subsequent section is relatively easy, SSn employee name First mi last, SECTION E DEPENDENT PERSONAL DATA, Dependent, Relationship, Dependents Name, First MI Last, Gender, Date of, Birth mmddyyyy, Dependent SSN, Required for months or older, Health, Dental Dep Life, o Sp o D o S o O, and o Sp o D o S o O - each one of these blanks has to be filled in here.
When it comes to SSn employee name First mi last and First MI Last, be certain that you double-check them in this current part. These could be the most significant ones in this document.
4. To move onward, this fourth step will require filling in a couple of blanks. Examples of these are Is this dependent a new addition, Section F AuthoRizAtion Carefully, and Employees Signature Date Signed, which you'll find crucial to going forward with this particular process.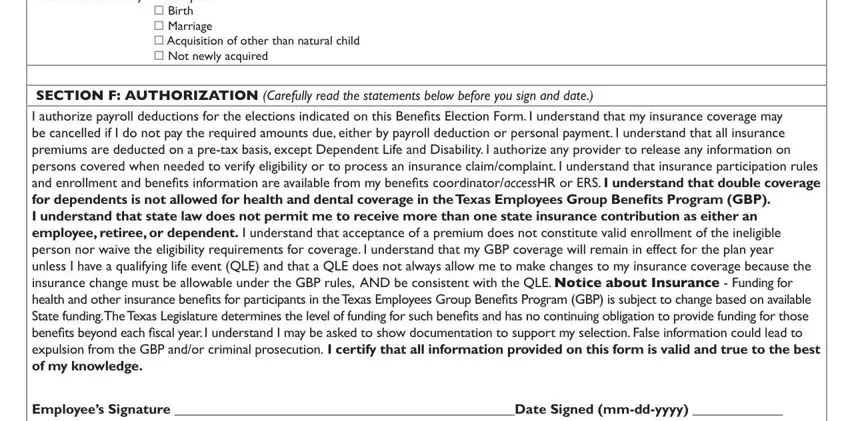 Step 3: Proofread the information you've inserted in the blank fields and press the "Done" button. Get hold of the oO when you register online for a free trial. Conveniently use the pdf document from your FormsPal account, along with any edits and adjustments being all synced! With FormsPal, you can certainly complete documents without worrying about personal information incidents or entries getting shared. Our secure platform makes sure that your private information is stored safely.