In case you wish to fill out texas common law marriage certificate, you don't have to download and install any sort of software - simply try our online PDF editor. To make our editor better and easier to work with, we consistently come up with new features, with our users' feedback in mind. Getting underway is easy! What you need to do is stick to the next easy steps down below:
Step 1: Press the "Get Form" button in the top area of this page to open our PDF editor.
Step 2: With the help of this online PDF tool, you'll be able to accomplish more than merely fill in blank fields. Express yourself and make your documents appear perfect with customized textual content put in, or modify the file's original content to perfection - all that backed up by an ability to insert any kind of graphics and sign it off.
As for the blanks of this precise document, this is what you need to do:
1. The texas common law marriage certificate requires particular information to be inserted. Ensure the next fields are complete: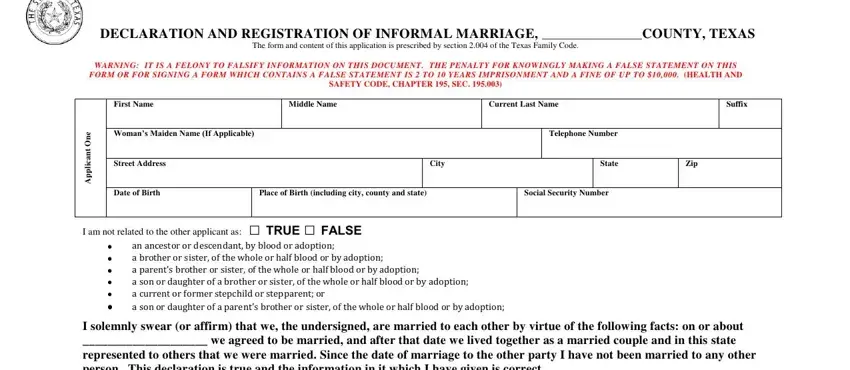 2. Your next part is to submit these particular blank fields: o w T, t n a c i l, p p A, I solemnly swear or affirm that we, Applicants Signature and Date, First Name Womans Maiden Name If, Middle Name, Current Last Name, Suffix, Telephone Number, City, State, Zip, Place of Birth including city, and Social Security Number.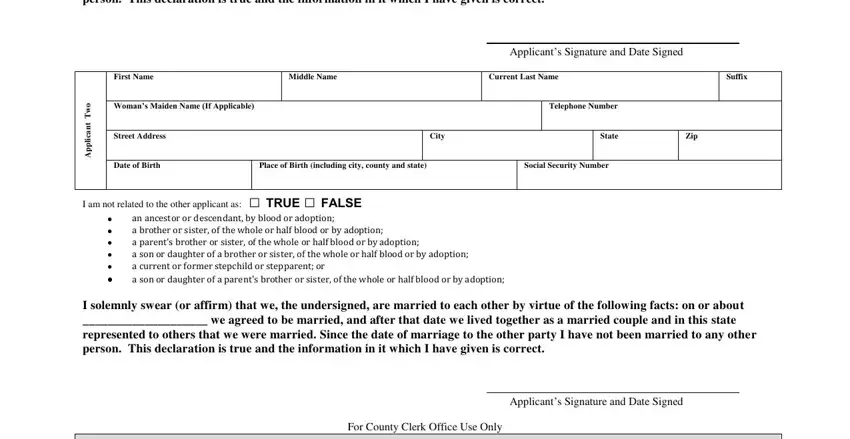 Always be really careful while filling in Middle Name and I solemnly swear or affirm that we, as this is the part where many people make a few mistakes.
3. The following part focuses on Subscribed and sworn to before me, County Clerk County Texas By, v e R, and S V - type in each one of these blank fields.

Step 3: After taking one more look at the entries, click "Done" and you're all set! Join us now and immediately access texas common law marriage certificate, ready for downloading. Each and every edit made is handily kept , enabling you to modify the document at a later time if required. We do not sell or share any information you type in whenever filling out documents at our site.