from tp 584 can be filled in online very easily. Simply try FormsPal PDF editor to accomplish the job without delay. Our team is devoted to making sure you have the absolute best experience with our tool by regularly introducing new features and enhancements. Our editor has become much more helpful with the latest updates! At this point, working with PDF forms is simpler and faster than before. Here's what you'd have to do to get going:
Step 1: Simply click on the "Get Form Button" at the top of this webpage to access our pdf file editor. There you will find everything that is needed to fill out your document.
Step 2: The tool will let you work with most PDF forms in a range of ways. Improve it with any text, adjust what is already in the file, and add a signature - all when you need it!
So as to finalize this form, be sure to enter the required details in each blank field:
1. You will need to fill out the from tp 584 correctly, hence pay close attention when working with the areas containing these particular blank fields: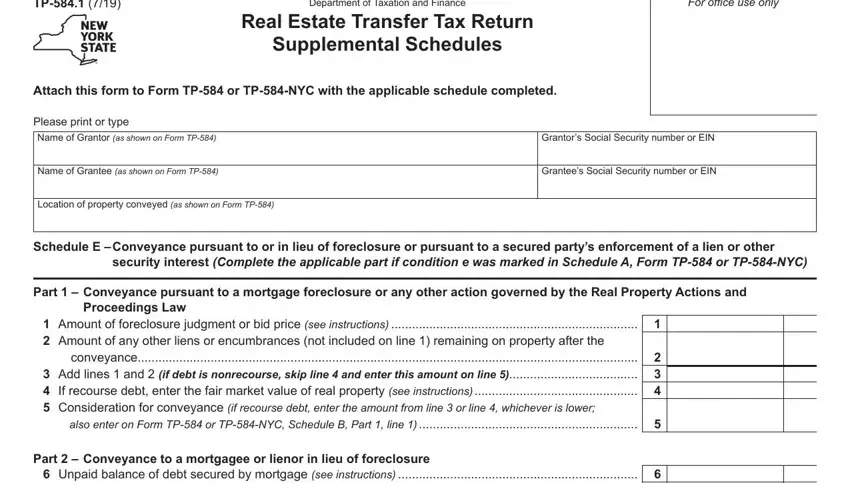 2. Right after this part is done, go on to type in the suitable details in these - Part Conveyance to a mortgagee, Part line, Part Conveyance of real property, rights on or in shares of stock in, corporation andor associated, on the shares of stock in the, Unpaid balance of debt secured by, and Schedule B Part line.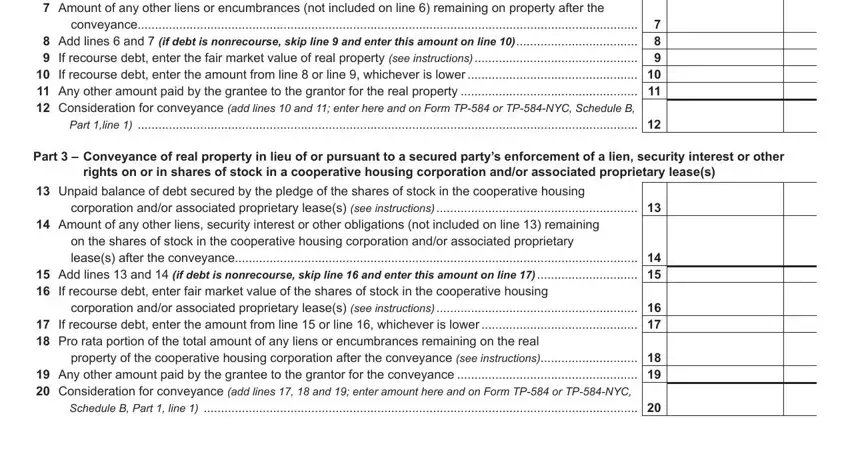 3. The next part should also be pretty straightforward, rights on or in shares of stock, on the ownership interest in the, conveyance multiplied by the, Unpaid balance of debt secured by, Form TP or TPNYC Schedule B Part, acquired, Schedule F Conveyance that, if condition f was marked in, TPNYC Schedule B Part line, and Fair market value of real - all these empty fields will need to be filled in here.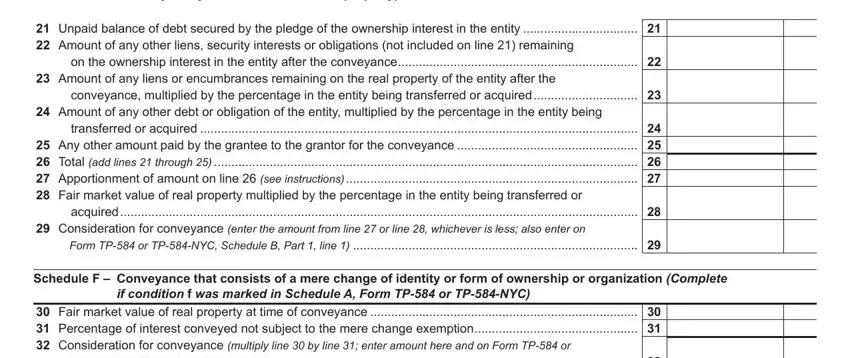 4. This next section requires some additional information. Ensure you complete all the necessary fields - TPNYC Schedule B Part line, Fair market value of real, Schedule B Part line, of interest conveyed on line, Schedule G Conveyance for which, if condition g was marked in, of leasehold, was paid on conveyance to the, enter amount here and on Form TP, previously filed and proof of, Part Computation of credit, and copy of original TP or TPNYC - to proceed further in your process!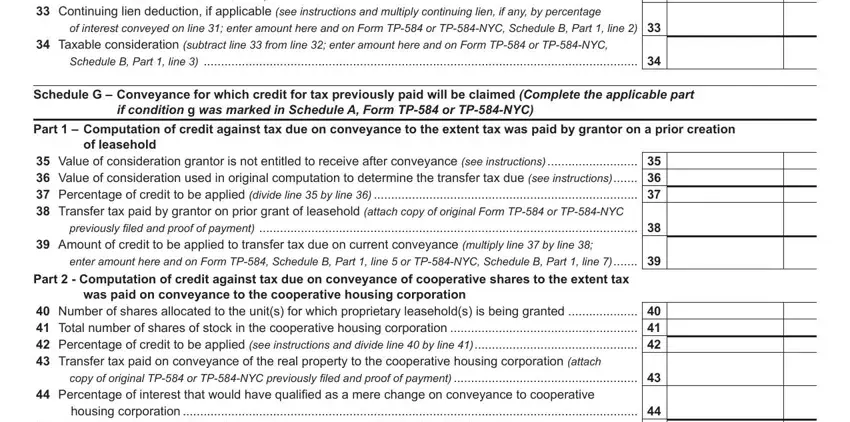 Always be very attentive while completing Part Computation of credit and Fair market value of real, because this is where most users make a few mistakes.
5. To conclude your document, the particular area incorporates some extra blanks. Typing in Part Computation of credit, Schedule B Part Line or TPNYC, and leaseholds is being granted will wrap up the process and you'll certainly be done in a tick!

Step 3: Before moving forward, make sure that all blank fields are filled in correctly. Once you establish that it's good, press "Done." Right after starting afree trial account here, it will be possible to download from tp 584 or email it promptly. The form will also be at your disposal in your personal account page with your every modification. FormsPal ensures your information privacy via a protected system that never records or distributes any sort of sensitive information used. Be assured knowing your paperwork are kept safe any time you use our services!