vehicle transfer notification can be filled out without any problem. Just use FormsPal PDF editor to do the job fast. Our editor is constantly evolving to provide the best user experience achievable, and that's thanks to our dedication to continuous development and listening closely to comments from users. In case you are seeking to get started, this is what it's going to take:
Step 1: Just click on the "Get Form Button" in the top section of this page to launch our pdf form editor. Here you will find all that is required to fill out your file.
Step 2: The editor will give you the opportunity to customize the majority of PDF forms in a variety of ways. Modify it with any text, correct what's originally in the document, and place in a signature - all possible within a few minutes!
Completing this document needs focus on details. Make certain all mandatory blank fields are done properly.
1. Before anything else, once completing the vehicle transfer notification, beging with the area that contains the following blanks: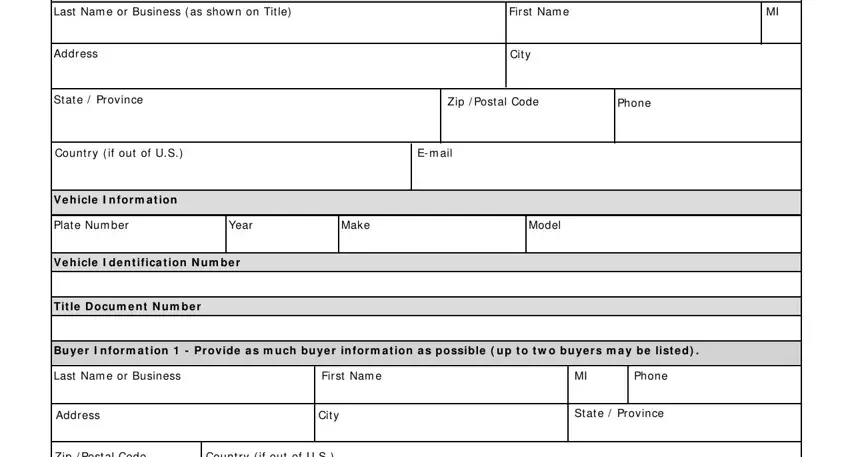 2. The subsequent part would be to fill out these blanks: Zip Post al Code, Count ry if out of US, Bu ye r I n for m a t ion I f m, Last Nam e or Business, First Nam e, Phone, Address, Cit y, St at e Province, Zip Post al Code, Count ry if out of US, Tr a n sfe r D e t a ils, Pla t e s Ca r or Ligh t Tr u ck, Date of Sale, and D id you k e e p you r pla t e s.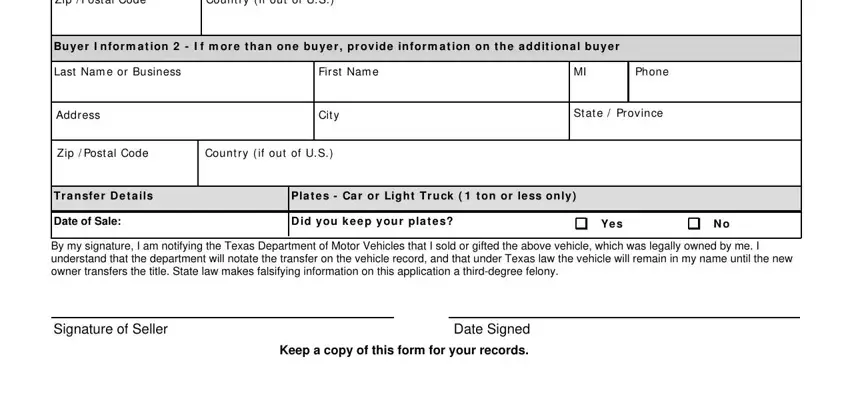 Those who work with this PDF frequently make some mistakes while filling out Last Nam e or Business in this section. You need to go over whatever you enter here.
Step 3: Reread what you have inserted in the form fields and click the "Done" button. Grab the vehicle transfer notification as soon as you sign up for a 7-day free trial. Readily view the pdf form inside your FormsPal cabinet, together with any edits and changes conveniently synced! FormsPal provides risk-free form completion with no personal information record-keeping or distributing. Rest assured that your information is in good hands with us!