Writing the metro watch repair service form document is a breeze with our PDF editor. Stick to the next actions to get the document ready in a short time.
Step 1: Hit the button "Get form here" to open it.
Step 2: Now you can change the metro watch repair service form. You should use our multifunctional toolbar to insert, eliminate, and alter the text of the document.
These parts are in the PDF file you'll be creating.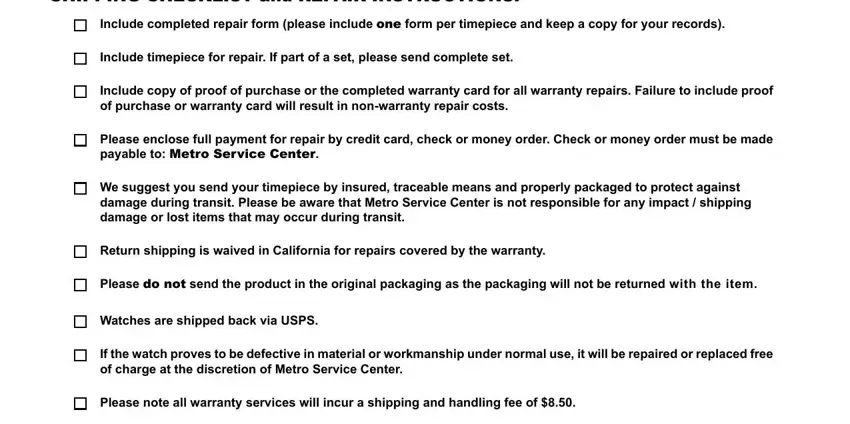 Write the required information in the CRYSTAL, BEZEL, HANDS, DIAL, CASE, PUSHERS, CROWN, BRACELET, MOVEMENT, CASEBACK, CLASP, METROSERVICECENTER, ATTNREPAIRSDEPTSANDENDRIVE, DALLASTX, and MSCFASHIONREPAIRFORMPg segment.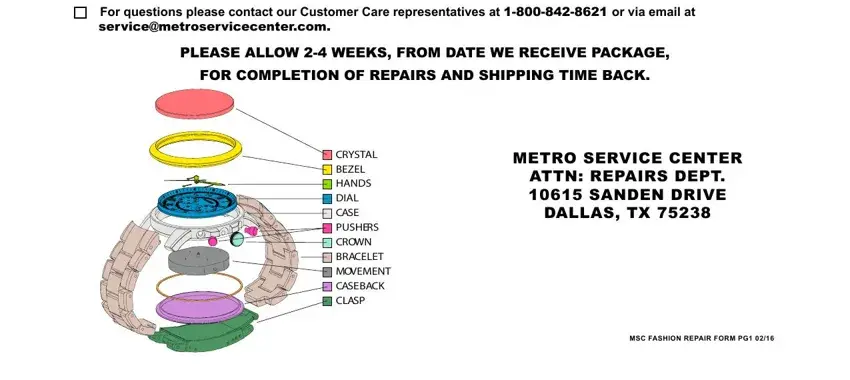 Type in any details you need inside the section Pleaseincludeoneformpertimepiece, WatchesarereturnedviaUSPS, NOTIFICATIONIfapplicable, NAMEDATE, ADDRESSAPTSUITE, CITYSTATEZIP, DAYTIMEPHONEHOMEPHONE, EMAIL, YESNOISTHETIMEPIECEENgRAVEDYESNO, STYLEFROMCASEBACK, SERIALFROMCASEBACK, PLEASEFULLYDESCRIBEPROBLEMHERE, and BRANDSSERVICEDWARRANTYPERIOD.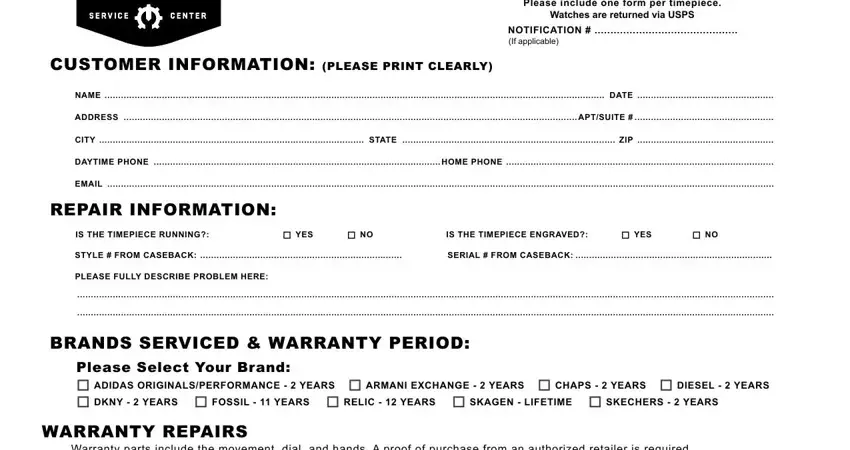 The BatteryReplacementOnly, BatteryReplacement, PAYMENTMETHOD, CREDITCARD, and EXPIRATIONDATE area will be your place to include the rights and responsibilities of both parties.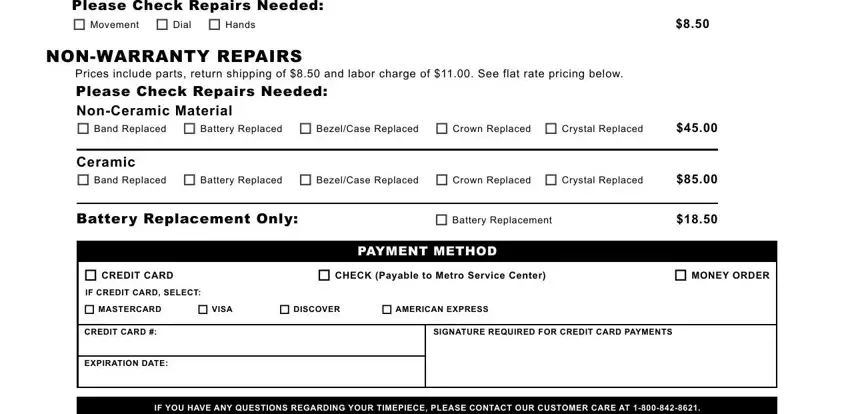 Fill out the file by reading all of these areas: MSCFASHIONREPAIRFORMPg.

Step 3: Choose the button "Done". The PDF document is available to be transferred. You may save it to your device or send it by email.
Step 4: To protect yourself from any kind of complications in the foreseeable future, you will need to generate minimally a few copies of your form.