Completing 433a form manufactured home is not difficult. Our experts created our PDF software to make it easy to use and enable you to fill in any form online. Here are a few steps you need to stick to:
Step 1: Look for the button "Get Form Here" and click it.
Step 2: Now you can edit your 433a form manufactured home. You need to use our multifunctional toolbar to include, eliminate, and adjust the content of the form.
Prepare the 433a form manufactured home PDF by entering the content needed for each section.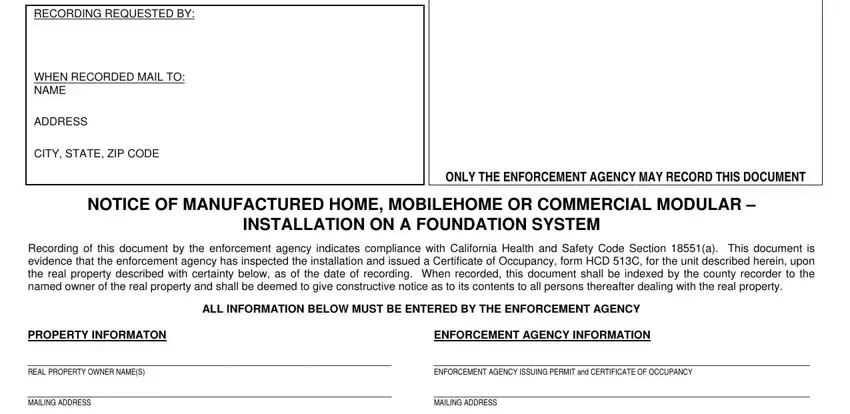 Write down the details in the ZIP CODE CITY, COUNTY, STATE, INSTALLATION ADDRESS If different, ZIP CODE CITY, COUNTY, STATE, CITY ZIP CODE BUILDING PERMIT, TELEPHONE NUMBER, COUNTY, STATE, cid EVIDENCE OF UNIT LIENHOLDERS, PROVIDEDATTACHED SEE REVERSE, DATE SIGNATURE OF ENFORCEMENT, and OWNER INFORMATON area.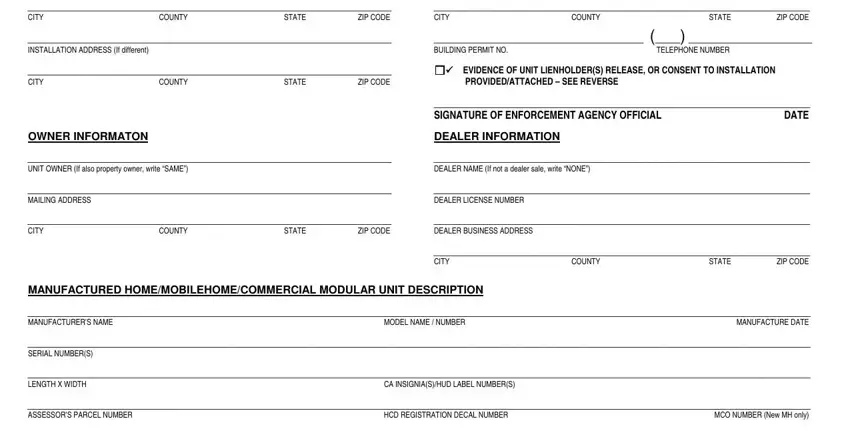 It is necessary to put down certain information inside the section REAL PROPERTY LEGAL DESCRIPTION, HCD A Rev, GENERAL GUIDE AND INSTRUCTIONS ON, and DISTRIBUTION Original to County.

You need to identify the rights and obligations of each side in paragraph For information on establishing a, HCD A Rev, and GENERAL GUIDE AND INSTRUCTIONS.

Step 3: As soon as you are done, choose the "Done" button to export your PDF document.
Step 4: It may be more convenient to prepare duplicates of your file. There is no doubt that we are not going to disclose or check out your details.