With the purpose of making it as simple to use as it can be, we made the PDF editor. The process of filling up the form rrb 1500 is going to be quick when you consider the next steps.
Step 1: To get started, click the orange button "Get Form Now".
Step 2: You can find all of the options which you can use on your document after you have accessed the form rrb 1500 editing page.
Please enter the following information to complete the form rr, b 1500 PDF: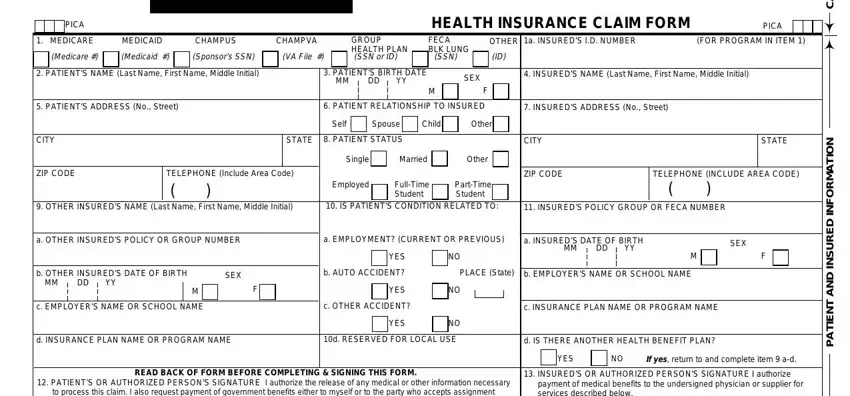 Provide the necessary data in the field SIGNED, DATE, OF, CURRENT MM, DD, YY DATE, SIGNED, IF, PATIENT, HAS, HAD, SAME, OR, SIMILAR, ILLNESS GIVEFIRSTDATEMM, DD, YY MM, DD, YY MM, DD, YY aID, NUMBER, OF, REFERRING, PHYSICIAN MM, DD, YY FROM, FROM, RESERVED, FOR, LOCAL, USE and OUTSIDE, LAB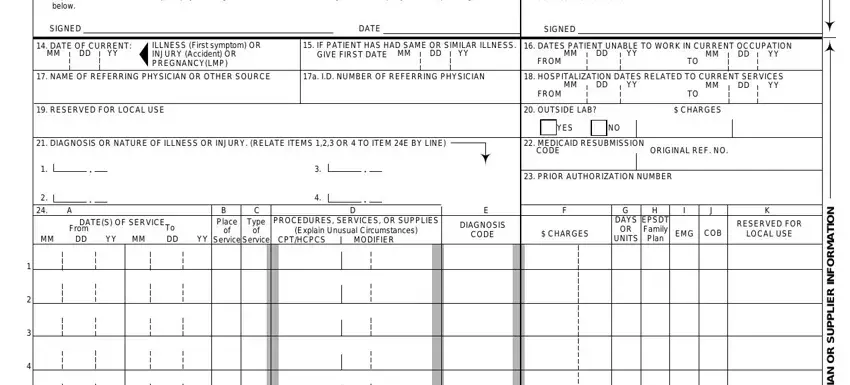 Indicate the essential data in RE, LP, PUS, RON, ACS, Y, HP FEDERAL, TAXI, D, NUMBER S, S, NE, INPATIENTS, ACCOUNT, NO TOTAL, CHARGE AMOUNT, PAID BALANCE, DUE YES, NO RENDERED, If, other, than, home, or, office PHONE, SIGNED, DATE, PIN, GRP, PLEASE, PRINT, OR, TYPE and FORM, H, CFA, FOR, MR, RB, FOR, MOW, CP section.

Step 3: As soon as you select the Done button, your prepared file can be easily transferred to any of your gadgets or to email chosen by you.
Step 4: Make at least several copies of your form to stay away from any sort of potential future problems.