It is possible to fill out obligee effortlessly with our PDF editor online. In order to make our tool better and less complicated to work with, we continuously develop new features, considering feedback from our users. To start your journey, go through these easy steps:
Step 1: Click on the "Get Form" button above. It'll open up our pdf editor so you could begin completing your form.
Step 2: When you open the file editor, you will find the form prepared to be filled in. Other than filling in different fields, you can also do other sorts of things with the file, particularly writing any textual content, modifying the initial text, adding images, affixing your signature to the document, and a lot more.
In an effort to fill out this form, make sure you enter the right information in every blank:
1. To start with, once filling in the obligee, start in the area containing subsequent blank fields: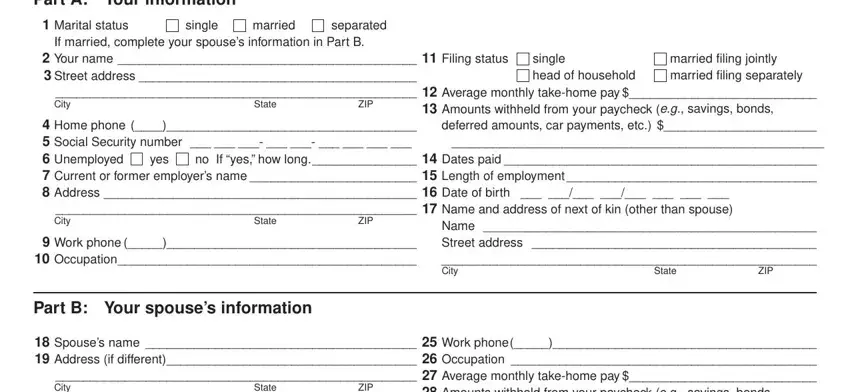 2. Immediately after this part is completed, proceed to enter the suitable details in these: Spouses name Work phone, State, ZIP, Amounts withheld from your, Home phone if different Social, deferred amounts car payments etc, yes, City, State, ZIP, Section Complete the following, Note Attach additional sheets in, Part A Your bank accounts include, Name of institution, and Address.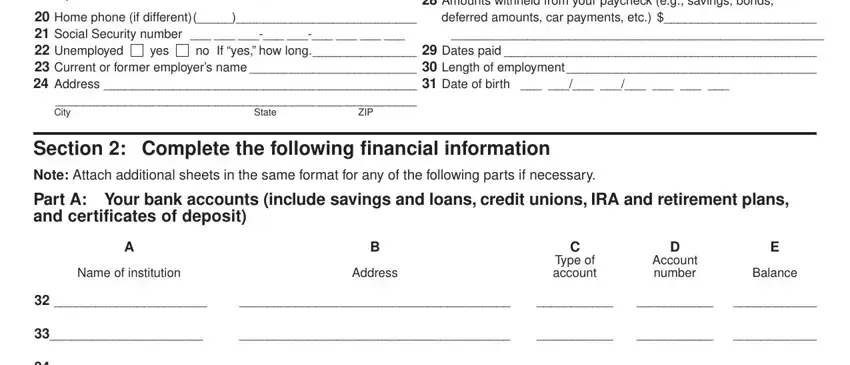 3. The next section is normally quite uncomplicated, Add Lines through Column E and, and Page of - all of these fields needs to be completed here.

Always be really careful when filling in Add Lines through Column E and and Page of, since this is where many people make some mistakes.
4. The subsequent subsection needs your involvement in the subsequent areas: Type of account, or card, Name and address of financial, Current balance, Add Lines through Column C and, Part C Real property you own, Brief description, of property, How property, is titled, Physical address, County, Part D Your life and health, Insurance company, and Policy number. Just be sure you enter all requested info to go onward.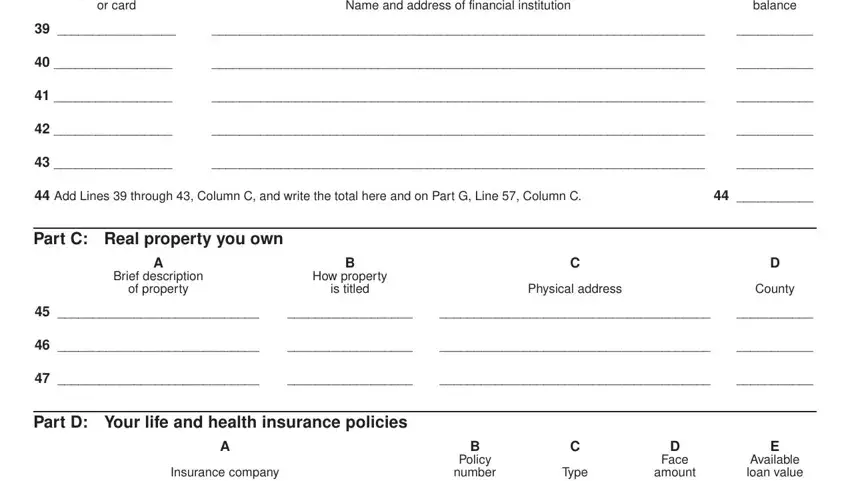 5. To finish your document, the last area incorporates some additional blanks. Completing Add Lines and Column E and, Part E Your securities eg stocks, Type, of security, Location, Quantity or, Owner of record, denomination, Present value, Add Lines and Column E and, Part F Miscellaneous information, a Are foreclosure bankruptcy, Yes, b What is the bankruptcy number, and c What date was the bankruptcy will certainly conclude everything and you're going to be done in a short time!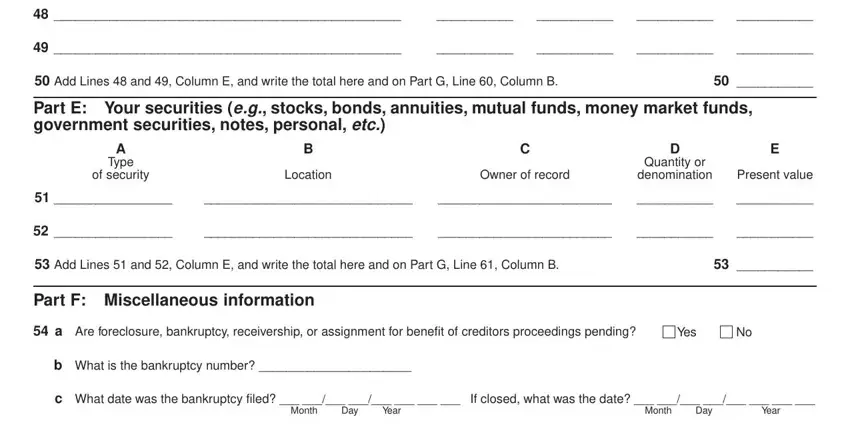 Step 3: Ensure that the information is accurate and press "Done" to proceed further. Get your obligee after you sign up at FormsPal for a 7-day free trial. Conveniently gain access to the pdf document in your FormsPal account page, together with any edits and adjustments being automatically synced! We do not share or sell any information you use while dealing with documents at our site.