Whenever you intend to fill out form rcg 18, you don't have to download and install any sort of programs - simply try using our online tool. The editor is constantly upgraded by our team, receiving handy features and turning out to be even more versatile. If you're seeking to get going, here's what it takes:
Step 1: Just hit the "Get Form Button" above on this page to launch our pdf form editing tool. This way, you will find everything that is required to work with your file.
Step 2: As soon as you launch the file editor, you will notice the form prepared to be filled in. Apart from filling out various blank fields, you may also do many other things with the Document, namely adding your own words, editing the initial textual content, inserting images, signing the PDF, and much more.
This PDF form will require particular details to be entered, thus you should definitely take whatever time to type in exactly what is asked:
1. You'll want to fill out the form rcg 18 accurately, therefore take care when working with the sections that contain these blanks: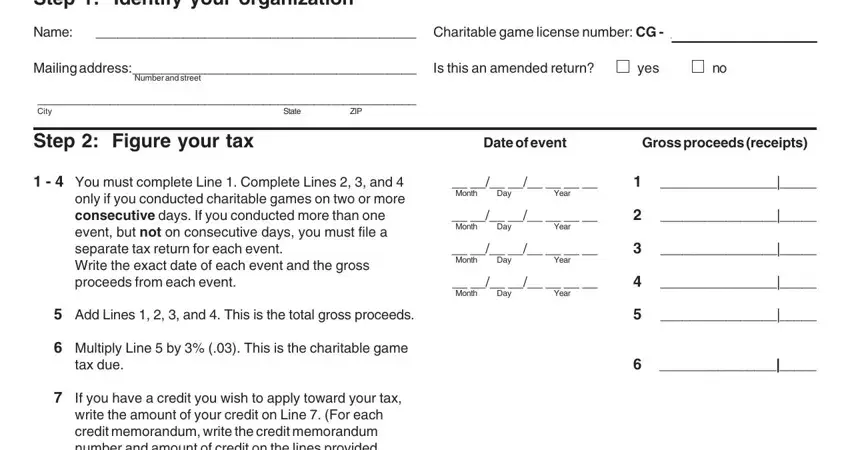 2. Once your current task is complete, take the next step – fill out all of these fields - write the amount of your credit on, Subtract Line from Line Please, Make your check payable to, RCG R, This form is authorized as, and Page of with their corresponding information. Make sure to double check that everything has been entered correctly before continuing!

3. Completing Gross proceeds, Write the gross proceeds from, Costs, Write the player cash winnings, Add Lines through This is the, Write the facility lease amount, and Write the equipment rental amount is essential for the next step, make sure to fill them out in their entirety. Don't miss any details!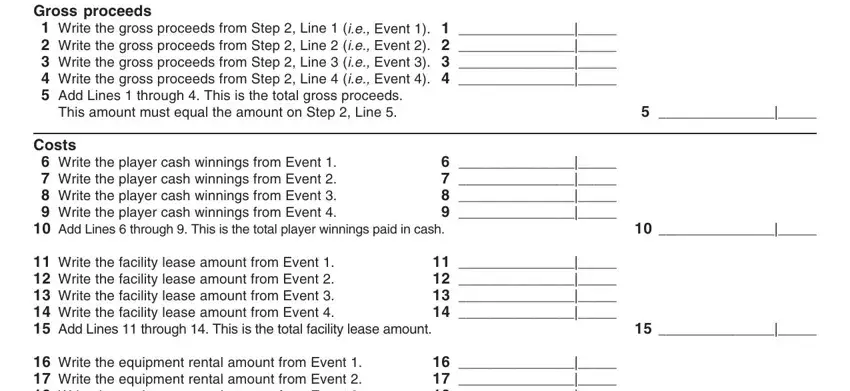 4. The subsequent section comes with the next few blank fields to enter your details in: Write the equipment rental amount, This is the total amount paid for, Write any miscellaneous costs, Description, Amount, Write any miscellaneous costs, Description, Amount, Write any miscellaneous costs, Description, and Amount.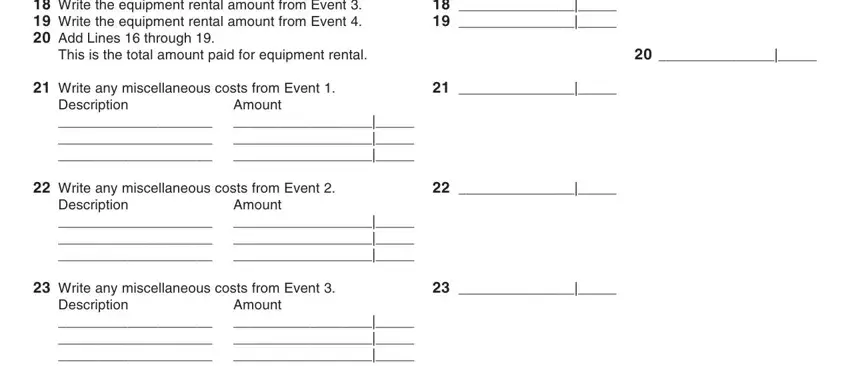 It is possible to make an error while completing the Description, so you'll want to take a second look before you finalize the form.
5. The document needs to be wrapped up by dealing with this segment. Below you can find a full listing of blank fields that need to be completed with correct information in order for your document submission to be accomplished: Write any miscellaneous costs, Description, Amount, Add Lines through This is the, Add Lines and This is the, Net proceeds Subtract Line from, Page of, and RCG R.

Step 3: Before submitting the form, make sure that blanks have been filled out correctly. The moment you believe it's all good, click on "Done." Try a 7-day free trial plan at FormsPal and obtain immediate access to form rcg 18 - available in your personal account page. FormsPal is committed to the privacy of our users; we make certain that all personal data entered into our editor remains confidential.