With the online PDF editor by FormsPal, you can easily fill in or change MAILING right here. Our editor is consistently evolving to give the very best user experience attainable, and that is thanks to our resolve for continuous enhancement and listening closely to feedback from users. Getting underway is effortless! All you have to do is adhere to these easy steps down below:
Step 1: Access the PDF file in our tool by clicking on the "Get Form Button" above on this page.
Step 2: With this online PDF editor, you'll be able to accomplish more than simply fill out blanks. Edit away and make your docs seem perfect with custom textual content added in, or optimize the file's original content to excellence - all that backed up by an ability to incorporate just about any images and sign it off.
It really is easy to complete the document with this detailed guide! Here is what you have to do:
1. Begin filling out the MAILING with a group of necessary blank fields. Gather all of the information you need and be sure there's nothing neglected!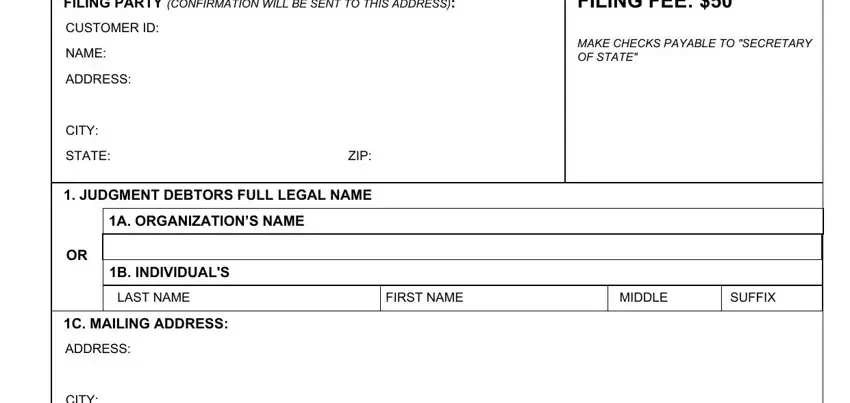 2. Just after performing this step, go to the subsequent stage and fill out all required particulars in all these blank fields - CITY, STATE, ZIP, COUNTRY, ADDITIONAL JUDGMENT DEBTORS FULL, A ORGANIZATIONS NAME, B INDIVIDUALS, LAST NAME, C MAILING ADDRESS, ADDRESS, CITY, STATE, FIRST NAME, MIDDLE, and SUFFIX.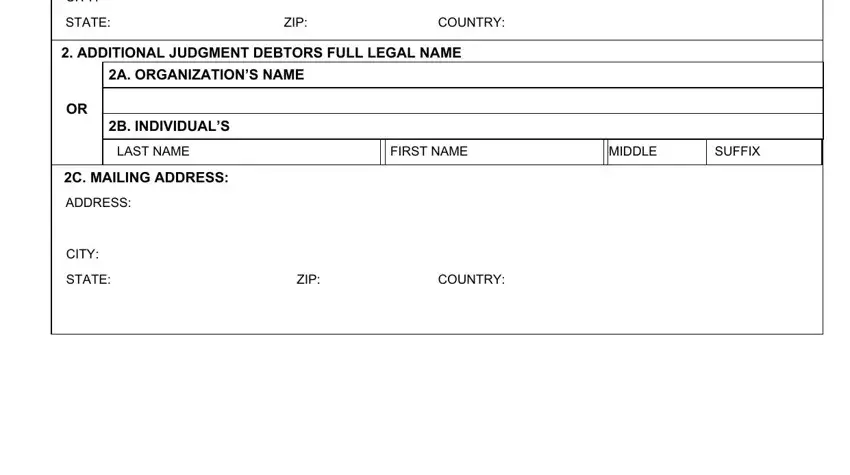 3. The following step is related to A ORGANIZATIONS NAME, B INDIVIDUALS, LAST NAME, C MAILING ADDRESS, ADDRESS, CITY, STATE, FIRST NAME, MIDDLE, SUFFIX, ZIP, COUNTRY, ADDITIONAL JUDGMENT CREDITORS, A ORGANIZATIONS NAME, and B INDIVIDUALS - fill out every one of these fields.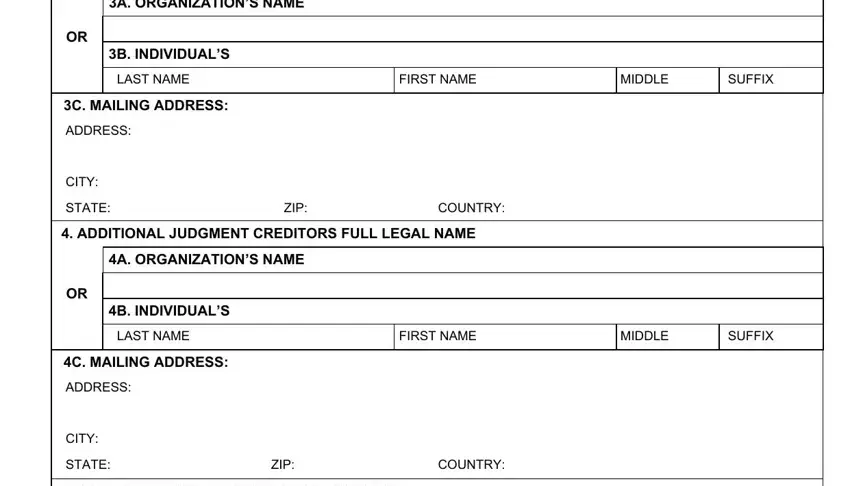 Always be really careful while filling in ADDITIONAL JUDGMENT CREDITORS and COUNTRY, as this is the part in which a lot of people make mistakes.
4. Now fill in this next section! Here you will have all of these COURT IN WHICH JUDGMENT WAS, DATE OF JUDGMENT, ORIGINAL JUDGMENT AMOUNT, AMOUNT DUE, PERSONAL PROPERTY ON WHICH LIEN, JUDGMENT CREDITOR SIGNATURE, and DATE blanks to fill in.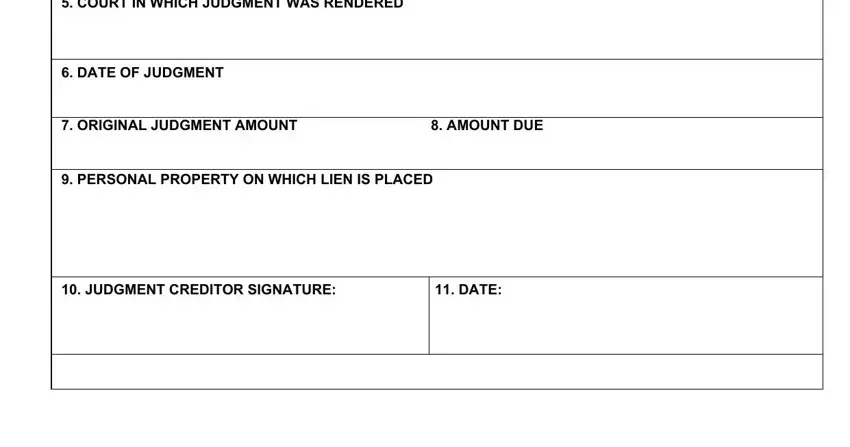 Step 3: Check the details you have typed into the blank fields and click the "Done" button. Find the MAILING the instant you register at FormsPal for a free trial. Readily get access to the pdf document from your personal cabinet, with any modifications and adjustments automatically synced! FormsPal is dedicated to the privacy of our users; we always make sure that all personal information going through our editor is confidential.